Pirates of the Caribbean: On Stranger Tides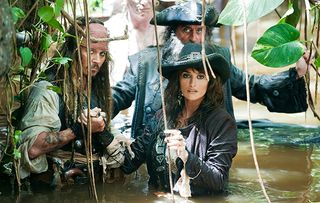 (Image credit: Peter Mountain Ph: Deborah Co)
It's the fourth outing for Johnny Depp's pirate Captain Jack Sparrow and, once again, he has the time of his life as he searches for the fabled fountain of youth
It's the fourth outing for Johnny Depp's pirate Captain Jack Sparrow and, once again, he has the time of his life as he searches for the fabled fountain of youth.
Keira Knightley and Orlando Bloom are missed, but feisty foil Penélope Cruz is a big bonus while Geoffrey Rush's Barbossa and Ian McShane's Blackbeard vie for the hammiest performance.
Inevitably, the plot sometimes goes through the motions and the film lacks a big goodies v baddies battle, but the script has a steady supply of witty one-liners and the special effects are faultless.
Add some brilliant, breathtaking set pieces - a chase through London and a mermaid attack are stand-out sequences - and this has all the ingredients for an excellent adventure.
Thank you for signing up to Whattowatch. You will receive a verification email shortly.
There was a problem. Please refresh the page and try again.