Pirates of the Caribbean: At World's End - 5Star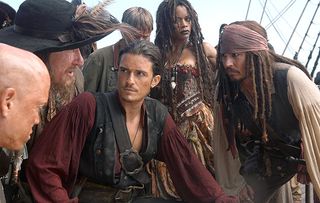 (Image credit: Stephen Vaughan)
With Johnny Depp again enjoying himself immensely as Captain Jack Sparrow, this third outing is a treasure chest of golden goodies
With Johnny Depp again enjoying himself immensely as Captain Jack Sparrow, this third outing is a treasure chest of golden goodies.
Orlando Bloom and Keira Knightley team up with Geoffrey Rush's Captain Barbossa in a quest to free Jack from his mind-bending trip to Davy Jones' locker.
A total adrenalin rush for nearly three hours, this really turns up the heat on the action, laughs and special effects, climaxing in one of cinema's most amazing sea battles.
Depp and Rush steal all their scenes trying to outdo each other in a bonanza of overacting and the state-of-the-art effects and Hans Zimmer's operatic score are superb.
Best of all, though, they managed to net Keith Richards, the inspiration for Depp's performance, and his cameo is a hoot.
Get the latest updates, reviews and unmissable series to watch and more!
Thank you for signing up to Whattowatch. You will receive a verification email shortly.
There was a problem. Please refresh the page and try again.