Psychopath with Piers Morgan – ITV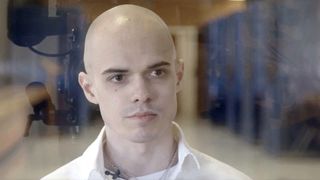 Piers Morgan tries to get inside the head of a cold, calculated killer in ITV's latest Crime and Punishment documentary Psychopath with Piers Morgan
Piers Morgan visits Texas State Prison to meet psychopath Paris Bennett (pictured above).
When Paris was just 13 years old, he stabbed to death his four-year-old sister, Ella.
It was a meticulously planned and vicious murder, which he committed to cause pain to his mother, Charity.
'There was this hot flaming ball of wrath in the pit of my stomach directed at my mother,' Paris tells Piers.
'I found a way to take away both her children in one fell swoop.'
Paris, now 25, shows no emotion throughout the interview, and even Piers is shaken by his cold, controlled manner.
He's also shocked that the child killer is up for parole in 2027.
The film is punctuated with haunting home videos of Paris and Ella together – looking like two normal, loving children; it's hard to imagine the horror Paris would later inflict on the family.
A frightening insight into the mind of a dark and dangerous killer.
TV Times rating: ****
Get the latest updates, reviews and unmissable series to watch and more!
Thank you for signing up to Whattowatch. You will receive a verification email shortly.
There was a problem. Please refresh the page and try again.