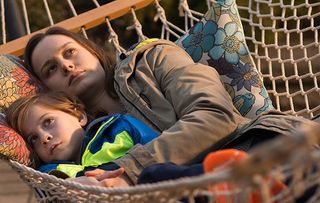 (Image credit: George Kraychyk)
Held prisoner for seven years in an 11ft by 11ft space with a single skylight, young mum Brie Larson protects and nurtures her five-year-old son (Jacob Tremblay)
Held prisoner for seven years in an 11ft by 11ft space with a single skylight, young mum Brie Larson protects and nurtures her five-year-old son (Jacob Tremblay).
A well-deserved Oscar winner, Larson is heartbreakingly good as she first shields her son from the harrowing reality of their captivity by 'Old Nick' and then tries to prepare him for an outside world of which he has no conception when the possibility of escape arises.
Tremblay is remarkable, too, as the bright, inquisitive, resilient little boy, director Lenny Abrahamson does a superb job of creating riveting cinema out of his film's cramped, claustrophobic setting and Emma Donoghue does an excellent job of adapting her bestseller to make a this gripping, moving and profoundly thought-provoking drama.
Get the latest updates, reviews and unmissable series to watch and more!
Thank you for signing up to Whattowatch. You will receive a verification email shortly.
There was a problem. Please refresh the page and try again.