The Senator - Sky Cinema Premiere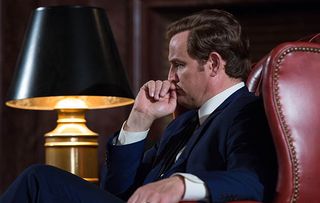 (Image credit: Signature Entertainment)
Jason Clarke plays the ineffectual, indecisive, feckless Ted Kennedy in this insightful movie
Jason Clarke plays the ineffectual, indecisive, feckless Ted Kennedy in this insightful movie.
It's July 1969 and US senator Kennedy is aiming to emerge from the shadow of his assassinated elder brothers, Jack and Bobby, to become president.
Instead, a fateful late-night drive following a boozy party on Chappaquiddick Island in Massachusetts sinks his political hopes when his car plunges off a bridge, drowning 28-year-old campaign worker Mary Jo Kopechne.
We'll never know exactly what happened, but this well-crafted and persuasive drama does a convincing job of re-creating that night and the shifty cover-up that came next.
Clarke is very good as Ted, a beta male in a family full of alphas. Kate Mara makes her mark as the doomed Mary Jo, as does Bruce Dern as Joseph Kennedy, the stroke-hit but still scary Kennedy family patriarch. Ed Helms, who plays Ted's principled cousin Joseph Gargan, acts as the story's moral compass.
This film premieres on Sky Cinema Premiere on 13 January.
Get the latest updates, reviews and unmissable series to watch and more!
Thank you for signing up to Whattowatch. You will receive a verification email shortly.
There was a problem. Please refresh the page and try again.