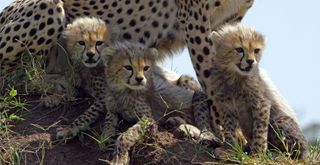 (Image credit: BBC/John Downer Productions/Rich)
As BBC1's Serengeti continues this week, it's a battle for survival for many of the animals as the rainy season comes to an end
'At this time of year keeping alive is a full-time occupation,' says narrator, Star Wars actor John Boyega as this wildlife series continues.
When the rainy season ends, the land dries up and competition for food, water and territory becomes intense.
MORE: Judi Dench's Wild Borneo Adventure – ITV (opens in new tab)
First-time cheetah mum Kike is quickly learning how to feed and keep her cubs (pictured top) safe from the jackals, lions and snakes that are a constant threat.
Lion mum Kali is also battling to protect her young as Sefu, the male lion responsible for kicking her out of the pride, tracks her down.
As two ostriches perform a spectacular dance as part of their courtship, Bakari the baboon struggles with his new role of single dad.
'Everything that's shown is real footage and real behaviours,' reveals filmmaker John Downer.
'We gained insights into the lives of animals that I never expected.
'I hope people are moved by what they see and realise there are no goodies or baddies – all the animals are trying to help their families survive.
'Tense situations can have happy endings.
'There are lots of twists and turns!'
TV Times rating: ****
Get the latest updates, reviews and unmissable series to watch and more!
Thank you for signing up to Whattowatch. You will receive a verification email shortly.
There was a problem. Please refresh the page and try again.