Serenity - Sky Cinema Premiere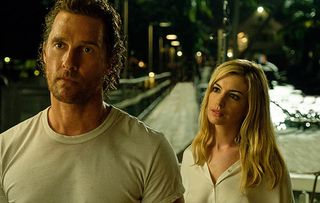 (Image credit: GRAHAM BARTHOLOMEW)
A bonkers thriller starring Matthew McConaughey as a rum-swigging fishing boat captain with a troubled, enigmatic past
A bonkers thriller starring Matthew McConaughey as a rum-swigging fishing boat captain with a troubled, enigmatic past.
Writer-director Steven Knight (of Peaky Blinders and Taboo fame) makes a splash with his sun-dazzled mystery.
McConaughey's character, who goes by the studiedly quirky name of Baker Dill, lives in a rundown shack beside a lighthouse on an idyllic tropical island, takes a 'shower' by jumping naked off a cliff top into the sea and makes his living off boorish wealthy tourists. Yet he'd much rather be out hunting for a fabled giant tuna he's dubbed Justice.
At this stage, it seems Knight is set on remaking The Old Man and the Sea with a far buffer hero. Then Anne Hathaway lands on the island and the movie changes tack. A slinky blonde femme fatale with Veronica Lake peekaboo hair, she looks as though she has walked in from a 1940s film noir. She is Baker's ex, the mother of the son he never sees, and she is looking for a way to free herself of her thuggish new husband Frank (Jason Clarke). As bait, she dangles the prospect of $10million before Baker.
Then, just when it seems we're about to sail into steamy neo-noir waters, Knight switches course yet again. It's best to discover for yourself just where he takes us, although you may pick up the hints he's been dropping from the beginning.
Truth be told, the destination is a lot less rewarding than Knight's previous films as a director - Jason Statham revenge drama Hummingbird and Tom Hardy solo road movie Locke. This time, Knight has lots of narrative tricks up his sleeve, but overplays his hand.
Still, the combination of gorgeous locations and gorgeous stars should be enough to keep you hooked.
This movie is also showing in cinemas from Friday 1 March.
Get the What to Watch Newsletter
The latest updates, reviews and unmissable series to watch and more!