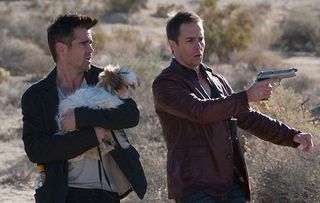 (Image credit: Moviestore/REX/Shutterstock)
Colin Farrell plays a boozy Hollywood screenwriter whose latest project has left him blocked
Colin Farrell plays a boozy Hollywood screenwriter whose latest project has left him blocked.
He has a title, Seven Psychopaths, but no plot, or the requisite number of psychopaths. His feckless actor pal (Sam Rockwell) is only too happy to help and places a newspaper ad to drum up stories from psychos - and soon Farrell's concern isn't lack of inspiration but how to stay alive...
The convoluted plot dizzyingly coils around, blurring fantasy and reality and strewing corpses in its wake, but the script gives all the actors, including Woody Harrelson, Christopher Walken, Harry Dean Stanton and Tom Waits, such cracking dialogue that it's a treat to watch.
Thank you for signing up to Whattowatch. You will receive a verification email shortly.
There was a problem. Please refresh the page and try again.