Stand By Me - Sony Movie Channel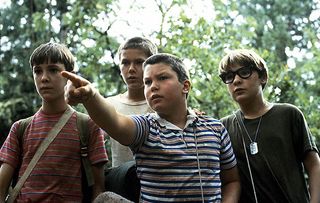 Four small-town 12-year-old pals (River Phoenix, Wil Wheaton, Corey Feldman and Jerry O'Connell) go in search of a dead body
Four small-town 12-year-old pals (River Phoenix, Wil Wheaton, Corey Feldman and Jerry O'Connell) go in search of a dead body.
Set in 1959 and based on a Stephen King story, this film beautifully captures the innocence, freedom and casual closeness of four youngsters left to their own devices.
They set off on their bizarre quest to hunt for the missing teen in the Oregon countryside after one of them overhears his older brother claiming to have seen it.
Richard Dreyfuss provides the older and wiser narration that punctuates the action, there's a good selection of golden oldies on the soundtrack and it's faultlessly acted.
All the young stars are superb, particularly Phoenix in only his second feature film, and there's some significant teenage support from Kiefer Sutherland and John Cusack.
Get the latest updates, reviews and unmissable series to watch and more!
Thank you for signing up to Whattowatch. You will receive a verification email shortly.
There was a problem. Please refresh the page and try again.