Star Trek Into Darkness - Channel 4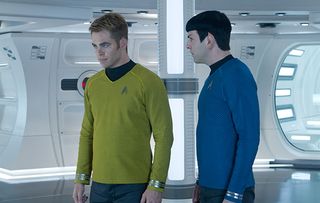 (Image credit: Zade Rosenthal)
Chris Pine's Kirk, Zachary Quinto's Spock and the rest of the crew are back in this spectacular, smart and thrilling sequel
Chris Pine's Kirk, Zachary Quinto's Spock and the rest of the crew are back in this spectacular, smart and thrilling sequel.
JJ Abrams' follow-up to his 2009 sci-fi reboot has enough wit and zip to satisfy both diehard fans and non-Trekkies.
Cleverly referencing Star Trek mythology, the story finds Kirk and the Enterprise crew striving to foil a rogue Starfleet officer - a sardonic, imposing Benedict Cumberbatch - but it's the relationship between Kirk's cocky rule-breaker and Zachary Quinto's by-the-book Spock that really drives the movie, with the tension between Kirk's reliance on gut instinct and Spock's Vulcan logic creating moments of gripping suspense.
Alongside them, Zoe Saldana's cool communications officer Uhura once more proves her mettle, Karl Urban's medic Bones is winningly cranky and Simon Pegg again plays Scotty for laughs. Combining breakneck thrills, deadpan comedy and deft use of series lore, this is a blast!
Get the What to Watch Newsletter
The latest updates, reviews and unmissable series to watch and more!