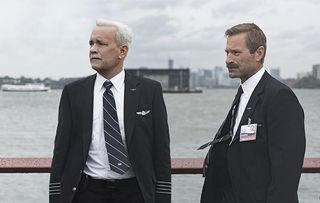 (Image credit: © Warner Brothers Pictures)
Star Tom Hanks and director Clint Eastwood do a terrific job of re-creating the incredible story of pilot Chesley 'Sully' Sullenberger
Star Tom Hanks and director Clint Eastwood do a terrific job of re-creating the incredible story of pilot Chesley 'Sully' Sullenberger.
Seconds after taking off from New York's La Guardia airport in January 2009, Sully's Airbus A320 was struck by geese and he landed the stricken plane on the Hudson River.
Less skilful hands would find it hard building climactic tension out of this tale - we all know how things turned out.
But Eastwood finds ways of keeping us gripped, circling around the main event and paying as much attention to what happened after the plane ditched in the Hudson as to the flight itself.
In the glare of the media spotlight, will Sully's instinctual reaction be vindicated? Is he a hero or a fraud? Of course, it is never in doubt who we should be rooting for.
Sporting white hair and matching moustache, perfectly cast Hanks radiates everyman decency and Eastwood also finds time to acknowledge the contributions of calm co-pilot Jeff Skiles (Aaron Eckhart), the equally cool air stewards, the passengers and rescue workers.
Everyone did their bit.
Get the latest updates, reviews and unmissable series to watch and more!
Thank you for signing up to Whattowatch. You will receive a verification email shortly.
There was a problem. Please refresh the page and try again.