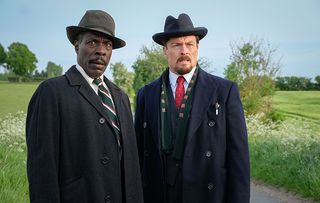 (Image credit: BBC/Little Island Productions)
Award-winning writer Stephen Poliakoff's new semi-autobiographical BBC2 drama, Summer of Rockets, has a star-studded cast
Award-winning writer Stephen Poliakoff's new semi-autobiographical BBC2 drama, Summer of Rockets, has a star-studded cast
The year is 1958 and with the Cold War at its height, Britain is testing its first hydrogen bomb as America battles to keep up with Russia in the space race.
That's the backdrop for Stephen Poliakoff's semi-autobiographical drama Summer of Rockets, telling the tale of Samuel Petrukhin, a Russian-born inventor who finds himself dragged into an espionage plot at the top of English aristocracy.
Toby Stephens plays a version of the writer's father at the centre of the tale, while a supporting cast including Keeley Hawes, Timothy Spall, Gary Beadle (pictured above, left, with Toby Stephens) and Linus Roache impress in the first episode of this slow-burning six-part saga.
Keeley, 43, who earlier this year starred in C4's post-World War Two spy thriller Traitors, tells us about her character, Kathleen Shaw, an English aristocrat with a dark family secret…
How would you describe your character, Kathleen?
She's very much a woman of her time.
Her life is based around being the wife of an MP, and she lives for her husband and her perfect life in this beautiful country house.
Yet she has no idea about her husband's world, his political beliefs or his associates and she doesn't know why MI5 would be interested in him.
The part is very alien to me, which makes it interesting to play, but it's also quite suffocating.
Ultimately that's how she feels.
She's been in this tiny bubble and, at the end, she realises it's not enough.
But there's more to Kathleen than meets the eye, isn't there?
Parts of their family history have been hushed up.
Kathleen and her husband must live with this awful thing hanging over them.
I don't want to say more, but there are dark forces at work…
Are you a fan of Kathleen's outfits?
I am, but I don't enjoy wearing the wig – it's like wearing a woolly hat!
I don't really enjoy being glamorous, because I've done so many period dramas recently and it gets tiring.
You really look forward to your days off where you can let it all hang out!
I find it fascinating what hair and make-up people can do.
You walk into their truck as yourself and walk out looking like a completely different person.
Rose Ayling-Ellis, who plays Esther, came on to set without her wig the other day and we didn't recognise her, which was quite embarrassing!
TV Times rating: ****
Get the What to Watch Newsletter
The latest updates, reviews and unmissable series to watch and more!