Tale of Tales - Channel 4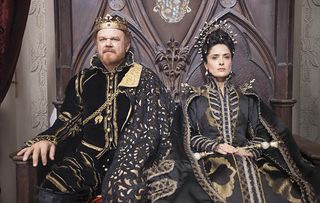 (Image credit: © Studio Canal)
Salma Hayek, Toby Jones and Vincent Cassel star in this dazzlingly strange and gorgeously grotesque fantasy
Salma Hayek, Toby Jones and Vincent Cassel star in this dazzlingly strange and gorgeously grotesque fantasy.
It depicts a fairy-tale world of kings and princesses, witches and dragons, sorcerers and ogres, but its three weirdly twisted fables are far, far away from Disney's familiar sugar-spun realm.
A barren queen (Hayek) gives birth to a son after eating the heart of a sea monster; the singing of an unseen woman arouses the passions of Cassel's licentious king and a self-indulgent ruler (Jones) develops an obsession with a giant flea with fateful consequences for his young daughter (Bebe Cave).
Italian director Matteo Garrone grounds his strange stories with a striking use of real locations. Yet what makes the film so compelling is its core of emotional truth. Rather than magic spells or enchantments driving each of the tales (three of the 50 collected by 17th-century Neapolitan courtier Giambattista Basile), it is recognisable human feelings.
The characters may be fairy-tale figures, but their desires - for a child, for youth and beauty and for adulthood and independence - are just like ours.
Get the latest updates, reviews and unmissable series to watch and more!
Thank you for signing up to Whattowatch. You will receive a verification email shortly.
There was a problem. Please refresh the page and try again.