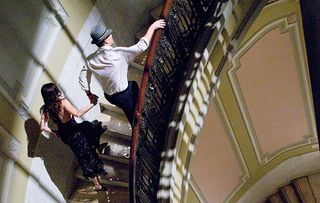 (Image credit: Photo Andrew Schwartz)
Rising US politician Matt Damon has a career setback when the press leak an old college-prank scandal - but then he meets English dancer Emily Blunt and things are looking up again
Rising US politician Matt Damon has a career setback when the press leak an old college-prank scandal - but then he meets English dancer Emily Blunt and things are looking up again.
Unfortunately, though, creepy blokes in sharp suits and funny hats are trying to keep the lovers apart...
Based on a tale by Philip K. Dick (Minority Report, Blade Runner), this intelligent and entertaining spiritual romance with a sci-fi spin ponders destiny and free will while delivering fairly generous helpings of mystery, action, humour and intelligent dialogue.
Damon runs like the clappers, Blunt dances like an angel and together the cute couple share sweet chemistry.
There's not a lot to it - the short story seems way stretched to fill a feature length movie - and there's not much in the way of a lasting aftertaste, but it's all very slick and satisfying while it lasts.
Get the latest updates, reviews and unmissable series to watch and more!
Thank you for signing up to Whattowatch. You will receive a verification email shortly.
There was a problem. Please refresh the page and try again.