The Left Behind – BBC1 & BBC3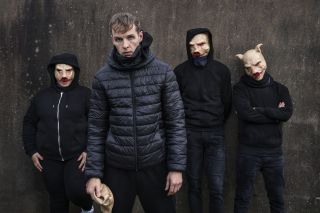 (Image credit: BBC)
A down-on-his-luck fast-food worker is drawn into far-right violence in BBC's powerful new one-off drama The Left Behind
The BAFTA-winning team behind Murdered for Being Different and Killed by My Debt returns with powerful BBC1 one-off drama The Left Behind (also available on BBC3 Online from 10am on Wed 10 July), following a fast-food worker drawn into far-right violence.
Set in a Welsh community, Gethin (Sion Daniel Young) is on a zero-hours contract in a chicken shop and works with Yasmin (Ackley Bridge's Amy-Leigh Hickman). He lives with his pregnant sister (Aimee Ffion-Edwards) and her family.
MORE: Ackley Bridge: Rashid PROPOSES to Kaneez!
With eviction imminent and trips to the housing office proving fruitless, he wants someone to blame for his problems and becomes drawn to the anti-immigrant sentiment that rumbles within the community.
But when he finally snaps, Gethin makes a decision that changes his life for ever.
'Gethin has a lot of good things going on in his life and we wanted to show that to start with,' says Sion Daniel Young.
'We always knew where he'd end up, but we wanted to map out how he gets there, and he does have a lot of reasons to resist his dark thoughts for as long as he can.'
The story is based on extensive research using a number of sources, including a government counter-terrorism initiative as well as books charting the rise of the far right.
'We were aware that some people might think we're giving a voice to things that are better left buried,' explains executive producer Aysha Rafaele.
'But we spoke to people who deal with de-radicalising both young Islamists and people involved with the far right.
'We learnt that policy-makers really need to listen to the grievances within these communities.
'As film-makers, it's not about shutting these voices down, but exploring points of view that you might not normally hear.'
This will be shown at different times in Wales and Northern Ireland
TV Times rating: *****
Get the latest updates, reviews and unmissable series to watch and more!
Thank you for signing up to Whattowatch. You will receive a verification email shortly.
There was a problem. Please refresh the page and try again.