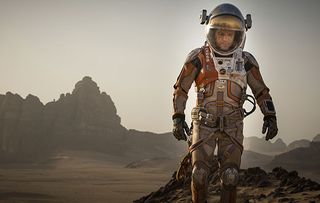 (Image credit: Aidan Monaghan)
Tackling daunting challenges with nerdy ingenuity and can-do zeal, Matt Damon's imperilled astronaut is stranded on Mars in this gripping movie
Tackling daunting challenges with nerdy ingenuity and can-do zeal, Matt Damon's imperilled astronaut is stranded on Mars in this gripping movie.
Director Ridley Scott's sci-fi epic refreshingly celebrates brain over brawn, geeky savvy over gung-ho derring-do. It's terrifically enthralling watching Damon's Nasa botanist, presumed dead and left behind by his crewmates following a rogue sandstorm, take apart and solve a series of knotty science problems - starting with the conundrum of how to grow potatoes - as he strives to survive on the red planet.
The various dilemmas faced by his former astronaut colleagues (led by Jessica Chastain and Michael Peña) and by the Nasa brainboxes back on Earth (including characters played by Jeff Daniels, Chiwetel Ejiofor, Sean Bean and Benedict Wong) add to the tension.
Scott orchestrates all this with deft assurance, skilfully balancing awesome spectacle with intimate human drama. Perhaps the movie fails to delve deeply enough into the psychological aspects of its hero's plight, but Damon's charisma and self-deprecating humour ensure we keep rooting for him to the end.
Get the latest updates, reviews and unmissable series to watch and more!
Thank you for signing up to Whattowatch. You will receive a verification email shortly.
There was a problem. Please refresh the page and try again.