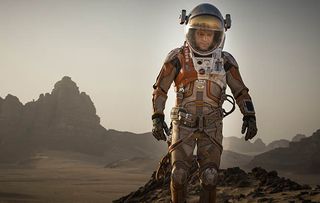 (Image credit: Aidan Monaghan)
If the title Robinson Crusoe on Mars hadn't been snapped up by Byron Haskin's 1964 sci-fi film, it would be a perfect fit for this Ridley Scott space epic, which maroons Matt Damon's astronaut on the red planet and then shows him using Crusoe-like ingenuity in a bid to survive
If the title Robinson Crusoe on Mars hadn't been snapped up by Byron Haskin's 1964 sci-fi film, it would be a perfect fit for this Ridley Scott space epic, which maroons Matt Damon's astronaut on the red planet and then shows him using Crusoe-like ingenuity in a bid to survive.
A NASA botanist on a manned mission to Mars, Damon's Mark Watney is presumed killed during a rogue sandstorm that cuts short his team's mission. He isn't dead, but his prospects are so bleak he might as well be. He's on his own 50 million miles from home. Mark, however, isn't one to give up and sets about tackling the logistical challenges of survival with can-do zeal, starting with the conundrum of how to grow potatoes.
Watching Mark take apart and solve such science problems proves terrifically enthralling. And it's refreshing to encounter an action movie that so emphatically celebrates brain over brawn - a key feature, too, of the novel by Andy Weir on which the film is based. Nerdy brilliance is also on display among the NASA engineers and bosses grappling with daunting challenges back on Earth (including characters played by Jeff Daniels, Chiwetel Ejiofor, Sean Bean and Benedict Wong), while Mark's former astronaut colleagues - including Jessica Chastain's commander and Michael Peña's pilot - contend with hazards and dilemmas of their own.
Scott orchestrates all of this with deft assurance, skilfully balancing awesome spectacle with intimate human drama, and if he doesn't probe very deeply into the psychological aspects of Mark's plight, Damon's charisma and self-deprecating humour ensure we keep rooting for him to the end.
Thank you for signing up to Whattowatch. You will receive a verification email shortly.
There was a problem. Please refresh the page and try again.