The Rob Rinder Verdict – C4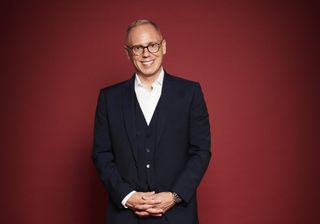 (Image credit: Channel 4)
Judge Robert Rinder gives his own inimitable take on the news in C4's new topical late-night series The Rob Rinder Verdict
Judge Rob Rinder takes a swipe at the news in C4's new topical comedy show The Rob Rinder Verdict, complete with celeb guests, viral trends and offbeat footage from the week's news.
Famous faces joining the barrister-turned-TV-personality throughout the series include the ubiquitous Katherine Ryan, Tom Allen (who will be on C4 earlier in Bake Off: Extra Slice!), and Big Narstie.
He'll also put stars and top politicians in unlikely scenarios, which is surely worth a watch.
'Isn't it fantastic?
'I'm thrilled that sorting out the world has been entrusted to my hands,' grins Rob, 41, who's been brightening up daytime TV since his ITV reality series, Judge Rinder, began in 2014.
'Do you remember the show Clive James on Television?
'Well, it's that for the 2020s.
'I'll be looking at things that are happening in Britain and around the world with a completely open mind and asking, "Is this going to improve our lives or not? What does it mean for us and will it make Britain a better place?"'
So who would be his ideal celebrity guest?
'I want everyone from huge A-listers to the bottom end of the celebrity alphabet.
'Joanna Lumley's top of my list.
'If there was an election for God, I'd choose her!'
TV Times rating: ***
Thank you for signing up to Whattowatch. You will receive a verification email shortly.
There was a problem. Please refresh the page and try again.