The Shanghai Job - Sky Cinema Premiere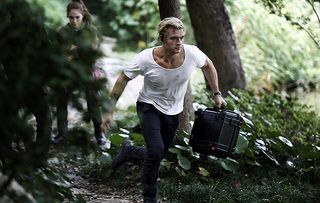 (Image credit: © 2017 Under Exclusive License)
Sporting dyed blond hair and a Cockney accent, Orlando Bloom looks more than a little out of place in this Chinese-made action thriller
Sporting dyed blond hair and a Cockney accent, Orlando Bloom looks more than a little out of place in this Chinese-made action thriller.
He plays an expat security expert who specialises in transporting valuable art works. Trouble is, he's in disgrace having lost a Van Gogh in an ambush in Shanghai. Can he and his trio of colourful local sidekicks achieve redemption by keeping an antique Chinese vase out of the clutches of a ruthless gang of art thieves?
There are some tolerably engaging thrills and spills here, but the script is rather ropy, revolving as it does around cunning plans by the hero that even Blackadder's Baldrick would dismiss as half-baked.
This film premieres on Saturday 21 July.
Thank you for signing up to Whattowatch. You will receive a verification email shortly.
There was a problem. Please refresh the page and try again.