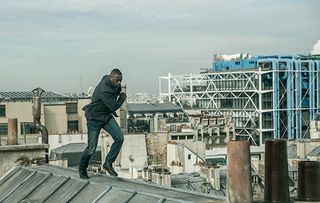 (Image credit: Jessica Forde contact@jessicafor)
In Paris, maverick CIA agent Idris Elba and an American pickpocket (Richard Madden) try to find those responsible for a terrorist outrage
In Paris, maverick CIA agent Idris Elba and an American pickpocket (Richard Madden) try to find those responsible for a terrorist outrage.
Director James Watkins directs with gusto, bullets are sprayed around with abandon and there's a dizzying rooftop chase early in the story as Madden's shifty thief frantically tries to evade Elba's relentless pursuer after getting framed for the bombing in the French capital.
But it feels very contrived when the duo subsequently join forces with each other and with Charlotte Le Bon's conscience-stricken left-wing activist. And when the identities and motives of the real culprits emerge, this thriller loses its grip further.
Still, Elba and Madden make an entertaining double act and this old-style thriller passes the time well enough.
Originally titled Bastille Day, the film was released in France the day before the 2016 Bastille Day terrorist attack in Nice, leading to the change of title and a delay in its cinema release in the UK.
Get the latest updates, reviews and unmissable series to watch and more!
Thank you for signing up to Whattowatch. You will receive a verification email shortly.
There was a problem. Please refresh the page and try again.