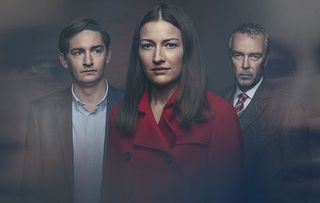 (Image credit: BBC/STV/Mark Mainz/Matthew Burle)
James Harkness, Kelly Macdonald and John Hannah star in new BBC1 drama The Victim, a story of grief and revenge, showing over four consecutive nights
James Harkness, Kelly Macdonald and John Hannah star in new BBC1 drama The Victim, a story of grief and revenge, showing over four consecutive nights
These days, we're spoilt for choice when it comes to gripping drama, but BBC1's new thriller The Victim, stripped across four consecutive evenings this week, looks to be something special.
Set within Scotland's unique legal system, it follows the story of a grieving mother, Anna (Kelly Macdonald), whose nine-year-old son, Liam, was murdered 15 years ago.
Anna has never recovered from his death.
The killer was a child himself, and has therefore been given a fresh start with a new identity, leaving Anna livid and determined to hunt him down.
Then, a few streets away, bus driver Craig (James Harkness) falls victim to a brutal vigilante attack.
His assailant was incited by a social-media post, which the police suspect Anna put online.
But while some are reluctant to pursue the case, lead detective DI Grover (John Hannah) is adamant the law should take its course…
As the drama unfolds, viewers will be left wondering who to trust and who to feel sorry for, as one question underpins the entire series: who is the real victim?
We asked Kelly, James and John to tell us more about their characters…
How would you describe Anna?
She is a grieving mum who can't get past the fact that the person who killed her son served so little time and gets to carry on with his life.
She has never got over it and her grieving process has nowhere to go, which turns her into a slightly crazed person.
Anna has absolutely no respect for the police, she's lost faith in them, so she goes off on her own to try to find out who this man is.
I think Anna is the darkest role I've had in my career; I probably need to do some comedy after this.
James, tell us about Craig…
He's a family guy who had a bit of a tough start in life.
But he's a hard worker, and he loves his family and his job driving buses.
Then he becomes the victim of a smear campaign because of a suspicion he's the man who killed Anna's son.
You find out a lot more about him as the series goes on.
What is DI Grover like?
He's the officer investigating the attack on Craig and he's trying not to take a moral stance.
There are a lot of crime dramas where the cops are at the centre of the story and their personality flaws are played up quite heavily.
We've all become used to those tropes of policemen with emotional baggage but I liked the fact that didn't apply to this character.
The only thing we do find out about Grover personally is that he has been subject to what he says are false accusations, which is why he's moved to this police station.
TV Times rating: *****
Get the latest updates, reviews and unmissable series to watch and more!
Thank you for signing up to Whattowatch. You will receive a verification email shortly.
There was a problem. Please refresh the page and try again.