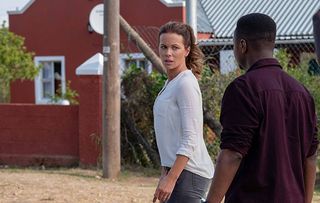 (Image credit: Photos By: Coco Van Oppens Photo)
Georgia finally discovers the shocking truth about what happened to her husband, Will, in this week's final instalments of ITV drama The Widow
Georgia finally discovers the shocking truth about what happened to her husband, Will, in this week's final instalments of ITV drama The Widow
You've got to hand it to Georgia (Kate Beckinsale, pictured above), she's nothing if not persistent.
Undeterred by a car bomb, being kidnapped by armed militia and suffering countless bad-hair days, the former Army captain has shown she's no quitter.
Last week, Georgia discovered she was right to be suspicious about the circumstances of her ex's death.
Over the final two episodes (it ends tomorrow night), the truth about Will's fate is revealed.
If he is alive after all, the guy certainly has some serious explaining to do…
There's also the obligatory last big plot twist, some flashbacks to snowy Wales, and moments of truth for unhinged General Azikiwe and child soldier Adidja.
At the start of The Widow, Georgia's godfather, Martin, dismissed her notion that her late husband, Will, was alive in the Congo.
But since then, he's travelled to Rotterdam and Kinshasa to help his goddaughter find the truth, and his background in military intelligence has been a huge asset.
'An ordinary civilian in these circumstances just wouldn't survive,' says Charles Dance, who plays Martin.
'But because of his military training, Martin knows what they are going into.
'Martin has been a surrogate father to Georgia since her dad died.
'He also feels very guilty about a decision he made that affected her life.'
Charles uncovered secrets relating to his own family in 2017 when he appeared on BBC1 genealogy show Who Do You Think You Are? and learnt about South African relatives that he never knew existed.
Charles admits he found the experience of exploring his family tree very moving, and filming The Widow in South Africa gave him a welcome chance to meet up with those long-lost relatives.
'I invited my great niece and her husband to come to the set,' he reveals.
'It was extraordinary that I was only finding out about all this in my 70th year!'
TV Times rating: ***
Get the latest updates, reviews and unmissable series to watch and more!
Thank you for signing up to Whattowatch. You will receive a verification email shortly.
There was a problem. Please refresh the page and try again.