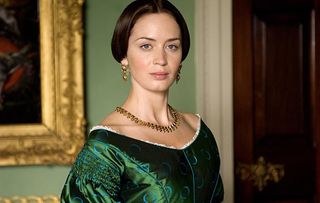 (Image credit: Photo: Liam Daniel)
Emily Blunt and Rupert Friend are perfect as the young Queen Victoria and her consort Albert in this excellent period drama
Emily Blunt and Rupert Friend are perfect as the young Queen Victoria and her consort Albert in this excellent period drama.
It focuses on the little-known story of Victoria's struggle for power and love as she eagerly seizes the throne as soon as she comes of age at 18 in 1837.
On inspired form, screenwriter Julian Fellowes lovingly creates a splendidly gossipy, superbly crafted drama that mixes laughs, joy, romance, tears and, above all, court intrigue. Director Jean Marc Vallée rushes along the taut, tense story, filming on gorgeous locations and bringing history to fresh, vibrant life.
A big-name Brit cast is, of course, assembled in force to great effect: Paul Bettany's Lord Melbourne, Jim Broadbent's King William IV, Julian Glover's Wellington, Miranda Richardson's Duchess of Kent, Mark Strong's evil advisor Sir John Conroy and Harriet Walter as the dowager queen are all marvellous, giving finely honed turns of true quality.
With Blunt and Friend making such a splendidly romantic couple, this is a right royal occasion.
Princess Beatrice, the great-great-great-great-granddaughter of Victoria, has a cameo as one of Victoria's ladies in waiting.
Get the latest updates, reviews and unmissable series to watch and more!
Thank you for signing up to Whattowatch. You will receive a verification email shortly.
There was a problem. Please refresh the page and try again.