Tinker Tailor Soldier Spy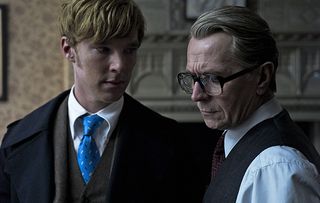 (Image credit: Jack English)
Gary Oldman is superb as spy catcher George Smiley in this absolutely riveting, fiendishly clever adaptation of John le Carré's classic spy novel
Gary Oldman is superb as spy catcher George Smiley in this absolutely riveting, fiendishly clever adaptation of John le Carré's classic spy novel.
Alec Guinness' portrayal of Smiley in the iconic 1970s TV series is a hard act to follow, but Oldman's subtle and patient performance is faultless.
It's Cold War-era 1973 and he's brought out of retirement by John Hurt to hunt a Soviet mole at the heart of the British intelligence service.
Benedict Cumberbatch helps him work out whether the traitor could be ambitious Toby Jones ('Tinker'), dapper Colin Firth ('Tailor'), solid Ciarán Hinds ('Soldier'), or even Hungarian David Dencik ('Poor Man').
Thanks to the brilliant acting by all concerned and Tomas Alfredson's deft direction, it's very rewarding sifting through the suspects and the complex, detailed plotting.
Thank you for signing up to Whattowatch. You will receive a verification email shortly.
There was a problem. Please refresh the page and try again.