Transformers: Dark of the Moon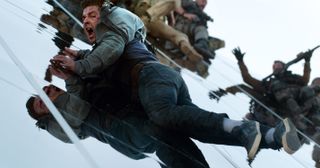 (Image credit: Jaimie Trueblood)
This third blockbuster based on the shape-shifting Transformers toys is everything fans expect
This third blockbuster based on the shape-shifting Transformers toys is everything fans expect. There are bigger explosions, more spectacular special effects and a new girlfriend, in the shape of Rosie Huntington-Whiteley, for Shia LaBeouf's hero, Sam Witwicky.
He's plunged into another titanic robot war with his good-guy Autobot pals against the evil Decepticons, who are plotting more mayhem on Earth.
The awesome, eye-popping, jaw-dropping action makes up for any flimsy deficiencies in the plot department and John Malkovich, Frances McDormand and John Turturro provide classy supporting turns.
Get the latest updates, reviews and unmissable series to watch and more!
Thank you for signing up to Whattowatch. You will receive a verification email shortly.
There was a problem. Please refresh the page and try again.