Transformers : Revenge of the Fallen - Paramount Network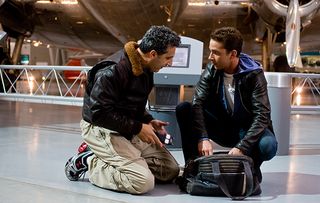 (Image credit: Robert Zuckerman)
Shia LaBeouf is back for this slam-bang sequel to the 2007 hit, which is is even bigger, noisier, funnier and with more spectacular special effects
Shia LaBeouf is back for this slam-bang sequel to the 2007 hit, which is is even bigger, noisier, funnier and with more spectacular special effects.
Following his adventures in the first movie, all LaBeouf's Sam Witwicky wants to do is be a normal kid and go to college. But it's not long before the fate of the world rests on his shoulders once again and he has to help Optimus Prime's good-guy alien robot Autobots defeat the evil Decepticons - led by Fallen - who are planning an attack on Earth that will ultimately destroy the sun.
LeBeouf once again makes a great hero, Megan Fox returns as his feisty, sexy gal and John Turturro also makes a welcome return.
But it's the special effects that are the showstopper. From giant machines that suck up anything in their path to tiger-like creatures and tiny dragonflies, they make for a fine visual feast.
Get the What to Watch Newsletter
The latest updates, reviews and unmissable series to watch and more!