Uncle John - Sky Cinema Premiere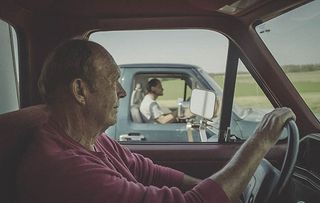 (Image credit: Uncle John Production LLC)
Two wildly different films seem to run side by side in this enigmatic, beautifully acted drama starring John Ashton and Alex Moffat
Two wildly different films seem to run side by side in this enigmatic, beautifully acted drama starring John Ashton and Alex Moffat.
In small-town rural Wisconsin, Ashton's well respected, sixty-something carpenter is keeping mum about the whereabouts of a local ne'er do well who has gone missing.
Meanwhile, young graphic designer Moffat is falling in love with his new co-worker (Jenna Lyng) at a Chicago media company.
How and when will these stories tie together?
The film's director and co-writer, Steven Piet, is almost as tight-lipped as his secretive title character, and he keeps the tone low-key, understated and naturalistic as events unfold.
Even so, the tension builds, both in the big city as the two colleagues keep up their platonic flirtation, and in the country, especially when the missing man's ornery, suspicious brother (Ronnie Gene Blevins) begins nosing into things.
And when the film's romantic comedy and crime mystery strands finally converge, the outcome is thrilling.
Get the latest updates, reviews and unmissable series to watch and more!
Thank you for signing up to Whattowatch. You will receive a verification email shortly.
There was a problem. Please refresh the page and try again.