Once Upon a Time in Mexico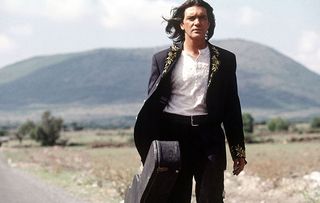 Antonio Banderas has a gun in his guitar case, CIA agent Johnny Depp doesn't care who he kills and Willem Dafoe, Mickey Rourke and Salma Hayek are all trigger-happy, too
Antonio Banderas has a gun in his guitar case, CIA agent Johnny Depp doesn't care who he kills and Willem Dafoe, Mickey Rourke and Salma Hayek are all trigger-happy, too.
In his third El Mariachi-Desperado movie, director Robert Rodriguez shows he certainly knows how to stage an uproarious action scene, even if his storytelling skills are a shade muddled.
Still, Depp's performance is a hoot and Banderas stylishly barges his way through the crazy plot.
An unforgettable, explosive action thriller, this is a fast, loud and sometimes extravagantly violent roller-coaster ride.
Thank you for signing up to Whattowatch. You will receive a verification email shortly.
There was a problem. Please refresh the page and try again.