Venom - Sky Cinema Premiere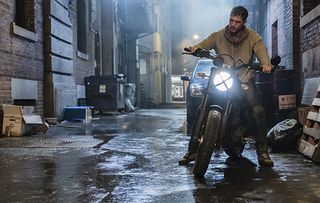 (Image credit: Sony Pictures)
Tom Hardy has a great time as shabby journalist Eddie Brock and his alter ego Venom in this superhero movie
Tom Hardy has a great time as shabby journalist Eddie Brock and his alter ego Venom in this superhero movie.
It takes quite a while, however, for the movie – the character's a spin-off from Spider-Man – to get to Eddie's alarming transformation.
When we first meet him he is busy wrecking both his career and his relationship with his lawyer girlfriend (Michelle Williams) by digging into her computer for dirt on Ahmed's ruthless tycoon, Carlton Drake, who's behind a dodgy biotech/space programme.
The wheeze gets him fired and dumped. Six months later, still determined to expose Drake, he breaks into his laboratory and ends up infected by a big blob of slithery extraterrestrial goo whose powers the tycoon is trying to harness.
There are some darkly funny laughs to be had watching Hardy's befuddled antihero grapple with his new alter ego, who turns out to possess a snake-like tongue, sharp teeth and a taste for human brains. And there are a few thrills in store when Eddie goes on the run from Drake's henchmen – including a chase through the streets of San Francisco.
The action is too murkily filmed for the film's good, and the CGI is scuzzy, but Hardy's portrayal is spot on as Eddie (all Brando-esque mumble) and Venom (gravelly roar) keep up their entertainingly surreal banter.
Get the What to Watch Newsletter
The latest updates, reviews and unmissable series to watch and more!