When They See Us – Netflix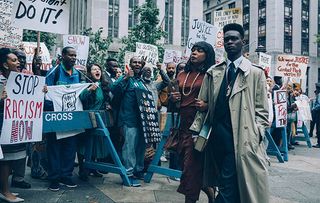 (Image credit: Atsushi Nishijima/Netflix)
Thirty years on, four-part Netflix drama When They See Us revisits the notorious miscarriage of justice of the Central Park Five
Thirty years on, four-part Netflix drama When They See Us revisits the notorious miscarriage of justice of the Central Park Five
On the night of 19 April 1989, New York City police were called to a disturbing scene in Central Park.
A female jogger, Trisha Meili, had been raped and left for dead.
The case made headlines around the world and the NYPD were quick to arrest and eventually jail five suspects, despite a lack of physical evidence.
Antron McCray, Korey Wise, Yusef Salaam, Kevin Richardson and Raymond Santana were from Harlem, and aged between 14 and 16.
Because the suspects were black and Hispanic, and the victim was white, the case sparked a media uproar.
New York mayor Ed Koch branded the teenagers 'monsters', while a pre-presidential Donald Trump took out full-page advertisements in all the city's newspapers calling for the return of the death penalty.
Now, 30 years on, When They See Us, a new four-part Netflix drama, revisits the case of the Central Park Five, who were proven innocent and exonerated in 2014.
'They were called wolf pack animals,' says Ava DuVernay, the director of the drama.
'In reality, they were boys with dreams, with families, with memories and with beating hearts.
'They weren't animals.'
For the drama, Ava worked closely with the men over four years.
'They've gone through a traumatic experience, so I definitely see the scars,' she says.
'It's a miracle that these five men have been able to overcome such tragedy in their young lives.
'When I look at them, I'm like, "How are you guys sitting here talking to me now?"
'It's incredible.'
The drama stars Bates Motel's Vera Farmiga and Desperate Housewives' Felicity Huffman as prosecutors Elizabeth Lederer and Linda Fairstein.
The Wire's Michael K Williams is Bobby McCray, the father of Antron McCray, and Scream Queens' Niecy Nash is the mother of Korey Wise.
'The drama shows the deep, deep abuse that Korey Wise received when he went to Rikers Island prison at the age of 16,' says Ava.
'He had no idea of how to function in an adult prison.
'I'd be in a straitjacket if that happened to me.
'These boys are remarkable people and a testament to their communities and to their cultures.'
After spending several months in hospital, Trisha Meili went on to become a public speaker and now campaigns on behalf of sexual assault survivors.
Meanwhile, the wrongly convicted men finally settled with the city of New York for $41million following a civil-rights lawsuit.
Ava, who also directed civil-rights movie Selma and Oscar-nominated documentary 13th, says she hopes that the drama will raise some important talking points.
'Millions of people have been damaged like this by the system,' she says.
'The criminal justice system is broken, and hopefully this film will help change our minds about people who've been imprisoned.'
Get the What to Watch Newsletter
The latest updates, reviews and unmissable series to watch and more!