Will new pupils Jade and Drew settle in?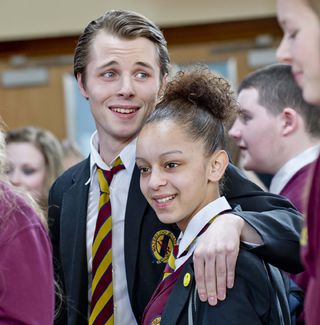 (Image credit: www.alanpeebles.com)
It's the first day of term in Greenock, Scotland, and the pupils of Waterloo Road are struggling to come to terms with the crash and the devastating impact it's had for two of the pupils. The casualties of the crash were Denzil, who sadly passed away. However, Tariq also suffered devastating injuries and he's now in a wheelchair. But the pupils are determined to carry on, and Michael begins the school year with a rousing speech about the loss of their friend and classmate, but about how they're all going to change their lives at the new and improved Waterloo Road. Meanwhile, new staff member Christine Mulgrew immediately seems to be struggling to cope with the class. A staff trip to the pub after work reveals that she may have a hidden secret, as she drinks countless glasses of wine and makes a fool of herself. Two of the school's freshly-enrolled pupils immediately catch Michael's attention. Young Jade and Drew inform the school that they're half-siblings, but Michael is suspicious of the pair. They say that they're half siblings, but something in their story doesn't add up. It doesn't take long before Drew comes to blows with Deputy Head Tom and Secretary Janeece. Both Jade and Drew are hiding terrible secrets, and it's soon revealed that they've run away from a care home and that Jade is pregnant.
Get the latest updates, reviews and unmissable series to watch and more!
Thank you for signing up to Whattowatch. You will receive a verification email shortly.
There was a problem. Please refresh the page and try again.