xXx: Return of Xander Cage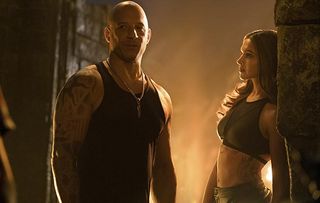 (Image credit: Photo George Kraychyk)
Vin Diesel landed with a bang when he launched the character of extreme sports athlete-turned-secret agent Xander Cage in 2002's xXx – a scruffy, streetwise answer to the suavity of James Bond
Vin Diesel landed with a bang when he launched the character of extreme sports athlete-turned-secret agent Xander Cage in 2002's xXx – a scruffy, streetwise answer to the suavity of James Bond.
And now cocky maverick Xander's back and dispatched by Toni Collette's hard-as-nails spy chief to retrieve a top-secret gizmo that can send satellites plummeting lethally to earth.
His new mission is as big and dumb as anyone could wish - but this time it's not a solo affair. Here, Diesel's hero recruits a multinational crew of outlaws - including Ruby Rose's crackshot sniper and Rory McCann's dementedly reckless stunt driver.
They are up against a similarly multi-ethnic gang - a sign of the film's global box-office ambitions - whose members include Bollywood star Deepika Padukone, Thai martial arts icon Tony Jaa and, most charismatic of all, Hong Kong star Donnie Yen.
The plot doesn't make a lick of sense, but the audacious silliness of the action sequences will put a smile on most faces.
Get the latest updates, reviews and unmissable series to watch and more!
Thank you for signing up to Whattowatch. You will receive a verification email shortly.
There was a problem. Please refresh the page and try again.