Beyond Paradise's Zahra Ahmadi teases episode three art heist
Zahra Ahmadi reveals why she's delighted to be playing DS Esther Williams in the Death In Paradise spinoff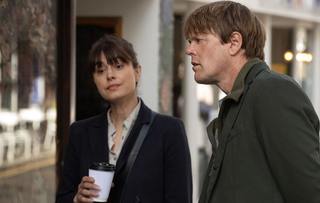 (Image credit: BBC)
Zahra Ahmadi has been enjoying a homecoming of sorts with her latest role. As DS Esther Williams in the Death in Paradise spin-off Beyond Paradise, set in the fictional Devon town of Shipton Abbott, the Plymouth-born star has been filming all around the area where she grew up — and she's delighted to be back!
Zahra's previous credits include roles in EastEnders, Count Arthur Strong, Innocent and, appropriately enough, a guest role in Death In Paradise! But she's much happier in Cornwall than in the Caribbean, as we found out when we joined her for a chat...
Zahra Ahmadi interview for Beyond Paradise
Episode three involves the theft of an important local painting. Can you tell us a bit more about that?
"For this episode, we're in a kind of country manor-type place, and it's about a painting that has real historical significance in Shipton Abbott. There has always been a lot of debate over who actually made the painting — whether it was the established artist, or his assistant, and there's been a rivalry between the two families of the descendants of those two people.
The lady of the manor has brought the painting home and is going to exhibit it in Shipton Abbott, so that invokes some protests locally from the family of the artist's assistant. So that's why we're present, to make sure everything runs smoothly — and then it goes missing! So we need to try and figure out who's done it, and why..."
DI Humphrey Goodman (Kris Marshall) took some getting used to when she first met him, but they have a good working relationship now. How would you sum it up?
"I think Esther is very good at her job, and there's very little that would impinge on her professionalism — which is why she finds a way of dealing with Humphrey so quickly. That's not to say she enjoys it! But she finds a way to manage him, and by the end of the first episode, there's a certain amount of respect from Esther to Humphrey. The process for her is 'okay, how do I work with this guy? He antagonises me, he does things that make me wince, but he's of value' — she's not so stuck in her ways that she's not able to think outside the box. She's a very unflappable character! She's very reliable — I would imagine she's a great friend to have, for sure."
Have you enjoyed playing her?
"Yeah, I loved playing her actually! I'm from the West Country, and I've never in my professional career had a part who's from the West Country. There's a certain quality when you're from here, when you are used to negotiating both urban and rural environments in very close proximity, and the different sensibilities that come with that. I think, in terms of policing, it makes for quite a well-rounded person so I really enjoyed the fact that Esther could straddle those two worlds. There's a lot of tough cookies down here who are that sort of 'yeah, okay, let's get on with it, let's sort it out', who are very pragmatic, so I really liked getting into that with a West Country angle!"
Did you do any specific research for the policing side of the role?
"I've played an awful lot of police people over the years! We love police dramas in this country, don't we, so it's no surprise that a lot of the programmes I've been involved in are to do with that. But this time, because of her level of seniority, because in her world she's almost the top dog of Shipton Abbott — not quite, there's always someone just above her — I did do quite a bit of research because I felt that she needed to come in secure in that knowledge, and there was a lot of police terminology that I'd never heard of before!
"So I was googling left, right, and center, asking lots of questions to our script editor, and sometimes even the writer and creator themselves, just to make sure I understood properly what I was talking about. And I tell you what, reading the scripts really exercised that police brain, because I found that by the end, I was able to figure things out much more than I could initially. I think that was a little bit of Humphrey rubbing off on me!"
Did you enjoy getting to film on home territory in the south-west?
"We filmed in an incredible house in Fowey, and Looe was the exterior of the police station. In terms of the interior, we were in a makeshift studio on a farm just outside of Saltash, and my whole family are from Saltash, it was so surreal doing that!
I remember one day, we were filming in Plymouth proper, which is where I'm from. My dad knew that I was finishing at a certain time, and I got a phone call from him saying, 'do you want me to pick you up after work?', which was so weird! So I loved it, it was an absolute dream to work down here — it never happens for me!"
You appeared in an episode of Death In Paradise back in 2018 — what was that like?
"I did! Well, first and foremost, what an honour to go to the Caribbean and work, I was extremely excited — and for the most part, I had a lovely, lovely time. The island was great, the locals were fantastic — my issue that I'm not great with bugs, so it was tricky for me! There were lots of very scary-looking centipedes in Guadeloupe [where Death In Paradise is filmed] and I had an incident with one of those, which I won't go into now.
I don't want to sound ungrateful, I really enjoyed the job, but I had to go to sleep at night in a mosquito net, wearing layers and layers of clothing in the heat because I didn't want to get bitten — but that's more of a reflection on me, rather than the job!"
Death In Paradise has aired 12 seasons — would you like Beyond Paradise to stick around for a long time too?
"Oh my goodness, yeah, just based on the job, the material, the dynamic between the cast and crew, the location — I really mean it, hand on heart, it's a dream job for me. I can't think of much better. And I think there's definite potential here as well, with the characters and the storylines. After we did six episodes, I was like, 'but there's so much more here!'. I think it has potential, and I would love it — so we'll see!"
Beyond Paradise continues on Friday nights at 8pm on BBC1 in the UK, and streams on BritBox in the US
Get the What to Watch Newsletter
The latest updates, reviews and unmissable series to watch and more!
Staff Writer for TV & Satellite Week, TV Times, What's On TV and whattowatch.com
Steven Perkins is a Staff Writer for TV & Satellite Week, TV Times, What's On TV and whattowatch.com (opens in new tab), who has been writing about TV professionally since 2008. He was previously the TV Editor for Inside Soap before taking up his current role in 2020. He loves everything from gritty dramas to docusoaps about airports and thinks about the Eurovision Song Contest all year round.