Where is Beyond Paradise filmed? Is Shipton Abbott a real place?
Wondering where is Beyond Paradise filmed? We have the answer...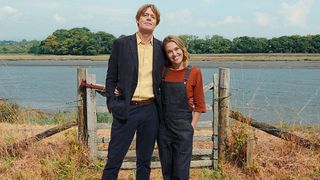 (Image credit: BBC / Red Planet Pictures / Todd Anthony)
Where is Beyond Paradise filmed? That's what you might be wondering as the BBC police drama drops the luscious Caribbean backdrop of Death in Paradise for somewhere that is, according to the name of the show, even better!
Beyond Paradise is a spin-off of DiP featuring season 3-6 lead Humphrey Goodman (Kris Marshall), who is now living with his fiancée Martha (Sally Bretton) in her hometown of Shipton Abbott. It's not an identical replica of its predecessor series, with fewer murders and a time travel plot twist throwing some curveballs.
Just like Death in Paradise, Beyond Paradise uses a string of fabulous locations.
Shipton Abbott, on the Devonshire coastline, isn't actually a real place — the show's creators made it up just like they did with Saint Marie in Death in Paradise. But that doesn't mean it's all green screen and CGI, as the show was filmed in real locations (though not all Devon locations, as you'll soon discover).
So where is Beyond Paradise actually filmed? We'll run you through the key locations...
Where is Beyond Paradise filmed?
Looe in Cornwall
Looe doubles for Shipton Abbott, the fictional heart of the show. Indeed, the first few moments of the opening episode we see a string of shots of Shipton Abbott, which in reality is Looe.
Looe, then, is the primary filming location for Beyond Paradise, with many locations around this Cornish town used for various scenes in the show: filming was spotted in the fire station, a restaurant and the town center according to Cornwall Live (opens in new tab).
The Shipton Abbott police station in reality is the Guildhall in Looe.
A coastal town in southeast Cornwall, Looe is fairly small but is known for its extravagant traditional New Year's Eve parties which draw huge crowds to the town's seafront. The town is separated into two halves by a river, and filming was spotted on the bridge that spans West Looe and East Looe.
No doubt lots of Beyond Paradise fans will now be booking holidays in Looe.
It was great to see our beautiful town on television this evening, playing tShipton Abbott in the new BBC series 'Beyond Paradise'. Great coverage for our local town and businesses. Come and visit Looe in Cornwall. Looe is Beyond Paradise!#VisitLooe #Cornwall #BeyondParadise pic.twitter.com/MrqvYbEVYkFebruary 24, 2023
Port Eliot House and Gardens
Port Eliot; a beautiful corner of the world. #porteliot #cornwall #RomanticEnglishHome #statelyhome pic.twitter.com/cpzLcnpUXUNovember 3, 2017
In episode three a painting is stolen from a beautiful house in a dramatic art heist. In reality, the house is Port Eliot in St Germans, Cornwall. The official website describes it as "the ancestral seat of the 11th Earl of St Germans and home of the Eliot family". It also describes the location as "a secret corner of England". Although how secret it will remain after being in Beyond Paradise is open to debate!
Tamar Valley on Devon/Cornwall border
Another location used in Beyond Paradise, as reported by the Tavistock Times Gazette (opens in new tab), is the Tamar Valley, with filming taking place in August 2022.
The Tamar Valley is an Area of Outstanding Natural Beauty, or AONB, so perhaps it's the "paradise" where the "deaths" of Beyond Paradise will take place. At one time, Tamar Valley hosted Europe's biggest mine, and it also houses multiple ancient towns and a steam railway.
There's another Tamar Valley in Tasmania, and a valley simply called Tamar in Slovenia, but the BBC crew didn't jet over to the other side of the world just to shoot a few scenes.
Bere Ferrers & Weir Quay, Devon
Bere Ferris is a village in southern Cornwall, with a population just shy of 3,000. It's also a civil parish, which includes multiple smaller places including Weir Quay.
Both Bere Ferris and Weir Quay have been reported as two filming locations for Beyond Paradise, with the former likely used for residential scenes and the latter as a nondescript waterfront.
Weir Quay is, coincidentally, where the Tamar River (which runs through the Tamar Valley, as described above) reaches the tidal estuary — in other words, a body dumped in the river there would reach the Quay. Maybe that's the plot of an episode.
University of Plymouth
It's been revealed that the University of Plymouth features in a number of shots in the series. Humphrey and Esther are seen at one point chatting outside the university's cafe.
Beyond Paradise is on BBC One.
Get the What to Watch Newsletter
The latest updates, reviews and unmissable series to watch and more!
Streaming and Ecommerce Writer
Tom is the streaming and ecommerce writer at What to Watch, covering streaming services in the US and UK. His goal is to help you navigate the busy and confusing online video market, to help you find the TV, movies and sports that you're looking for without having to spend too much money.