Sally Bretton — things you didn't know about the TV star
Beyond Paradise star Sally Bretton starred in the cult sitcom The Office, but what else is there to know about her?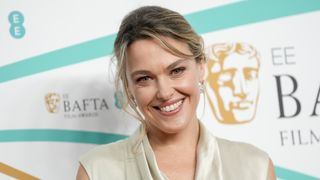 (Image credit: Getty)
Sally Bretton is best known for playing Lucy Adams in the long-running BBC sitcom, Not Going Out and made her first TV appearance as a child star in 1987.
The actress is back on our screens in BBC crime drama Beyond Paradise, a spin-off of the hugely successful Death in Paradise where Sally is reprising her role as Martha Lloyd, the fiancée of DI Humphrey Goodman (played by Kris Marshall).
The six-part series follows the couple as they relocate from London to the fictional Devon town of Shipton Abbott, and expect plenty of comedic capers as each week Humphrey and his team try to crack a new baffling case.
Despite her successful career, married mum-of-three Sally isn't a fan of the limelight and enjoys leading a quiet life with her young family away from the cameras. Here are a few things you may not know about her…
Sally Bretton isn't her real name
Sally Bretton was born Sally Davis and grew up in Hertfordshire. After graduating from Central School of Speech and Drama in 1999, she joined Equity, the performing arts and entertainment union, but realised she'd have to change her surname as there was another Sally Davis on their books.
Sally's new moniker came to her while she was working as a Saturday girl in the Barnet branch of Next. "A friend brought in a book all about the meanings of names, and I was in the staff room flicking through," she told The Telegraph (opens in new tab).
Sally wasn't far into the book when she fell on Bretton, and that was that. "I just thought, 'Yup, I quite like that.' It's totally random, but I thought it sounded quite nice."
She experienced fame at a young age
Sally was bitten by the performing bug when she was at primary school and always knew she wanted to be an actress.
She attended a local drama club, which had an agency attached to it, and auditions led Sally to land roles in TV adverts as well as Warner Brothers mini-series Napoleon and Josephine.
However, achieving a minor level of fame was something that didn't always sit well with the young Sally. "It was sometimes difficult to navigate. I didn't get teased or bullied, but I was always aware that people knew that about me …" she told The Telegraph. Even today, Sally admits: "I would much rather go in (to auditions), faff around and pretend, and come home. That would be my ideal."
She used to be a drama teacher
While she was studying at the Central School of Speech and Drama in London, Sally spent her weekends teaching budding young stars at Top Hat Stage and Screen School.
Reflecting on her former job in an interview with The Glasgow Times (opens in new tab), Sally said: "I loved it, but I just love kids. I got hooked on performing at primary school. I think that's all you want for your own children, isn't it? That chance to find a passion, something they will love doing."
She starred in the first series of The Office
Fans of Ricky Gervais's iconic sitcom The Office may remember Sally starred in the first series, which aired back in 2001.
The actress played the part of intern Donna, whose parents were the friends of regional manager David Brent (Gervais), and with whom she was lodging.
Donna caused a stir amongst the staff at Wernham Hogg when she started an office romance with handsome temp Ricky. But the character's most memorable moment came when she branded pedantic salesman Gareth Keenan a 'weasel-faced arse' after his numerous creepy attempts to woo her!
She's played the same character for 16 years
Acting can be a fickle profession, but Sally is lucky enough to have a steady income thanks to her role in the long-running BBC One series Not Going Out. The actress has been with the show since its start in 2006 and plays Lucy Adams, the partner of Lee Mack's character, Lee.
12 series on Not Going Out still draws in an audience of millions, and Sally credits her co-star Lee, who also writes the show, for its success. "People just really love Lee's humour," she explained to The Sunday Post (opens in new tab). "You do laugh making a comedy. You're surrounded by people who tell good stories and jokes and you spend a lot of your time belly laughing."
She's enjoyed a varied career
Sally has rarely been out of work since graduating from drama school over two decades ago.
Her acting CV includes parts in popular dramas such as The Bill, Casualty, Lewis and Hotel Babylon. Other notable roles include Death in Paradise, Green King and Outlaw.
Sally has achieved success on the stage, starring in touring productions of Who's Afraid of Virginia Woolf? and Shakespeare's King Lear. And she's also lent her voice to a number of Radio 4 plays, including Births, Deaths and Marriages.
She fiercely guards her private life
Not much is known about Sally's personal life, and she prefers to keep it that way, choosing not to have a presence on social media.
The low-key actress is married to husband Lee, who works as a photographer and the couple are parents to three daughters, including twins.
The family live near the pretty market town of Hitchin in Hertfordshire and devoted mum Sally makes sure her work doesn't take her away from her girls for long periods of time.
In 2020, she starred in a UK touring production of Dial M for Murder, but revealed she doesn't take on many roles like that because "touring is not a good fit with family life."
Sally Bretton's fact file
Frequently asked questions about the star...
How old is Sally Bretton?
Sally Bretton is 42, she was born on April 23, 1980.
Is Sally Bretton married?
Sally is married to husband Lee, who works as a photographer.
Does Sally Bretton have any children?
Sally and husband Lee are parents to three daughters.
Where was Sally Bretton born?
Sally Bretton was born and raised in Hertfordshire.
How tall is Sally Bretton?
Sally Bretton is five foot four.
We work hard to ensure that all information is correct. Facts that change over time, such as age, will be correct, to the best of our knowledge, at the time of the last article update.
Get the What to Watch Newsletter
The latest updates, reviews and unmissable series to watch and more!
Laura has been a journalist for over a decade, writing about soaps, TV entertainment, fashion, beauty, and food. After graduating from university, she started her career working at a national soap and TV magazine. During her seven-year stint there she joined the cast of Emmerdale for a tour around the famous village, partied with soap stars at awards bashes, interviewed her acting idol David Suchet, and sat in the front row of Strictly Come Dancing.
Her heart lies with the soaps, and her all-time favourite character has to be EastEnders' Pat Butcher - no one rocked a big earring quite like her. She's also a huge fan of detective crime dramas, particularly old school Inspector Morse, Endeavour, and adaptations of Agatha Christie's Marple and Poirot. When she's not writing, she loves a spot of second-hand shopping and going on adventures with her young son.