Gaslit — release date, cast interviews, plot, trailer, first looks, and all about the Nixon-era political drama starring Julia Roberts and Sean Penn
In Gaslit on Starz, Julia Roberts and Sean Penn star as John and Martha Mitchell in a drama anthology that gives an unusual take on Watergate.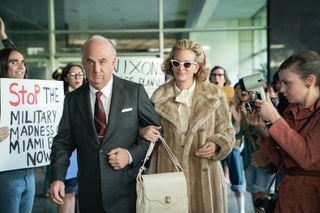 (Image credit: Starzplay)
Get ready for Gaslit in April 2022 especially if you're nerdy about the Nixon era! The new anthology drama series coming to Starz will lift the lid on the Watergate scandal (yes that political earthquake again!), but its stories are told from many different and unusual perspectives, and not all from immediately within the White House.
One of the Gaslit stories will focus on the extraordinary role of Martha Mitchell, the eccentric and outspoken wife of President Nixon's Attorney General John Mitchell. Mouthy Martha, who famously ended up accusing Nixon of involvement in Watergate, is played by none other than Julia Roberts, while her powerful political husband John is portrayed by Sean Penn.
Julia Roberts says: "These stories are fascinating because they're the ones we don't know, when we think we know everything. It's a new way to see something we felt had nothing left to reveal. Sean Penn is simply one of the great actors! What he brought to this part was a treasure to see every day. Once Sean and I started reading scenes out loud, just sitting at my kitchen table, there was a moment when I looked at him and said, 'I could not do this with someone I did not love and trust entirely.' The scenes were simply too intense at times to not have complete faith in the other person."
Suffice to say, we're salivating about the prospect of this pair, telling this story on screen. So here's everything you need to know about Gaslit...
Gaslit release date
Drama anthology Gaslit will be released on Sunday April 24 2022 on Starz (opens in new tab) in the US and Canada, and on the streaming platform Starzplay (opens in new tab) (available on Prime Video) in the UK and Europe, Latin America and Japan.
Is there a trailer for Gaslit?
Yes Starzplay has released a trailer for Gaslit which looks every bit the fabulous drama we expected it to be. Take a look at Julia Roberts and Sean Penn as Martha and John Mitchell below.
Gaslit cast interview — Julia Roberts on playing Martha Mitchell
Gaslit will show how Martha Mitchell, played by Julia Roberts, was a celebrity socialite and political spouse from Arkansas who became one of the first prominent Republicans to publicly sound the alarm about President Nixon's involvement in the Watergate cover-up, eventually causing his Presidency to implode. It was all the more shocking as her husband John Mitchell was Nixon's most trusted advisor and best friend. Temperamental, foulmouthed and ruthless — yet hopelessly in love with his famously outspoken wife — John Mitchell was then forced to choose between standing by Martha and the President he serves.
Julia Roberts says: "The writer Sam Esmail brought this to me and honestly, I did not know anything about Martha. But I looked at a photo of her and called Sam back and said, 'I'm in!' John and Martha had such a dramatic relationship, very physical and very emotional. I think they loved each other totally."
"It's always a balancing act to show all sides to a person. She was known for being loud and boisterous but I spent a lot of time discussing her 'off-camera' personality, what she was like at home alone, and what she and John were like at home. It was extremely important for me to find out what she was like in private. There is a lot of great film of her and it shows her personality. I also read her biography, which was wildly helpful. And I listened to the Slow Burn podcast about Watergate, which was very interesting.
"This was a real team effort and the Martha look took a lot of time. We had lots of great photos for reference. There were incredible wigs, I had an appliance I wear inside my mouth, and everything was so true to how we wanted Martha to look. It was a lot of work but it was incredibly fun to cook it up."
Julia Roberts has appeared in many of Hollywood's most successful films, winning an Oscar for her lead role in Erin Brockovich. She's also remembered for classic movies such as Pretty Woman, Steel Magnolias, Notting Hill and My Best Friend's Wedding. On TV she's starred in HBO's The Normal Heart and most recently in Amazon Prime Video's series Homecoming.
Gaslit cast interview — Sean Penn on playing John Mitchell
In Gaslit Sean Penn plays John Mitchell who was President Nixon's attorney general in the early 1970s and was caught up in the Watergate cover up. His wife Martha let slip Watergate secrets which blew apart what her husband was trying hide. Throughout the Watergate scandal, however, John Mitchell remained intensely loyal to the wife he loved dearly.
Sean Penn says: "In the 1970s, we were following what Washington Post journalists Woodward and Bernstein [who famously investigated the story] were feeding us. What Gaslit shows is that they were reporting from what was an ongoing FBI investigation that was corrupted to a degree from the White House, but there were dedicated agents who were digging in pretty deep and took it a long way before the journalists ever got involved.
"I'd been a devotee of the Watergate hearings when I was a kid. That was probably the turning point for me of really paying attention to the outside world. It was the beginning of any political engagement for me. I did a lot of reading, including biography The Strong Man, about him. I'd highlight those who might be able to share firsthand observations about him and then I talked to those people to see what I could absorb. I made a lot of notes.
"Martha had quite a strong grip on John in a very primal way. She was his universe. He needed her to feel alive. At a certain point, he took the power and the President and left his wife behind. Once he did that, there was nothing left to satisfy him anymore, all of the love, the empathy, was twisted until it snapped away, and then you have a broken man.
've known Julia for a long time, but I've never been on a movie set with her. It's a Martha-driven story and Julia drives it. She's just fantastic. I worked very hard to be present to what was going on behind Julia's eyes, which was just electric."
Sean Penn has been nominated for an Oscar five times, winning the Academy Award for Best Actor for his performances in Clint Eastwood's Mystic River and Gus Van Sant's Milk, in which he portrayed the assassinated gay politician Harvey Milk. He's also known for being the former husband of Madonna.
Gaslit cast — Dan Stevens on playing John Dean
Joining the Gaslit cast are Dan Stevens (Downton Abbey) and Betty Gilpin (GLOW) as early 1970s Washington DC power couple John Dean and his wife Mo. John Dean was the top lawyer within the Nixon administration who eventually turned on the President to make stunning revelations about his boss to the Watergate committee as it investigated crimes and the cover-up, eventually leading to Nixon's downfall.
Dan Stevens says:: "John Dean was a young and ambitious lawyer that was really intriguing to me. What's great about this story is that Nixon is this elephant in the room in many scenes but he barely features as a character. It's about the circle around him and these men who were involved in organizing the break-in and the cover-up, and, Dean plays quite a big role in that. He wants more than anything to be in the inner circle. He wants to be close to the President. There's something about the proximity of a President, whoever it is, that is very, very seductive but he very quickly realizes that he's in over his head."
Dan Stevens also immersed himself in a number of books about the Watergate scandal and those involved with it, starting with Dean's own memoir, Blind Ambition. "He published the book not long after everything went down. I think that Dean himself is a real study in what ambition can do, how it can corrupt somebody, and the lengths it can drive somebody to. That's always worth looking at in any era. There's always a character in there where you're like, how did they get mixed up in this? How did they get so far? It's very often blind ambition."
Betty Gilpin on playing Mo Dean in Gaslit
GLOW star Betty plays John Dean's wife Maureen, aka Mo, who has to support her husband through the Watergate scandal when he makes many enemies.
Betty Gilpin says: "Mo's story is compelling because she doesn't know what is really going on until later. In her head, she wonders if Dean is having an affair. But then it turns out the 'other woman' that's dividing his attention is really Richard Nixon and the cover-up. Once she understands that, she helps him turn his marginalized position into an unexpected superpower."
"You realize what a powerful role Mo played in shaping his emergence from the scandal, going through the hearings and beyond," agrees Dan Stevens. "John Dean evolves from a seventies playboy into a happily married man."
Who else is starring in Gaslit?
Also among the Gaslit cast are Shea Whigham (Kong: Skull Island) as Watergate burglary organizer G. Gordon Liddy and Darby Camp (Big Little Lies) as Marty Mitchell, the daughter of John and Martha Mitchell.
Shea Whigham says: "When first approached to play Gordon, I knew probably about as much as the next person. I knew of the more well-known, salacious stories. The broader strokes. Liddy was never shy about where he stood with people or on the issues. But whenever you take on a character as polarizing as Liddy, the first rule of thumb is you can't sit in judgment of them. You're looking for 'a way in' to play them. And that for me started with his love for his family, his country, but I really ended up hanging my hat on Liddy being the only one not to name names. That's strong and very playable."
More about Gaslit from the creators of the new Starz series...
Christina Davis, President of Original Programming for Starz says: "In Gaslit we not only have the opportunity to tell an incredible untold story in bringing Martha Mitchell's historic role in Watergate to the forefront, but we are also incredibly lucky to have a dream cast including Julia and Sean and the best creative team and partners we could have asked for. We could not be more excited to bring this story to the global Starz audience and continue the network's commitment to spotlighting premium stories that appeal to women while super serving our core audience.
"Gaslit is a modern take on Watergate that focuses on the untold stories and forgotten characters of the scandal — from Nixon's bumbling, opportunistic subordinates, to the deranged zealots aiding and abetting their crimes, to the tragic whistleblowers who would eventually bring the whole rotten enterprise crashing down.
"I'm so happy to have the opportunity to share the heartbreaking, fascinating story of Martha Mitchell with the world," says showrunner and executive producer Robbie Pickering. "Martha was the first and loudest voice to speak out against the bumbling criminality of a crooked Presidential administration and she was one of the most complicated public martyrs of the era. To find anyone willing to tell her story is a dream. I'm over the moon.
"Gaslit is the Watergate story you've never heard before. At the centre of the show is Martha Mitchell, an unlikely whistleblower who is the first person to bust the whole scandal wide open and ultimately becomes the subject of a vicious White House smear campaign enacted in part by her own beloved husband, Attorney General John Mitchell. We also feature John Dean, a hotshot administration lawyer dragged into the coverup and thrust into the spotlight with his acerbic, whip-smart wife, Mo. The goal in making this project has always been to bring a real humanity to this subject, which yields a far richer and more relatable story than the standard male-driven political dramas about the period. I can't wait for viewers to experience the extraordinary performances in this remarkable ensemble, led by Julia Roberts, brought to life in this thrilling, stranger-than-fiction tale of marriage, love, betrayal, and ultimately, hope."
Has Martha Mitchell been portrayed on screen before?
Yes, and most famously in Oliver Stone's 1995 movie Nixon, the late comedy actress Madeline Kahn (Blazing Saddles, What's Up Doc, Young Frankenstein) played Martha Mitchell, who shot her mouth off publicly in the film as the Watergate scandal came to public attention, much to the frustration of some in the Nixon administration. Madeline starred alongside Anthony Hopkins as Nixon, while John Mitchell was played by the late E.G. Marshall, famous for his role in Twelve Angry Men.
Get the latest updates, reviews and unmissable series to watch and more!
TV Content Director on TV Times, What's On TV and TV & Satellite Week
I'm a huge fan of television so I really have found the perfect job, as I've been writing about TV shows, films and interviewing major television, film and sports stars for over 25 years. I'm currently TV Content Director on What's On TV, TV Times, TV and Satellite Week magazines plus Whattowatch.com. I previously worked on Woman and Woman's Own in the 1990s. Outside of work I swim every morning, support Charlton Athletic football club and get nostalgic about TV shows Cagney & Lacey, I Claudius, Dallas and Tenko. I'm totally on top of everything good coming up too.
Thank you for signing up to Whattowatch. You will receive a verification email shortly.
There was a problem. Please refresh the page and try again.