Is Gunther's Millions a true story? Was the dog rich?
Is the story of a very wealthy canine too good to be true? Don't go barking up the wrong tree!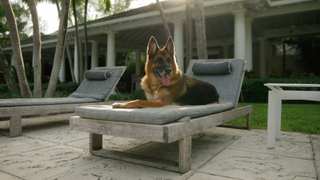 (Image credit: Netflix)
Is Gunther's Millions a true story? is going to be a question on many people's lips watching this Netflix documentary.
It seems like a match made in streaming heaven: a documentary about a dog that inherited hundreds of millions of dollars. That's the story with Gunther's Millions, only this story really is too good to be true.
In fact, the deeper you dig into this four-part documentary, the more you realize that it's even more bizarre than you could possibly imagine!
The story follows a German Shepherd named Gunther who supposedly inherited a fortune in the neighborhood of $400 to $500 million dollars. His owner, Karlotta Liebenstein, was a German countess who made the decision to leave her fortune to her beloved dog after losing her 26-year-old son to suicide.
With so much money at his disposal, Gunther III (via his caretaker, Maurizio Mian) bought real estate and partied with the most beautiful people in the world. Naturally, he ended up buying Madonna's Miami mansion for a cool $7.5 million. He even had an entourage.
It all sounds too good to be true, and that's because it's not true.
Maurizio Mian, a pharmaceutical heir and college professor with a very active imagination and a boatload of aspirations, came up with the idea to leave his family's fortune to a dog to circumvent Italy's increasingly restrictive tax laws. As Gunther III's caretaker he was responsible for using the money to care for the dog, but things quickly spiralled into a bigger and more bizarre scheme than anyone could have imagined.
Don't go barking up the wrong tree — we're going to fetch all of the answers to your burning questions!
Did Gunther really inherit millions of dollars?
Technically, Gunther did inherit millions of dollars, but he was not the beneficiary of a wealthy German countess. The entire inheritance idea was a scheme to avoid paying taxes on a large sum of money.
Mian's mother, the initial recipient of the pharmaceutical fortune, was wary of paying taxes on the money. She was also savvy about money laundering, using the tax-shelter friendly country of Lichtenstein to funnel the money to a friend who was living in Germany. This friend, Carlotta, was German and she was a countess, and she loved animals. Though the funds were funnelled to Carlotta, the money still belonged to Mian's mother. The entire thing was a front to launder close to a half billion dollars.
When the friend died in 1992, Mian was left searching for another way to pass the money along under the radar, so he came up with the idea of leaving the fortune to a dog. Though morally and ethically sketchy, it wasn't technically illegal.
The entire affair was overseen by a lawyer in the Bahamas who, according to the documentary, manages the trust as required by law. She remains blissfully ignorant of the details of the trust, namely, that the money didn't really belong to the countess at all.
Even after Mian's mother's death in 2011, the fortune remained in the Gunther trust with Mian designated as the caretaker.
When he initially came up with the plan, though, Mian just had one problem: he needed a dog.
Who was Gunther III?
In his official biography, part of the front that Mian created for public consumption, Gunther III was the beloved pup of a dead German countess who, in her grief, left everything to her canine companion.
In reality, Gunther III was a dog who belonged to one of Mian's old girlfriends. The dog wasn't descended from rich or royal bloodlines at all.
It's unclear how and when Gunther III died, but he was succeeded by a line of successors —Gunther IV, Gunther V and Gunther VI, who is alive today and is the current beneficiary of the trust.
What was the Magnificent Five and the Gunther Project?
Initially, Mian's goal was to have the most beautiful people surrounding Gunther at all times. His entourage always included scantily-clad men and women who attended to Gunther's needs. They became known as the Magnificent Five and included Fabrizio Corona, a heavily tattooed actor who has written several books about himself because he believes himself to be a god.
Things took a decidedly bizarre turn when Mian came up with the idea to create a society based around free love and, you guessed it, Gunther. Under the supervision of a physician and under the guiding principles of his 13 Commandments— which included sex, music, wealth, drugs, the right to joy, the right to hurt oneself, festivals and amusement — Mian conducted "research."
Part of that research included wearing an "Edo Disk," a necklace with a glowing disk that tracked how close you came to reaching the five levels of enlightenment: physicality, spectacularity, popularity, wealth and sexuality. The Magnificent Five had gold credit cards with no limits (funded by Gunther, of course) and every luxury imaginable. The goal was to achieve the ultimate enlightenment and reach a utopian life, and it was all centered around Gunther.
And it didn't stop there. Though it was called a scientific experiment, it definitely had the feeling of a cult, down to planned mating between these five "scientifically proven happy people." The planned mating, as you might have guessed, closely resembled how dogs are bred carefully to continue bloodlines and create perfect offspring.
Mian is quick to point out that this was not in any way supposed to resemble what the Nazis were trying to do. This was at-will and about creating happy children bred from happy parents. A little girl was eventually born and raised in the community of beautiful people; controversy followed when Mian told the press that the little girl was Gunther's daughter, igniting fury and inviting scrutiny from the media.
Where is Maurizio Mian now?
Interestingly, Maurizio Mian appeared in Gunther's Millions, speaking on camera with director Aurelien Leturgie about everything he did. Throughout the documentary, Mian stops himself from making certain statements that could — presumably —prove damning should a governmental agency decide to pursue tax evasion charges against him. But at no point does he express remorse or give any indication that anything he has done is wrong in any way.
In fact, it's a common theme among the documentary's participants, particularly those who still work for the Gunther Trust; they have to walk a fine line between acknowledging the true story of how the trust came about while remaining on the official company line in order to avoid incriminating themselves.
Executive producer Emilie Dumay spoke with the New York Post about filming with Mian. "It seems to us that there was a deeper personal journey for him. These are the topics we reveal in this series. Really getting to know Maurizio and why he was doing all the things he was doing, and telling the stories and creating these fantasies."
Mian still lives with and cares for Gunther VI, overseeing the dog's lavish lifestyle.
Get the What to Watch Newsletter
The latest updates, reviews and unmissable series to watch and more!
Editorial Content Producer
Sarabeth joined the Watch to Watch team in May 2022. An avid TV and movie fan, her perennial favorites are The Walking Dead, American Horror Story, true crime documentaries on Netflix and anything from Passionflix. You've Got Mail, Ocean's Eleven and Signs are movies that she can watch all day long.
When she's not working, Sarabeth hosts the My Nights Are Booked Podcast (opens in new tab) and blog (opens in new tab) dedicated to books and interviews with authors and actors. She also published her first novel, Once Upon an Interview (opens in new tab), in 2022.