Maya Jama — things you didn't know about the Love Island host
Maya Jama is presenting the brand new Love Island series, but what else is there to know about her?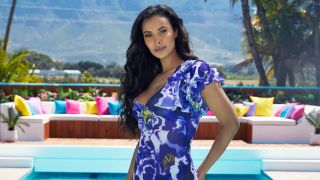 (Image credit: ITV)
Maya Jama is one of the hottest stars in the UK right now. The Bristol-born broadcaster, DJ and model made her presenting debut as a teenager on JumpOff.TV. She's now the owner of a very impressive CV, having hosted her own Radio 1 show and fronted huge shows such as Peter Crouch: Save Our Summer, Glow Up: Britain's Next Make-Up Star and Walk the Line.
Now, Maya is taking on her biggest role to date as the new host of Winter Love Island 2023. The addictive dating show is back for a ninth series, and its second winter season, which is set in South Africa.
Maya, who is a self-confessed Love Island fangirl, is taking over from former host Laura Whitmore who stepped down after three seasons, and said accepting the gig was a 'no-brainer'.
But what else is there to know about Maya Jama? Here are a few things you might not be aware of…
Maya Jama had a tough time at school
Maya Indea Jama was born on 14 August in 1994 and named after the eminent US author, poet and civil rights activist Maya Angelou. She has one brother, called Omar.
Brought up by her mum, Sadie, in Bristol, Maya is of Swedish and Somalian heritage. At primary school, Maya was bullied by her fellow pupils over her background, so when she moved to Cotham Secondary School, she decided to lie about her heritage — until her family found out.
"When mum and my aunties from the Somali side of the family asked me why, I was just like: 'The boys were saying horrible things about it,'" she explained to inews.co.uk.
"But after having a proper chat with them I realized it's something to be proud of. I went back to school all guns blazing like, 'This is me and this is where I'm from.'"
She suffered huge tragedy as a teenager
In 2011, 16-year-old Maya was left shattered when her first boyfriend, Rico Gordon was tragically killed in a shooting.
Rico lived in London and was visiting Maya in Bristol when he was caught in the crossfire of a fight between two gangs. The terrible incident also injured several other bystanders.
Maya, was on the phone to Rico at the time the fatal shot was fired and appeared on BBC's Crimewatch, appealing to the public for help in finding his killers. Two men were convicted for the crime the following year.
Rico's untimely death had a profound effect on Maya. "It changed my life completely," she told The Guardian. "Losing somebody close to you as a teenager, particularly your first love, rocks your whole world and you are forced to see life differently. It also makes you snap up, like, no, I'm not wasting time anymore."
She would love to be a Bond girl!
Following in the footsteps of her role models Davina McCall and June Sarpong, Maya moved to London in 2012 to pursue a career in television presenting.
After landing a job as a runner, she started creating content for YouTube, and quickly attracted the attention of producers.
But one of the star's early ambitions was to become an actress. As a child she had aspirations to star in BBC soap EastEnders, and she made it down to the final two for a lead role in the teen drama, Skins.
The disappointment put her off acting at the time, but these days she's ready for a second go. "One day I'd love to be a Bond girl," she said on BBC One's All Round to Mrs Browns. "I think that's a dream most people have."
Stormzy wrote a song about her
Maya began dating rapper Stormzy (real name Michael Ebenezer Kwadjo Omari Owuo Jr) back in 2015, and the pair soon became a showbiz supercouple.
They parted ways after four years together, and their split, which Stormzy described as 'the biggest loss a man could have' inspired his song Lessons.
Both Maya and Stormzy have admitted they felt pressure playing out their relationship and break-up in the public eye.
"I used to read magazines when I was little and see all these Hollywood people break up and they didn't feel like real people," Maya told Capitol Xtra. "And then when you're in that position you're like 'Actually, it's very real.'"
Maya went on to date NBA player Ben Simmons. They became engaged at the end of 2021, but their long-distance romance took its toll and they ended up calling it quits.
She has people after her blood!
In 2019, Maya gave blood for the first time as part of an NHS donation campaign video, and subsequently discovered she has a rare blood type.
Maya has the Ro Kell negative combination of types, which makes her one of the most in demand blood donors in the country.
"I had no idea that I had an unusual blood type," she told blood.co.uk. "It was great to know that my donation could prove life-changing for somebody. Donating was so much easier than I thought and I would strongly encourage others to do the same."
She's a savvy businesswoman
TV presenting isn't the only string in multi-talented Maya's bow. Alongside a highly successful broadcasting career, which includes fronting several prime time shows, the star has amassed a fortune through her trademarked MIJ business.
In 2021, Maya launched her debut range of high-performance face masks and patches, which flew off the shelves and completely sold out in the first week.
Maya is also an in-demand model and has featured in campaigns for major brands such as Maybelline, Adidas, and Levi's. In 2018, she joined forces with fashion retailer PrettyLittleThing and released two sell-out collections with them.
She loves a bit of Abba
Being part Swedish, it was in Maya's DNA to be a fan of their most famous export - pop supergroup Abba. In fact, the fab four's greatest hits was the first album Maya ever bought.
Her Abba education began at an early age when Maya's Swedish nan used to play her their songs. Her favourite track is Gimme! Gimme! Gimme! "It's a banger. I'd love to hear a revamped version," the presenter told Vogue.
Interestingly, the first ever concert Maya ever went to see was Devlin at the O2 Islington, where a certain Ed Sheeran was the supporting act.
In a chat with NME, Maya revealed: "I didn't know what to expect — Ed just came out with his little guitar, which is crazy because of how big he is now. We just stared adoringly into whoever was onstage's eyes! Loved it though, sung every word. I play it cool in front of Ed now, but one day it'll come out in conversation!"
Maya Jama's fact file
Frequently asked questions about the presenter...
What is Maya Jama's full name?
Maya was born Maya Indea Jama.
How old is Maya Jama?
Maya Jama is 28, she was born on 14 August 1994.
Where was Maya Jama born?
Maya Jama was born in Bristol, England.
Is Maya Jama married?
Maya Jama is not currently married.
Does Maya Jama have children?
No, Maya Jama doesn't have any children.
How tall is Maya Jama?
Maya Jama is 5ft 8in tall.
Twitter: @MayaJama
Instagram: mayajama
We work hard to ensure that all information is correct. Facts that change over time, such as age, will be correct, to the best of our knowledge, at the time of the last article update.
Get the latest updates, reviews and unmissable series to watch and more!
Steven is a writer, editor, and commentator with a passion for popular TV and soap operas. He spent 20 years as the editor of Inside Soap magazine, documenting every punch-up and pucker-up in the Street, the Square and the village. As a feature writer, he's covered TV crime dramas, period dramas and even some real-life star dramas. He's been seen as a talking head on more TV clip shows than he cares to remember, has a life-long passion for TV sci-fi – the older and creakier the better – and is a slight obsessive about any reality show featuring hotels.
Thank you for signing up to Whattowatch. You will receive a verification email shortly.
There was a problem. Please refresh the page and try again.