Meet the Obi-Wan Kenobi cast: who's who in the Star Wars series
By Mike Manalo published
Old friends. New threats. Who's in the Obi-Wan Kenobi cast?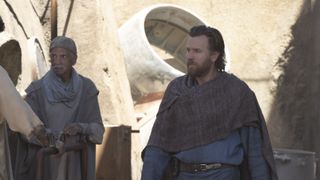 (Image credit: Lucasfilm)
Long ago, in a galaxy far, far away, audiences met a legendary hero named Obi-Wan Kenobi. Instantly, they fell in love with the heroic, pure-hearted Jedi.
As time passed, they'd come to learn more about his greatest triumphs and biggest loss: the downfall of his padawan Anakin Skywalker to the Dark Side as he became Darth Vader. As it turns out, that was not the complete story, and the new Disney Plus show Obi-Wan Kenobi exists to bridge that gap and reveal what went down between Revenge of the Sith and A New Hope.
While we're familiar with Obi-Wan and Darth Vader, the show features both new and familiar characters from the Star Wars universe. Let's take a deep dive into the cast of characters that are part of this new chapter in the Star Wars saga.
Ewan McGregor as Obi-Wan Kenobi
Reprising his role from the prequel trilogy, Ewan McGregor returns as Obi-Wan Kenobi. Accepted by critics and fans alike as a worthy successor to the amazing Alec Guinness, McGregor's Obi-Wan has become iconic in his own right.
In this series, Obi-Wan is laying low in the deserts of Tatooine, watching over Luke Skywalker. However, times are still very unsafe, as Darth Vader sends his inquisitorial staff to hunt down his old friend and other Jedi that survived the Order 66 from Episode III. Kenobi must stay one step ahead of these Jedi hunters, while also protecting the last hope the galaxy has at restoring peace and balance to the Force.
Some recent McGregor credits include winning an Emmy for his role in Halston and the movies Birds of Prey and Doctor Sleep.
Hayden Christensen as Darth Vader
McGregor isn't the only prequel actor coming back. Reprising his role as Anakin Skywalker/Darth Vader is the one and only Hayden Christensen. Every bit as iconic as Anakin as his co-star was as Obi-Wan Kenobi, Christensen will be donning Vader's suit and lightsaber once more, teasing a rematch between the two.
In A New Hope, Vader says he senses a presence he hasn't felt since the last time he was in the presence of Obi-Wan. For years we all assumed that meant Revenge of the Sith, however it seems there may be at least one other encounter between that film and A New Hope. We'll see if Obi-Wan Kenobi brings these two together one more time before Obi-Wan's death in Episode IV.
To ensure the character sounds just as menacing as before, his voice is once again being provided by James Earl Jones.
Moses Ingram as Reva
Fresh off her Emmy-nominated performance in The Queen's Gambit, Moses Ingram joins the cast of Obi-Wan Kenobi as Reva, one of the inquisitors sent to hunt down Obi-Wan.
Ingram's star has been rising since her performance in Queen's Gambit, having just completed a one-two punch with supporting roles in Michael Bay's Ambulance and Joel Coen's The Tragedy of Macbeth.
In Obi-Wan Kenobi, Reva is among the most ruthless of Darth Vader's Jedi-hunting Inquisitors. She holds the rank of Third Sister in the organization but frequently finds herself at odds with her fellow Brothers and Sisters and disobeys orders from the Grand Inquisitor.
All she wants to do is capture Obi-Wan and deliver him to Darth Vader, and she's willing to pull some truly nefarious stunts in order to do so.
Rupert Friend as The Grand Inquisitor
First introduced in Star Wars: Rebels, the Grand Inquisitor was originally voiced by Jason Isaacs and was one of the biggest villains faced by Kanan Jarrus and Ezra Bridger.
For Obi-Wan Kenobi, Rupert Friend has taken over from Isaacs in the character's first-ever, live-action appearance. However, instead of emulating the Rebels character entirely, he teamed up with director Deborah Chow and writer Dave Filoni to come up with something fresh for folks who are familiar with the character's animated counterpart.
The Grand Inquisitor oversees Inquisitor operations and reports directly to Darth Vader. During the series, he's after one thing; finding and capturing any remaining rogue Jedi.
Joel Edgerton as Owen Lars
Before he was a huge director and actor, Joel Edgerton broke out with American audiences by portraying Owen Lars in the Star Wars prequels. Since then, Edgerton has become a leading man in huge films like Baz Luhrmann's The Great Gatsby adaptation and Zero Dark Thirty, as well as a critically acclaimed director with films like The Gift and Boy Erased.
Lars, now the guardian of Luke Skywalker, will definitely have some conflicts with Obi-Wan, as he pushes for Luke to live a safer, Force-free lifestyle than his father had.
In addition, Beru Lars is going to be played by the same actress from the prequels, Bonnie Piesse.
Sung Kang as Fifth Brother
Fast Saga alumni Sung Kang (Han) has traded his sports car for a land speeder as he joins forces with Reva as the Fifth Brother, another character making his live-action debut from Rebels.
Fifth Brother was a major antagonist for the Ghost crew in Rebels, clashing with Ezra, Kanan, Ahsoka and even Darth Maul. In Obi-Wan Kenobi, he works closely alongside Reva, and often finds himself at odds with the Third Sister as her perceives her to be too reckless.
Kumail Nanjiani as Haja
Kumail Nanjiani is on board as the original character Haja, a street-level con-man who assists Obi-Wan in his travels.
He works on the new planet Daiyu, where Obi-Wan finds him conning people out of a few credits in exchange for help getting off-world. Obi-Wan seeks him out when he's on Leia's trail.
Vivien Lyra Blair as Princess Leia
In what was a bit of a surprise for Obi-Wan Kenobi, a young Luke Skywalker wasn't the Skywalker sibling we spent the most time with.
Instead, the main plotline of the show has revolved around Obi-Wan's attempts to rescue a young Princess Leia (played by Vivien Lyra Blair), first from bounty hunters and now from the Empire.
Blair is still relatively new in her Hollywood career, though she has had a number of high-profile projects, including roles in Bird Box, Station 19, We Can Be Heroes and The First Lady.
Grant Feely as Young Luke Skywalker
Grant Feely plays the young version of the original Star Wars hero, Luke Skywalker.
Although Luke has taken a back seat in this adventure in favor of Princess Leia, he was briefly spotted playing around the Lars household as Obi-Wan watched over him from afar on Tatooine and might well crop up again before the series concludes.
His involvement was revealed back in March when he quickly won the support of none other than Mark Hamill.
Grant Feely looks like a perfect Luke Skywalker and I am wishing him all the very best!#TheForceIsWithFeely https://t.co/FOMDPEeht9March 15, 2022
Simone Kessell as Breha Organa
Kessell's role as Breha Organa, Princess Leia's adopted mother, was kept a secret to help preserve the surprise of the appearance of the other young Skywalker. She replaced Rebecca Jackson Mendoza, who portrayed Breha in Revenge of the Sith.
Prior to appearing in Obi-Wan Kenobi, Kessell is likely best recognized for her roles on Terra Nova, Wonderland, Reckoning and Our Flag Means Death.
Jimmy Smits as Bail Organa
Jimmy Smits returns to the Star Wars franchise as Bail Organa, the leader of Alderaan and adopted father to Princess Leia.
Smits previously played Organa in Attack of the Clones, Revenge of the Sith and Rogue One. Outside of the Star Wars universe, Smits has had a long career that has included roles like NYPD Blue, L.A. Law, The West Wing, Dexter and Sons of Anarchy. Many last saw Smits in the movie musical In the Heights.
Indira Varma as Tala Durith
Indira Varma is best known to TV audiences for her role as Ellaria Sand in Game of Thrones, though some of her other credits include Rome, Luther, Carnival Row and a voice role in The Legend of Vox Machina.
In Obi-Wan Kenobi, she plays Tala, a double agent posing as an Empire officer who becomes an ally to Obi-Wan and assists him on his quest to rescue Leia.
O'Shea Jackson Jr. as Roken
O'Shea Jackson Jr. (Straight Outta Compton, Long Shot) plays Roken in Obi-Wan Kenobi, an engineer who is working against the Empire and helping out with "The Path," a system to hide and safely transport those being hunted by the Empire.
Rya Kihlstedt as the Fourth Sister
Rya Kihlstedt plays the Fourth Sister, another Jedi hunter from the Inquisitorius. Like the Fifth Brother, she accompanies the Grand Inquisitor as they continue to hunt Jedi across the galaxy.
Outside of Obi-Wan Kenobi, some of Rya Kihlstedt's recent credits include appearances in Superman and Lois, A Teacher, Charmed and Cardinal.
Benny Safdie as Nari
Benny Safdie swapped directing for acting in Obi-Wan Kenobi, as he donned some Jedi robes to play Nari, a fugitive Jedi who the Inquisitors were hunting on Tatooine.
Outside of the show, Benny is one half of the Safdie Brothers directing duo who helmed Good Time and Uncut Gems. As an actor, he recently appeared in Licorice Pizza and is part of the cast of Oppenheimer, Christopher Nolan's next project.
Obi-Wan Kenobi guest stars
There have been some fun guest stars that have popped up in Obi-Wan Kenobi, some that fans recognized right away and others that were a bit more hidden.
Among the guest stars so far in the series are the Red Hot Chili Pepper's Flea, who played the lead kidnapper in the first two episodes, Vect Nokru.
After starring in his own Disney Plus series, The Book of Boba Fett, Temuera Morrison had a cameo in Obi-Wan Kenobi as a veteran clone trooper who has been left to beg for money on the street in episode 2.
Also appearing in episode 2 was Esther Rose McGregor, Ewan McGregor's daughter. She played a character named Tetha Grig, a spice dealer who attempted to sell some of her supply to Obi-Wan.
Scrubs star Zach Braff also had a cameo, though it was easy to miss. Braff played Freck, the alien that picks up Obi-Wan and Leia and ultimately attempts to turn them over to a group of Stormtroopers.
Mike is a proud, sarcastic nerd with a penchant for comic books, comic book movies, and movies in general, and occasional delusions of grandeur. He's also a UC Berkeley graduate who decided to go into writing over pre-med because he figured he'd ultimately save more lives by not being a doctor. He's a Slytherin and a Pisces, so he's very emotionally sensitive, yet also evil, but can be defeated by exploiting his insecurities. His goal is to live one hell of a unique life, and it's been working so far! His proudest moments are being retweeted by James Gunn and Ryan Reynolds in the same week, and getting 999,999 points on Buzz Lightyear Astro Blasters at Disneyland.
You can find Mike's writing around the web at publications like The Nerds of Color, What to Watch, Spoiler Free Reviews, and That's It LA.
Get the latest updates, reviews and unmissable series to watch and more!
Thank you for signing up to Whattowatch. You will receive a verification email shortly.
There was a problem. Please refresh the page and try again.