Meet the Triptych cast: who's who in the new mystery thriller
Meet the Triptych cast, a new Mexican Netflix Original mystery thriller based on a true story.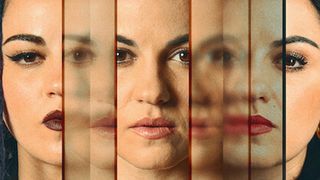 (Image credit: Netflix)
One of the new TV shows on Netflix right now is Triptych, an 8-part Netflix Original from Mexico which is based on a true story.
Triptych is about a forensic investigator who's called into a murder investigation in which the body looks suspiciously like her. Not only that, but the human had the same birthday and many other aspects, enough so that the investigator realizes something much more is at play.
So it's a mystery series, with the fact it's based on real events giving it a thrilling twist. If you've watched the show, you might be interested in knowing who all the actors are, so here's a guide to the main cast of Triptych and what you might recognize them from.
Maite Perroni as Rebecca
Rebecca is a forensic agent, who works on crime scenes, however she's surprised to find one such body that looks identical to hers. The similarities only get deeper as Rebecca works through a web of secrets.
As the plot synopsis suggests, Maite Perroni plays several roles. To say any more, though, would be a spoiler.
Maite Perroni is a prolific Mexican actress within the country, and she's had recurring roles in many TV shows. She's acted in over 100 episodes each of Burden of Guilt, Rebelde, The Stray Cat and Triunfo del amor.
David Chocarro as Humberto
Rebecca's captain helps guide her through the case, showing some compassion and aiding her as she uncovers all the many secrets, partly because of their history together. However he can't be there all the time, with his own family to protect.
Argentine David Chocarro is a former baseball star who found his way into TV. Like Perroni he's prolific on the screen with countless episodes of La Doña, El Rostro de la Venganza, Behind Closed Doors, Alguien Te Mira and En otra piel.
Ofelia Medina as the mother
As Rebecca investigates her doppelganger, and her past, her mother is naturally the first person she needs to turn to. However, the mother is keen to let some secrets remain in the past.
Ofelia Medina is a prolific Mexican actress who has been working for many years. Her biggest roles include playing Frida Kahlo in biopic Frida and acting in Colombiana and Innocent Voices.
Get the What to Watch Newsletter
The latest updates, reviews and unmissable series to watch and more!
Streaming and Ecommerce Writer
Tom is the streaming and ecommerce writer at What to Watch, covering streaming services in the US and UK. His goal is to help you navigate the busy and confusing online video market, to help you find the TV, movies and sports that you're looking for without having to spend too much money.