'Professor T' star Ben Miller: 'I was born to play this part'
Professor T star Ben Miller reveals he has so much in common with Jasper Tempest he didn't have to act much.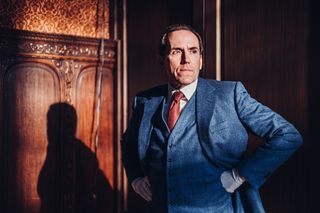 (Image credit: Eagle Eye Drama)
Ben Miller is criminally gifted at creating deliciously eccentric British characters and in Professor T the actor and comedian excels himself.
After launching exclusively on BritBox in June in the UK, the six-part crime is now being shown on ITV, while in the US it's available on PBS.
Here Ben Miller, 55, tells us what sets TV's latest crime-fighter apart…
Are you pleased with the reaction to Professor T?
Ben Miller: "The reaction on has been incredible.
"Professor T really draws you in. There's a lot to unravel with the main characters. Everybody has something going on!"
What makes Professor T a special project for you?
BM: "I don't think I've ever had a part like this. It feels quite close to me, although I'm not a criminologist! I truly feel it's the part I was born to play."
Is this because you studied in Cambridge and, like Jasper, have experienced OCD?
BM: "Yes, I think everything counts. It's amazing what the camera picks up. I'm not having to imagine what it would be like to live and work in Cambridge. I know!
"Jasper has grown up in Cambridge, and I did a lot of growing up there. I feel we've so much in common I didn't have to act much, it was happening naturally.
"That's a wonderful feeling, acting for free."
Jasper seems refreshingly at home with himself…
BM: "I wish I could be like that. I guess his ASD (Autism spectrum disorder) enables him to be open about his OCD. He doesn't really care what other people think, certainly a lot less than I do.
"I was always trying to hide mine. If it was ever exposed, I would feel so ashamed. People would sense that and pretend it wasn't happening, and you'd go into a weird little dance with them. CBT (Cognitive behavioural therapy) was super-successful for me. Life changing."
How did you approach that aspect of Jasper's character?
BM: "I really wanted to be true to OCD in the sense of not making it look like it's meant to be funny or something.
"It can be funny in certain contexts, for other people. You often want to laugh because it makes you feel awkward.
"But, for Jasper, it's about trying to gain some emotional control in a world that has really, really damaged him. His OCD is an honest, moving struggle to be present in the world."
Jasper's complex relationship with the world often results in daydream sequences...
BM: "I love the launches into fantasy. I was a huge fan of Dennis Potter and Professor T has an element of that.
"One of the great things about the fantasies is the audience knows what's going on inside his head. You discover more and more depth to him."
What was your favourite fantasy scene to film?
BM: "I absolutely love the fantastic sequence in episode two where an entire team of cheerleaders appear as he's telling another character that he knows her husband's been unfaithful.
"He can see the cheerleaders chanting various weird things to do with infidelity!"
As the series progresses, a fish called Walter becomes Jasper's closest confidant. When filming, were you talking to an empty bowl or a real fish?
BM: [Laughing] "That's a real fish! He was a proper performer fish, as well.
"Whenever we took photos, the fish suddenly landed right in front of his fish bowl, throwing a few shapes!"
Each episode revolves around a different case, which one stands out for you?
BM: "There's one, in particular, that's a step away from the others. You think Professor T has completely destroyed a hostage negotiation in episode three, but he's informed by data that only he's privy to...
"Yet he makes a tiny, but vital, mistake, and it's to do with his relationship with his mother, Adelaide (Frances de la Tour). Suddenly all the stories come together."
Why do English University cities make such appealing backdrops for detective dramas?
BM: "They're so beautiful. The sense of timelessness, side-by-side with murder — literally the end of someone's time. The ugliness and brutality of that, and the two together, it's very seductive, isn't it?
"It's a privileged world sealed off from reality, and here's reality bursting that bubble."
What's next for you?
BM: "If it goes well, hopefully, more Professor T!
"The other world I'm dipping my toe in is writing children's books.
"How I Became a Dog Called Midnight (opens in new tab) comes out in September. It's about a boy who swaps bodies with a dog. And I've another coming out at Christmas called The Diary of a Christmas Elf.
"The reactions are incredible. Seven to 11-year-olds are the most enthusiastic, unjaded readers you could possibly hope for!"
Professor T - Series 1 Episode Guide:
Professor T. Series 1 - Episode 1
'The Anatomy of a Memory.'
The debut episode of Professor T introduces Cambridge Professor Jasper Tempest. He is an unusual man, who has a precise routine, wears disposable gloves due to OCD, and is partial to elaborate flights of fantasies. He's also a brilliant criminologist, with a knack for cracking dark and unfathomable crimes.
In this first episode Prof T is enticed into the world of crime solving by former student DS Lisa Donkers (Emma Naomi) when a violent rapist terrorises Cambridge. It's the start of an impressive side-hustle and the professor's true calling. It also reconnects him with his ex-fiance DCI Christina Brand.
Professor T. Series 1 - Episode 2
'A Fish Called Walter.'
Professor T takes a novel approach to crime solving in episode two when mild mannered librarian Nigel is poisoned at a drinks reception.
Perplexingly Nigel had no friends, family or enemies to speak of. Faced with the prospect of interviewing over 100 suspects and witnesses from the event, DS Lisa Donkers and DS Dan Winters pay profesor Jasper Tempst (Ben Miller) a visit, hoping his unique criminology insights can help them crack the case.
When Nigel's death is quickly followed by another, Christina invites Jasper to join her under-resourced team as a regular advisor. Needless to say, DI Paul Rabbitt is not a happy bunny!
Meanwhile, on the domestic front there's a chill in the air. Jasper gets into Mrs Snare's bad books when he expects her to buy him a new fridge. On her birthday.
Professor T. Series 1 - Episode 3
'Tiger Tiger.'
Professor Jasper Tempest is driven to distraction by his mum Adelaide's invasion of his personal space. When artist Adelaide (Frances de la Tour) turns up at his home with her dog Kafka, Jasper's so annoyed he takes a tumble down the stairs during an anxious-ridden flight of fancy.
After a quick trip to A&E Jasper seeks refuge from his mum's fussing at Christina's headquarters - sporting an unfetching tracksuit he's picked up from the hospital giftshop!
The team are dealing with a nasty hostage situation involving the family of a jeweller. Jasper's sudden arrival gets a lukewarm welcome - especially from hostage negotiator Ben Sparrow. Ben's annoyance turns to fury, however, when Jasper accidentally answers a call from the kidnappers and hangs up on them.
Before Christina (Juliet Aubrey) can kick Jasper out, the criminals phone back saying they only want to speak with him. Soon the Cambridge professor is taking an unorthodox approach to negotiations.
Okay, he's wearing sportswear, but just what is he playing at?
Professor T. Series 1 - Episode 4
'Mother Love.'
The tension brewing between professor Jasper Tempest and DI Paul Rabbit escalates and erupts into violence.
The drama kicks off while the team are investigating the kidnapping of 6-year-old Charlie from her family home. Paul is particularly affected by the case, due to his young daughter's death, and doesn't appreciate the prof's blunt approach and maverick methods. His mood isn't improved by his not-so-secret drinking on the job.
When Jasper publicly unpacks Paul's personal problems, the grieving detective snaps and attacks! Will Jasper quit? And will Paul be sacked?
Elsewhere, Adelaide makes an exhibition of Kafka!
Professor T. Series 1 - Episode 5
'Sophie Knows'
Soap bubbles dominate the professor's thoughts when he's visited by kindred spirit Sophie, a witness in her mother's murder case.
Sophie (Kathleen Humberstone) wants Jasper to reopen the investigation and help her unlock the truth. Jasper has Christina's backing but Lisa, usually his number one fan, is overtly resistant and gets herself into a lather when the professor resorts to unorthodox methods. But it doesn't wash with Christina, who bursts the young DS's newly formed bubble of happiness with co-worker Dan, just as she's agreed to date him!
By far the most playful, elegant, touching and accomplished episode yet.
Professor T. Series 1 - Episode 6
'The Dutiful Child'

It's the professor's birthday and, unsurprisingly, he doesn't want to celebrate!
Instead, Jasper (Ben Miller) throws himself into the mysterious assassination attempt on billionaire James Samson's (Cracker's Robert Cavanah) life.
Despite the twists and turns of the case, Jasper's mum Adelaide insists he has a birthday lunch with her (and Kafka, of course), where dark secrets from their past are resurrected.
Later, Christina (Juliet Aubrey) also takes a trip down memory lane with Jasper, to their wedding day. Elsewhere, Paul returns to a warm welcome and Lisa reaps what she's sown with Dan... Fingers [in disposable gloves] crossed for a second series!
Writer for TV Times, What's On TV, TV & Satellite Week and What To Watch
With twenty years of experience as an entertainment journalist, Elaine writes for What's on TV, TV Times, TV & Satellite Week and (opens in new tab)www.whattowatch.com (opens in new tab) covering a variety of programs from gardening and wildlife to documentaries and drama.
As well as active involvement in the WTW family's social media accounts, she has been known to get chatty on the red carpet and wander into the odd podcast.
After a day of previewing TV, writing about TV and interviewing TV stars, Elaine likes nothing than to relax… by watching TV.
Get the latest updates, reviews and unmissable series to watch and more!
Thank you for signing up to Whattowatch. You will receive a verification email shortly.
There was a problem. Please refresh the page and try again.