The Good Doctor season 6 episode 14 recap: Jordan gets some much needed recognition
Plus, Shaun and Lea set some boundaries with Dr. Glassman.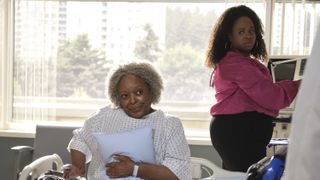 (Image credit: ABC/Jeff Weddell)
NOTE: this post contains spoilers for The Good Doctor season 6 episode 14, "Hard Heart."
What does it take to be the first person doing something? That's a big question addressed in The Good Doctor season 6 episode 14, as well as what it's like navigating how to meet expectations of family and friends.
Shaun (Freddie Highmore) and Lea (Paige Spara) discuss names for their baby. This happens while they continue to host Dr. Glassman (Richard Schiff) in their home. Dr. Glassman, in his bid to help prepare for the baby, starts child-proofing their apartment, suggesting baby names and buying high chairs and nanny cams. Lea already feels somewhat hemmed in by his presence and Shaun oversharing with him, but the last straw was her inability to use the toilet because she couldn't open the child lock.
Shaun explains to Dr. Glassman that they love him and want him to be a part of the baby's life — he's after all the surrogate grandfather — but Lea needs to maintain some boundaries. Dr. Glassman moves into an apartment in the same building. Lea thinks he may still be too close, but we'll wait to see how that plays out.
A little boy comes into the ER after falling and hitting his head, and seems to be having a stroke. Dr. Park (Will Yun Lee) and Shaun are his doctors. The boy needs brain surgery and during the procedure they think he has a rare autoimmune condition that requires chemotherapy. His father is a firefighter, away in another state dealing with the aftermath of a natural disaster. The little boy hates the chemotherapy and he and his mother struggle to deal with the treatment in the absence of the father. Dr. Park calls the father, explaining that his family needs him to come back.
Additional testing reveals the little boy has a different rare condition. His father is frustrated about his son receiving unnecessary chemotherapy. Dr. Park explains he understands his frustration but his son's condition is very hard to diagnose, often resulting in patients receiving unnecessary chemotherapy for long periods. Luckily his son won't have to. His parents still have concerns though about their child potentially having to do multiple brain surgeries.
During the procedure, Dr. Park asks Shaun to find a way to do the second correction at the same time. Shaun declines at first, citing high risk factors but then finds an alternative low risk option. During this whole process, Shaun learns from Dr. Park how to be more empathic to children, a skill set he will need as a new parent.
The surgery goes well and both parents are relieved and overwhelmed with gratitude to Dr. Park.
Dr. Andrews (Hill Harper) approaches Jordan (Bria Henderson) about speaking to some female high school students of color about becoming a doctor. She initially declines, saying it isn't her responsibility to provide representation. Asher (Noah Galvin) can't understand her reluctance, but she tells him he has no idea what it's like to be her.
Jordan's grandma comes into the ER complaining of difficulty breathing and chest tightness. They discover a more serious heart condition needing immediate surgery. The doctors have to stop mid surgery due to an unforeseen condition, rescheduling the surgery until they can come up with a low risk and effective surgical plan.
Jordan's grandmother endears herself to the staff, bonding with Dr. Andrews about a culturally significant bookstore and advising Daniel (Brandon Larracuente) about creating a narcotics anonymous support group at the hospital when his other group is starting to make him late for work.
This all forces Jordan to confront her feelings of inadequacy around her grandmother. Jordan asks her how she can easily praise and support Daniel, but never give her the same kind of acknowledgement. But her grandmother explains that before Jordan was in medical school, she didn't even know Black female doctors existed; her accomplishment inspired her to learn more. However, this conversation is interrupted by her grandmother having a medical emergency and needing immediate surgery.
During the procedure Dr. Lim (Christina Chang) is stumped on how to proceed. Jordan provides a surgical plan and talks Dr. Lim through it. After recovery, Jordan and her grandmother continue their conversation. She shared how her idea made a difference during the surgery and she finally gets the love and recognition from her grandmother. Jordan ultimately decides to speak with the female high schoolers of color.
Elsewhere in the episode, off of Jordan's grandmother's encouragement, Daniel plans the first meeting of a support group at the hospital with the help of Dr. Andrews. Though only one other staff member shows up, it gives Daniel a feeling of validation.
New episodes of The Good Doctor air on Mondays at 10 pm ET/PT on ABC. They stream on Hulu in the US and Disney Plus in the UK.
Get the What to Watch Newsletter
The latest updates, reviews and unmissable series to watch and more!
Taayoo Murray is a New York City transplant who is a full-time boy mom, freelance writer, and teen goal-setting coach. She's also a published author of the interactive workbook, "Making Me Happen (opens in new tab)." She has been published in Health, Business Insider, HuffPost Wellness, Livestrong, Yahoo Life and others. When not working, Taayoo enjoys hanging with her three best friends and drinking white wine.