The Good Doctor season 6 episode 16 recap: meet The Good Lawyer
Shaun meets a young lawyer who he can relate to.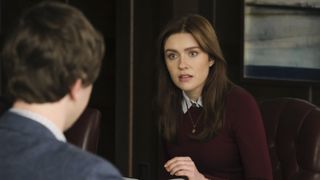 (Image credit: ABC/Jeff Weddell)
NOTE: this post contains spoilers for The Good Doctor season 6 episode 16, "The Good Lawyer."
How do personal differences impact the way people see and treat others? That's what The Good Doctor episode, "The Good Lawyer," examines, providing an example of the difference it makes when someone has the love and faith of a mentor and friend.
Shaun (Freddie Highmore) is sued for malpractice after amputating the hand of an accident victim. The suit involves an incident where Shaun and Dr. Park (Will Yun Lee) stopped to render aid at the scene of an accident while on their way home from a dinner. A brother and sister were gravely injured after their car flipped. The brother who was the driver, was flung from the car because he wasn't wearing his seat belt. The brother is the plaintiff suing Shaun.
Dr. Glassman (Richard Schiff) takes Shaun to see his usual malpractice lawyer, Janet Stewart (Felicity Huffman). She encourages Shaun to settle the case, citing the risk of losing his medical license if they go to trial. Shaun objects because the terms of the settlement require that he be supervised for six months. While returning from the bathroom, he meets a junior lawyer at the firm named Joni (Kennedy McMann). Joni shares Shaun's opinion on the case, so he hires her on the spot.
Joni has obsessive compulsive disorder (OCD), which she manages with rituals, like needing all actions to be in series of threes to prevent intrusive thoughts and freezing mid-sentence. This combined with her fear of contaminants makes trying a jury case difficult.
Shaun immediately connects with Joni, not only because he understands her condition, he empathizes with her as someone trying to achieve success in extraordinarily difficult circumstances. The biggest difference between Shaun and Joni is their professional support system. While Dr. Glassman made accommodations and supported Shaun throughout his residency, Joni doesn't have the similar experience. Her immediate supervisor almost fired her and instead of making accommodations for her on the job, has banished her to the solitary task of research.
With Shaun's insistence about being represented by Joni, she gets her first shot at being a trial lawyer. She messes up her first motion, mostly due to lack of support, and her supervisor berates her, declaring she won't ever be a lawyer. Her supervisor hoped to have her fail and force Shaun to change lawyers. Shaun reminds Joni about why she became a lawyer and comforts her with the fact that everyone makes mistakes.
Joni maximizes her strength for not missing details as a cudgel to chip away at her opposing counsel's argument. With the support of her mentor, she feels empowered to win. A brief lapse into self doubt causes Joni to revert to previous habits of copying others, but her mentor reminds her to play to her strengths since it has worked for her.
Joni wins the suit for Shaun, while demonstrating how differences don't define your abilities or who you are as a person. They also shouldn't be used against a person. You are more than your differences.
This was a special episode of The Good Doctor, as it served as a defacto pilot episode for the announced spinoff following Joni, The Good Lawyer, expected to premiere on ABC in fall 2023.
In the meantime, continue watching The Good Doctor for more on Mondays at 10pm EST on ABC or streaming on Hulu.
More on The Good Doctor
Get the What to Watch Newsletter
The latest updates, reviews and unmissable series to watch and more!
Taayoo Murray is a New York City transplant who is a full-time boy mom, freelance writer, and teen goal-setting coach. She's also a published author of the interactive workbook, "Making Me Happen (opens in new tab)." She has been published in Health, Business Insider, HuffPost Wellness, Livestrong, Yahoo Life and others. When not working, Taayoo enjoys hanging with her three best friends and drinking white wine.