The Good Doctor season 6 episode 13 recap: Shaun and Lea get a reality check in parenting
What kind of parents do Shaun and Lea want to be?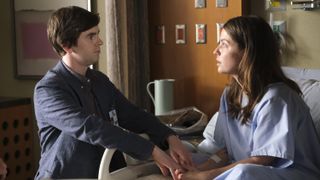 (Image credit: ABC/Jeff Weddell)
NOTE: this post contains spoilers for The Good Doctor season 6 episode 13, "39 Differences."
"39 Differences" focuses on how loved ones work through differences in making important decisions and learning to compromise.
Shaun (Freddie Highmore) and Lea (Paige Spara) are realizing how different their parenting styles are when Shaun places their child on the waitlist of a preschool that's an Ivy League college feeder. The tension is exacerbated for the young doctor when he gets a patient in the ER whose parents are feuding over their own parenting choices.
Shaun, Asher (Noah Galvin) and Daniel (Brandon Larracuente) treat a young boy who stepped on a rusted nail at camp. His parents are now arguing over the decision to send him to camp, debating about keeping their son safe and letting him have fun. Asher and Daniel comment on the parents obvious disagreement, saying it adversely affects the child.
Shaun observes their disagreement and worries he and Lea will also have issues because they are so different. He documents 39 differences between himself and Lea, hoping to iron them out before the baby is born. He wonders if love will be enough for them to survive their differences.
The boy's condition worsens, with neurological complications the doctors attribute to an infection. They initially think it's the result of a tick bite, which adds fuel to the safety versus fun debate regarding the son attending camp. Shaun ultimately discovers the infection likely resulted from a nasal rinse administered by the father before the son went to camp. The child needs a risky surgical brain procedure, which requires both parents to agree. The father, who usually errs on the side of caution, decides to be optimistic and joins the mother in approving the surgery, starting the journey of reconciliation of their relationship. The child survives the procedure with all neurological function intact.
Dr. Glassman (Richard Schiff) is dealing with the complete loss of his house to a fire. He is absent from work as he tries to recover family memories. Shaun visits him, still worried that love won't be enough for Lea and him to successfully navigate their different parenting styles. Shaun asks why Glassman's love for his wife couldn't surmount their problems?
He tells Shaun that he and his wife were in the prime of their careers when they had a child, but a child changes everything, including causing a shift in their relationship. He tells Shaun to talk to Lea. After Shaun leaves, Lea stops. Dr. Glassman gives her some additional wisdom, sharing memories of his daughter and tells her that she should talk to Shaun.
Dr. Lim (Christine Chang) and Jordan (Bria Henderson) treat a young voracious vlogger, who needs a double lung transplant. Dr. Lim has treated this patient for 11 years and is emotionally invested in her survival. The donated lungs arrive but have pneumonia, potentially derailing the transplant operation, the patient's last chance of surviving. Jordan suggests a last ditch effort of putting the lungs on ECMO (Extracorporeal Membrane Oxygenation) machine to heal them. Initially the procedure doesn't seem to work and they tell the patient the bad news, meaning the patient is placed back on the donor list.
Dr. Lim refuses to give up on the damaged lungs, staying late to monitor their repair. She changes treatment course, risking either finding a solution or totally destroying the lungs. The patient and her mother have a serious conversation about her chance of survival. The patient faces her mortality head on, convincing her mother to accept it also. Fortunately, the lungs get repaired in time and the transplant is successful.
Dr. Reznick (Fiona Gubelmann) has her first study in her new position and enlists the help of Dr. Park (Will Yun Lee). One of their patients appears to be ill suited for the trial. Reznick thinks the screening protocol for the trial is flawed or the patient lied to gain admission. Park argues she is too cynical and needs to change her outlook as she tries to become a parent. He asks her if she wants to raise a child who views the world as mostly bad, assuming the worst of everyone.
They ultimately discover the discrepancies in the patient's lab results is due to a condition previously hidden because the patient frequently donated blood. Reznick hesitantly agrees to shift her world outlook and Park gets unlimited use of her new espresso machine.
The episode concludes with both Shaun and Lea returning to see Dr. Glassman at his burnt out house. Lea initiates a conversation but is interrupted by the baby kicking. This produces a bonding moment for Lea and Shaun, where they find common ground focusing on what really matters. Lea also invites Dr. Glassman to join their moment of wonder, telling him to think about all the new memories that they will create.
New episodes of The Good Doctor premiere Mondays on ABC and are available to stream on-demand on Hulu in the US and Disney Plus in the UK.
Get the What to Watch Newsletter
The latest updates, reviews and unmissable series to watch and more!
Taayoo Murray is a New York City transplant who is a full-time boy mom, freelance writer, and teen goal-setting coach. She's also a published author of the interactive workbook, "Making Me Happen (opens in new tab)." She has been published in Health, Business Insider, HuffPost Wellness, Livestrong, Yahoo Life and others. When not working, Taayoo enjoys hanging with her three best friends and drinking white wine.