True Lies' Steve Howey on how he chose to play a classic Schwarzenegger role
Plus, he talks doing his own stunts and James Cameron's involvement.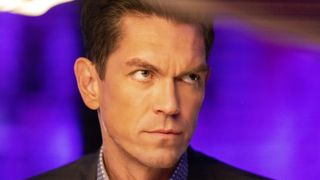 (Image credit: Alan Markfield/CBS)
CBS' brand-new action series True Lies has a lot to live up to. Mainly because it's based on James Cameron's adored 1994 spy action comedy starring Arnold Schwarzenegger and Jamie Lee Curtis. This time around, instead of Schwarzenegger and Curtis, the hugely anticipated show revolves around Steve Howey's Harry and Ginger Gonzaga's Helen, a seemingly normal married couple living a blissful suburban life.
That is until Helen discovers Harry isn't actually the computer consultant he's been saying he is. Instead, he is a skilled international spy for the U.S. intelligence agency Omega Sector. Helen is then recruited by Omega herself, and the pair start to work together in this incredibly dangerous world, all while keeping their jobs hidden from their children.
Howey, who previously starred in Reba and Shameless, recently spoke with What to Watch about stepping into Schwarzenegger's shoes, the show's links to the movie and his training to become an international spy. Here's what he had to say:
What to Watch: What attracted you to True Lies?
Steve Howey: I got a call from Anthony Hemingway. He's a director and producer extraordinaire. He directed me in multiple episodes of Shameless. He's my guy. He said, "I'm directing this pilot. You have to do it. It's True Lies." I said, "The movie? I'm not an Austrian bodybuilder." But he said I was perfect for what they needed and wanted. I wanted to get into it because he was directing. I trust him. And we made a really cool pilot and season.
WTW: How did it feel taking on Arnold Schwarzenegger's role?
SH: I saw the movie in the theater. But I didn't want to revisit it. I saw a few clips. But it's intimidating. It's nerve-racking. I didn't want to do what he did. I'm a fan of his. I grew up watching his movies. Everything that he's done has been so iconic in film history. Not just the action. He's also hilarious. Those lines that he pulled off? Those are not easy to do. Especially not making them cheesy. He's under appreciated in that way. At the end of the day, you have to be cool. You've got to be charming. You have to tell the story. So, yeah, they're huge shoes to fill. But the thing that subsided my nerves was the idea that I wasn't going to be doing that.
I told Ginger, "We can't do what they did. They did something else. Let's just do our own thing. Let's just have fun." There are certain similarities. There are homages to the movie. But you can't fill those shoes. He's an iconic movie star. Jamie Lee Curtis is a legend. You can't compare with that. We just wanted to have fun. We wanted to go for it.
WTW: Were you nervous to be rebooting True Lies?
SH: Part of the fear is the mediocrity of repeating an original idea. James Cameron is a genius. He's producing this TV show. But it's repeating an original story as a TV show. I was worried about that. I was like, "Is this even gonna work?" But what made me excited to go do it was the experience and the cast. Ginger. Omar Miller. Everybody brought their own originality, experiences and talent to this process. When we started making the pilot, I was like, "Ooh, this is cool. This is our own thing." That's what was fun about it.
WTW: How involved was James Cameron?
SH: He was underwater at the time, working on Avatar 2. But he was involved. McG was involved, too. They knew what was going on. It's their names on it. They were a part of it. We didn't want to let them down. We didn't want to let ourselves down.
WTW: What was your preparation like for the role of Harry?
SH: I work out. I box. I train in Muay Thai. I know how to move. I know how to handle weaponry. That's why Anthony called me. He knew I did all this sh** before. I wanted to do my own stunts. I wanted to do action. I've done dramatic scene work, comedy, which is great. This is not anything like that. Sometimes you have to be careful what you wish for. I got to do the action. But it is so much damn work. It is so much work. But what an experience.
WTW: It must have been incredibly satisfying to do the action, though.
SH: Absolutely. That's what drove the whole thing. I broke my finger in the last episode. I pulled my quadricep. I hurt my back. I had a 103 temperature. But I kept going. The show didn't derail. Ginger lost her voice. She had to re-record her dialogue. We were put through the wringer. But we believed in each other and the project. We weren't gonna let ourselves or the group down.
Hopefully the love that we have for each other will come across in the show and the audience will like it. I hope that we can keep doing this. I think it has all the elements. I think it can evolve into something special. It's got romance, light hearted moments, action, drama. Knock on wood, this will keep going. But I just feel very fortunate to be a part of something that comes from an iconic blockbuster with actors that I idolize.
WTW: What have you been watching recently?
SH: I just watched The Sandman. I really like Emily in Paris; that's great to watch with a date. I'm excited for The Bear season 2. I've been watching a little bit of Ken Burns' Vietnam documentary; he's a national treasure. I still do some classics. I watch old Honeymooner episodes. I also just watched Sunset Boulevard and A Million Ways To Die In The West, too.
True Lies airs on CBS on Wednesdays at 10 pm ET/PT.
Get the What to Watch Newsletter
The latest updates, reviews and unmissable series to watch and more!
Born and raised in England but now based in Philadelphia, Gregory Wakeman has written for the BBC, New York Times, The Guardian, GQ, and Yahoo Movies UK, all while defiantly trying to keep his accent.