Who was Mushroom in 'The Masked Singer' UK?
Who was Mushroom in 'The Masked Singer' UK? What star was disguised under the truly wild and unique façade?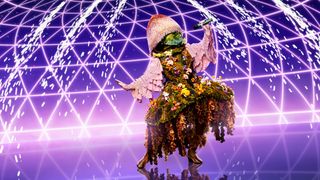 (Image credit: ITV)
The Masked Singer UK season 3 runner-up was Mushroom! This fun-girl was unmasked as Welsh singing sensation Charlotte Church in the final, which both the judges and viewers had managed to guess.
Charlotte Church was the most popular guess for Mushroom, but let's take a peek at what other stars people thought could be under the mask...
Who is Mushroom in 'The Masked Singer' UK? Songs...
Week one It's So Quiet by Bjork. Could the song be a clue in itself?!
Mushroom performed There Are Worse Things I Could Do from GREASE in week 2.
Week 3 saw Mushroom perform Crazy by Gnarls Barkley as her clue song.
Mushroom sang Stone Cold by Demi Lovato in week 4.
In the semi-final, Mushroom sang Be Right There by Diplo & Sleepy Tom.
Who is Mushroom in 'The Masked Singer' UK? Verbal clues…
Mushroom's clue is: "Hoping to go all the way and be crowned champignon, it's Mushroom."
Could this clue reference a chef of some kind? As well as starting his career as a greengrocer, could famous TV chef and MasterChef judge Gregg Wallace be under the mysterious mask and mushroom hat? This wouldn't be his first taste of the singing world, as he appeared on the BBC singing competition Just the Two of Us in 2007, but he was sadly the first to be eliminated. This opportunity could be another chance — just dressed slightly differently!
But could Gregg's MasterChef co-host John Torode be up for champignon as Mushroom? Gregg once revealed in an interview with Express.co.uk (opens in new tab) that he was convinced that John could be one of the masked singers on last year's The Masked Singer UK and that John is always practicing his singing behind-the-scenes on MasterChef. Could the culinary expert be donning a mushroom costume instead of a chef's jacket this time?
Or could celebrated food writer and television chef Nigella Lawson be the one to brave the stage with her singing skills?
Who is Mushroom in 'The Masked Singer' UK? Costume clues…
Complete with colourful mushrooms, this costume looks like it could be a gardeners paradise for some. Could the nation's favourite gardener Alan Titchmarsh be swapping a spade for a microphone and pruning his singing techniques?
Who is Mushroom in 'The Masked Singer' UK? Show clues…
Mushroom was first up to demonstrate their singing talents on The Masked Singer UK, but before they did, we were given many clues during the broadcast on who could be beneath the costume.
The judges were quick to point out Mushroom's northern accent as they revealed, "As a mushroom, I'm quite mellow and carefree. But I have been known to sprout in a more serious part of the forest, from time to time."
Mushroom went on to say, "Did you know that mushrooms help control life in the woods? They can help things decay and bring new life." The 'new life' part of the clue made judge Jonathan Ross suggest that they could be a midwife or possibly someone who is on Call the Midwife.
Mushroom continued with, "Which is just like me. I like to start new things and try new lives." Another clue included an alarm clock set at 1:28 and Mushroom commenting, "In fact, when mushrooms pop their heads above the ground, they can take many forms. And as they grow they might want to be any number of things."
As Mushroom revealed this clue, they hit a tree with a gavel and gave us another teaser, saying, "I know what you're thinking. This all sounds very serious. So I'll let you in on a little secret…I'm actually a real "fun-gi"!"
After Mushroom put on a remarkable performance, we were given one last hint: "I just want to bring peace and love, man."
Week 2 show clues...
Mushroom impressed with her performance and made it through to week 2! "Last time, the panel tried to get to the root of who I am. But their guesses were criminal. They'll need to get up much earlier and dig a bit deeper if they want to catch me out," she revealed in her clue package.
"There's very few places on Earth that you won't find mushrooms." Davin McCall questioned whether Mushroom was talking about travel. Could she be right?!
"And I've been very lucky to leave my forest and plant myself in lots of exciting places far from home," she continued, stepping out to reveal a bush with various "W" letters across the top, which Jonathan Ross said it could be the name of a town.
"I must say, it really is nice to be part of the action. And I've seen a lot of places. Honestly, I could never have imagined it all." There were numerous items shown, including milk bottles, a naan bread and a pair of chattering teeth.
She went on to say, "But I try to take it all in my stride, as you never know when it could be cut short. Tonight, I'm putting down roots to give you a song."
Next up was two lies and a truth— but which clue is real?! The first clue up was: "It could be said that I've raised an eyebrow" and the second one was: "Something I did got everybody talking." Finally, the last clue revealed was this: "My career started out a little bit fizzy."
Week 3 show clues...
Week 3 saw the masked singers have a clue song and a clue package to help us identify who could be under the mask.
But, first off, we started with the usual clue package, with Mushroom beginning hers with: "Last time, I lived out my fairy-tale and took the panel back to school. But they'll have to study a lot harder if they want to work out who I am before the school bell rings."
She went on to say, "Let me present to you my forest," and Rita Ora suggested that she could be a presenter. "Living here means I get to watch the seasons pass by," Mushroom said as we were shown some calendar pages with the months, Autumn, Spring, and Winter, to which Davina McCall was quick to point out that there was no summer.
"For millennia, each mushroom has been part of an underground biological world that helps to pass information throughout the forest. It's like natural learning, in't that amazing?" Rita Ora questioned if she could be a journalist. "And I've always been interested in learning and growing from my roots." Mo Gilligan also brought up the question if Mushroom could be someone who has been a teacher.
She continued with: "And it's from those roots that my abilities sprouted. Soaking up and communicating knowledge is something I'm extremely passionate about. I guess you could say it's in my nature." Jonathan Ross seemed puzzled and mentioned that it could be a reference to Springwatch.
"Tonight, I'm gonna get a little bit gnarly," she lastly said before she took to the stage to perform her version of Crazy by Gnarls Barkley.
Week 4 show clues...
There was double the clues for each performance this week, so we kept an eye on every small detail that could be a hint to their identity.
Mushroom was back to tease us some more as to who she is, opening her clue package with: "Last time, I drove the panel insane as they struggled to dig up any guesses that were close to who I really am. But were any of them me? Can't tell you."
While some colourful mushrooms were shown, there was also a picture of a perfume bottle with the label "Interest KK" at the bottom of the screen. "We're more than halfway into this competition, and while you might think that odour is the sweet smell of success, it's actually 'Interest by Mushroom,'" she said in a French accent as the perfume was introduced to the screen. Mo Gilligan thought it could be someone who has their own fragrance.
"Interest. It's the fragrance that asks the question: Why are you so obsessed with me? Interest: It's the reality of a life on display." Rita Ora thought that Mushroom must have an endorsement deal, meanwhile Jonathan Ross pointed out the fact that it says "KK," which Rita said could stand for Kim Kardashian.
Mushroom continued: "Interest: It's the all-natural olfactory experience that makes your heart beat. Interested in 'Interest?' Just call the number on your screen now."
"Call 345997- MUSHROOM Now! £22" was then shown on the screen, which confused the judges.
We got to have a nose through Mushroom's social media for more clues as to who she could be, which brought us to a video of her in her dressing room, filled with birthday decorations.
She explained: "Just back to my dressing room, and want to say a huge thanks for all the lovely birthday wishes. It was so nice of all you celebrities to sing for me. Now, who wants a slice of cake?" What could this possibly mean?!
Week 5 show clues...
We were revealed to yet more clues in the semi-final and Mushroom was up with her clue package. Could these clues help us uncover her identity?
"Last time, the panel thought they had me figured out to the letter. Without meaning to labour the point, mushrooms are the observers of the woodlands. We see and hear everything. And when we think it's the right time, you'll hear us speak up." Rita Ora said that they could maybe be an activist.
"I'm not afraid to use my voice to give support to the things I believe in," Mushroom said as she stood with a megaphone next to a sign saying "No Toxic Dumping."
She continued: "In fact, I think it's important that people who can, do. I once gave a speech to a quarter of a million people. It's important to stand up for what you believe in and to protect the things you love. Do I care what people think? Honestly, I don't give a 'dame'. Tonight, I'm showing what you can do with the power of love."
More clues were up for grabs with "ITV Clues at Ten," and alongside the headline: "Wood you BELIEVE it?" the newsreader said: "The gentle and moss-loving Mushroom has been identified today as the mysterious force who's been knocking some of the world's biggest stars off their perch. Asked by a fan how she felt about her success, Mushroom tweeted in response, 'Honestly, I'm not a material girl, I just believe in what I do, and if people like my work, then I am #grateful.'"
The panel got to choose one question they could ask Mushroom to help them guess her identity.
"That Lancashire accent is very very good, but is it real?" they questioned, and Mushroom said: "Oh my god, you guys. Well, just like my voice, I have quite the range. Does that help you there, my lovers?"
Does that help you out at all?!
Who is Mushroom in 'The Masked Singer' UK? Theories…
The Masked Singer UK judges really did have a variety of guesses, with Jonathan Ross guessing Australian actress Rebel Wilson due to her having a law degree. However, he also made a guess at singer Liam Gallagher after the "peace and love" clue and making a joke about Mushroom's long hair.
Rita Ora speculated that it could be music sensation Sia, meanwhile Davina McCall predicted Line of Duty star Vicky McClure. Due to hearing what he thought was a Scandinavian accent during Mushroom's performance, Mo Gilligan believed it could be environmental activist Greta Thunberg.
There were also a bundle of varied guesses from fans on social media, with a few thinking that Mushroom could be an Irish star, as they speculated that comedian Aisling Bea could be the person under the costume.
However, some predicted that it could be comedian Sarah Millican!
Week 2 theories...
The judges proceeded to make their guesses once again. First up was Rita with her guess of Rochelle Humes and Davina thought it could be Jane McDonald or Sarah Lancashire. Mo went with Kym Marsh and Jonathan said Joanna Lumley.
There were more diverse guesses from audiences at home, from Jane Horrocks to Sheridan Smith! But, many at home thought it could be Jane McDonald. Mushroom really has us all baffled!
Week 3 theories...
Jonathan went first with Lily Allen, and Mo said Katy B. Meanwhile, Rita went for Kimberley Walsh and Davina said Carol Vorderman.
Many fans on social media are convinced that Mushroom is Charlotte Church. It seems like a good guess! But what do you reckon?
Week 4 theories...
Davina McCall went for Sheridan Smith as her guess, and Jonathan also went for Sheridan. Rita suggested Willow Smith and guest judge Olly Alexander guessed Nadine Coyle. Lastly, Mo Gilligan went with Charlotte Church to wrap up the judges guesses.
The public at home took to social media once again and it seems that Kerry Katona and Charlotte Church are some of the most popular guesses.
Week 5 theories...
Mo Gilligan guessed Charlotte Church and Davina McCall said Lily Allen. Guest judge Dame Joan Collins went with Dame Kiri Te Kanawa, and Rita suggested Jade Thirlwall. Lastly, Jonathan Ross decided to go with Jesy Nelson.
Fans at home are still convinced that Charlotte Church is Mushroom, and it doesn't look as though they'll be changing their minds anytime soon!
The new series of The Masked Singer continues on ITV — see our TV Guide for full listings.
Get the What to Watch Newsletter
The latest updates, reviews and unmissable series to watch and more!
Grace is a digital writer with WhatToWatch.com, where she writes series guides for must-watch shows and the latest TV news. She graduated from Anglia Ruskin University in 2020 with a degree in Writing and Film Studies, which only made her love for creative writing, film and TV grow stronger.
You'll usually find her watching the drama unfold in the latest reality series and much-loved soaps (usually with chocolate by her side!). Grace also likes to explore new places with her friends and family and, of course, watch and read about the latest films and TV series.