The Masked Singer UK winners: who they are and what they wore!
Can you remember all The Masked Singer UK winners and what crazy costumes hid their identity? Here's our handy guide…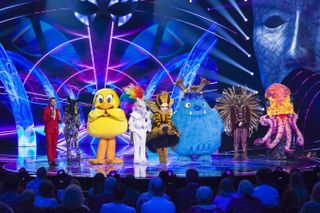 (Image credit: ITV)
Can you remember The Masked Singer UK winners and what amazing costume hid their identity?
The last three series have seen a host of stars disguised under the most outrageous outfits from a dragon, alien, grandfather clock, blob, and duck.
The ITV series is presented by comedian Joel Dommett and features a panel of four celebrity judges who try and guess who is hidden beneath the extravagant disguises. Throughout the series, subtle clues are given to help reveal who is beneath the mask, although they are often too cryptic to be of much help!
The Masked Singer UK season 3 kept us guessing which celebrities were hiding behind the elaborate costumes as Robobunny, Mushroom, and Panda all fought to be crowned the champion of 2022.
Now, with The Masked Singer UK season 4 heading to our screens, here's a reminder of who has triumphed before them on The Masked Singer UK stage.
Who won series one of The Masked Singer UK?
Series one of The Masked Singer UK premiered on ITV on January 4, 2020. It featured 12 celebrities all hidden beneath the most brilliant and bonkers costumes.
The judging panel was made up of American actor Ken Jeong, TV presenter Davina McCall, singer Rita Ora and chat show host Jonathan Ross.
Take it off!
The first ever winner was former Girls Aloud singer Nicola Roberts who was crowned champion after wowing the panel and studio audience with her vocals.
Her costume was Queen Bee and her final song was Someone You Loved by Lewis Capaldi.
Judge Davina McCall was shocked and thrilled to see Nicola behind the mask saying, "You are amazing, your singing has been just jaw dropping from the very start, that mask gave you a confidence."
Nicola also loved taking part in the show as her Instagram post below shows…
And the runner up was…?
Comedian Jason Manford came second in series one, disguised as a very smartly dressed Hedgehog. He sang the classic Cry Me a River as his final song and impressed everyone with his vocal talents.
After finally revealing who he was he said, "I've just loved this show, it's been fabulous," before adding the amazing lengths the show goes to to keep the contestants' identity hidden. "From the moment you leave your house you are in a hoody that says 'don't speak to me', a visor, it's like MI5, it's amazing."
The hoody from the show also came in use again as Jason's Instagram post shows…
And in third place…
In third place was Katherine Jenkins who was disguised as Octopus and sang the Mary Poppins classic Supercalifragilisticexpialidocious for her final performance. The classical singer was inspired to take part in the show for her daughter who loves octopuses, especially pink and purple ones!
She said, "It's been so fun. In my normal career it can be quite serious and quite static and so to be able to do something where you can create a new character and sing songs you would never in a million years sing, it's been really really fun."
She also admitted she had tried her best to hide her operatic voice at the early stages of the competition.
Who won series two of The Masked Singer UK?
Series 2 kicked off on Dec. 26, 2020 and starred 12 celebrities, including singers Sophie Ellis-Bextor and Mel B but also comedian Lenny Henry, football manager Glenn Hoddle and TV presenter Sue Perkins.
The judging panel saw the return of Davina McCall, Rita Ora and Jonathan Ross with comedian and actor Mo Gilligan joining the panel as Ken Jeong couldn't travel from America due to Covid-19 travel restrictions.
The winner of series one, Nicola Roberts, also joined the panel for the final.
Take it off!
The winner of series two was singer Joss Stone who dressed as Sausage. The panel hadn't guessed Joss was hiding beneath her meaty costume and she was delighted to surprise them as the picture below shows!
Joss had a ball dressing up and said, "Life can be too serious, we should just dress up as chips and sausage and have a sing song." Before adding, "This has been the funniest, most hilarious job I have ever had. I've laughed so much."
The singer was also heavily pregnant during the show and gave birth to her daughter, Violet, not long after filming finished.
And the runner up was…?
American singer and song writer Ne-Yo came second, dressed as Badger. The global star belted out Wrecking Ball by Miley Cyrus in the final and told the shocked panel, "I've had so much fun with this. It's been a great experience."
And in third place…
In third place was JLS singer Aston Merrygold who was disguised as Robin. The pop star didn't tell his JLS bandmates he was appearing on the show but impressed the panel with his funky dance moves as well as his singing.
His final song was For Once in My Life by Stevie Wonder.
Who won series three of The Masked Singer UK?
The Masked Singer UK season 3 aired on January 1, 2022 and saw 12 new celebrities sing their hearts out underneath bonkers costumes — from Traffic Cone to Doughnuts, there was a whole host of whacky attires this year.
Davina McCall, Rita Ora, Jonathan Ross and Mo Gilligan all returned to the judging panel once again with their detective skills to try and guess who could be behind the mask.
The panel were also joined by Joss Stone, who won the previous series.
Take it off!
The winner of The Masked Singer UK season 3 was Australian singer and former Neighbours star Natalie Imbruglia, who was unmasked as Panda.
Speaking after winning the show, she revealed that she did the series for her son, who she had given birth to with the help of IVF.
She said: "I did it for my son. He loves the character I chose. I also thought it would be fun to sing with a mask on. No need to spend hours in hair and make-up.
"I liked the idea of hiding my identity and putting on an accent to throw people off the scent. I guess it's also an acting gig."
And the runner up was…?
Welsh singer Charlotte Church came in second place as Mushroom. Fans knew for weeks that Charlotte was behind the mask and judges Jonathan and Mo were also convinced that Mushroom was the singing sensation.
Charlotte, who is also an eco activist, said of her costume: "I love Mushroom to the core of my soul and I really love the role that Fungi plays on Earth. I think that it's going to be so important in how we fix a lot of the ecological problems that we're currently facing, including things such as soil degradation.
"So, to be the representative for the mushroom community felt absolutely brilliant, my heart was fit to burst!"
And in third place...
Westlife star Mark Feehily came in third place dressed as Robobunny. He confessed that he lied to his Westlife bandmates about being on the show.
He said: "I told the boys I'm just going to stay in London and chill out for a couple of days and they were like, but you've got a baby in Ireland."
Mark then revealed that he took on the singing challenge for his daughter, Layla.
"Doing this has allowed me to explore my voice as well, but I've also spent the last two years with my baby so I've watched a lot of cartoons. This is for Layla," he added.
Get the latest updates, reviews and unmissable series to watch and more!
Freelance writer and editor
Joanne Lowles has been writing about TV since 2002. After graduating from Cardiff University with a Postgraduate Diploma in Magazine Journalism, she worked for All About Soap magazine covering the ups and downs of life on the cobbles, the square and the Dales.
Next came nearly 10 years at TV Times magazine as a writer and then deputy features editor. Here she spent many happy days interviewing the biggest names in entertainment and visiting the sets of some of our most popular shows including Downton Abbey, Call the Midwife and Strictly Come Dancing.
With a love of nature and wildlife she's also interviewed the leading experts in this area including David Attenborough, Chris Packham and Steve Backshall. She's also travelled the world visiting Mongolia, Canada and South Africa to see how the best in the business make the most brilliant natural history documentaries.
Freelance since 2013, she is now is a digital writer and editor for What to Watch, previews the best on the box for TV Times mag each week and loves being constantly surprised, entertained and informed by the amazing TV that she is lucky enough to watch.
Thank you for signing up to Whattowatch. You will receive a verification email shortly.
There was a problem. Please refresh the page and try again.