Who was Doughnuts in 'The Masked Singer' UK?
Who was Doughnuts in 'The Masked Singer' UK? Which celebrity could be disguised as Doughnuts on 'The Masked Singer' UK?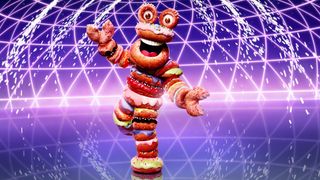 (Image credit: ITV)
Doughnuts put on quite a show in The Masked Singer UK season 3 and won the hearts of the nation with his performances, but it turns out that the guesses were right as he was unmasked as former England football star Michael Owen!
People at home and judge Mo Gilligan guessed Michael Owen as Doughnuts from week one, but let's take a look at other people's guesses as to who was hiding behind the sugary façade...
Finally I can apologise for burning your ears these last few weeks.My kids badgered me into doing @MaskedSingerUK but I have to say it was a great experience and a whole lot of fun. Still can't believe I got past round one! 🍩🍩🍩#maskedsingeruk pic.twitter.com/LU5vM5y98xJanuary 29, 2022
Who is Doughnuts on 'The Masked Singer UK'? Songs…
For week one, Doughnuts sang Eye Of The Tiger by Survivor. Any clues there?!
In the second week, Doughnuts performed Spice Up Your Life by The Spice Girls!
As his clue song, Doughnuts sang Sweet Caroline by Neil Diamond for week 3.
Who is Doughnuts in 'The Masked Singer' UK? Verbal clues...
At the moment, we're going to have to use our expert guessing skills as the only clue that has been given for this character is: "Doughnuts looks like a sweet treat but will they run rings around everyone who tries to figure out who they are."
Could the running rings clue indicate a runner?! Olympic gold medallist runner Sir Mo Farah could be one of the celebrities singing a few tunes as Doughnuts. This wouldn't be his first reality TV stint if it were to be him, as he appeared on last year's I'm A Celebrity and was the eighth celebrity to be eliminated.
Who do you think it could be?
Who is Doughnuts in 'The Masked Singer' UK? Costume clues...
If we're guessing based off of the physical costume, which just consists of doughnuts, could the celebrity have some baking or cooking talents?
The Great British Bake Off 2012 champion John Whaite has been showing off his dance moves recently on the Strictly Come Dancing ballroom and has become one of the fan favourites. He's already proved he has the dancing abilities but does he have the singing abilities too?
Or could the master baker Paul Hollywood himself surprise us all?!
Who is Doughnuts on 'The Masked Singer UK'? Show clues…
Doughnuts introduced their clue package with, "Hey, hey, hey. I hope you've got a sweet tooth," as he put a tray of doughnuts in the oven, which gave the judges the impression that Doughnuts could be a famous chef or someone from The Great British Bake Off.
As the oven exploded open, Doughnuts jumped in with, "Because I'm…Doughnuts. Us doughnuts are a fast food anyway, but me? I'm extra speedy." Both Jonathan Ross and Rita Ora agreed that Doughnuts could be a famous sports person or runner.
"I've never been the glazy sort. Maybe it's all that sugar." Davina McCall pointed out Doughnuts' Scouse accent. "Being quick has helped me run ice rings around the competition…and to take on the cream of the crop."
We then see Doughnuts munching on some crisps as he reveals, "And being one of the best, that was always one of my goals." Rita began to think that Doughnuts could be a footballer, although as more clues were told, it hinted that Doughnuts could be involved in a different sport entirely. "In this competition, I'm going to do my best to jockey for position." Davina had the idea of a Scouse disc jockey and questioned who it could be.
"Now, just one question- who am I, dough?" Doughnuts said, before he took to the stage. As Doughnuts sang it was clear that it was a man underneath the costume.
"As well as being sweet, I've also been savoury," was the last clue given by Doughnuts once he finished his performance.
Week 2 show clues...
Doughnuts was back to put on a show-stopping performance for week 2. "In my first performance, I scored a win against a chandelier. The panel thought they had me licked. But I think there's a big hole in their guessing," Doughnuts teased.
Davina McCall and Rita Ora were quick to point out that he could be a 90s raver when Doughnuts started dancing to The Prodigy against a multicoloured background of doughnuts.
"I'm...ready! People always ask me, what's the recipe for success?" he said. We then saw three containers, one with sprinkles with the word "Talent" across the label, a can of "Golden Boots Syrup," and a bag of "Capri-corn flour."
"Well, I'll tell you." Rita questioned if they had something to do with Britain's Got Talent and Davina pointed out a talent show. "It takes a dash of sprinkles, a spoonful of sweetness, a light dusting of flour. Mix them all together, and I promise life is pretty sweet."
Some other major clues were Doughnuts looking through a pair of binoculars to a book of Ornithology, which Jonathan recognised as bird-watching.
"Then you pop it in the oven, stoke that fire, and oh, boy wonder at that delicious result," which Mo began thinking was a sports person.
Doughnuts' two lies and a truth were unveiled as: "I share a name that's very close to home," "I've managed to develop a range of talents," and "something about me has been compared to royalty." Which one do you think is the real clue?
Week 3 show clues...
For week 3, both the clue package and the songs the contestants sang were hints at who could be behind the mask.
Doughnuts opened his clue package with: "Last time, I spiced things up. The panel were sure they're getting close. But I think their guesses are only half baked."
"There's nothing like a freshly baked doughnut," he continued, while he played with a toy helicopter. Davina McCall and Mo Gilligan were quick to point out the TV programme Celebrity SAS: Who Dares Wins, due to the contestants having to jump out of a helicopter in the show.
"I was certainly on fire when I came out of the oven. Fresh out of the box, I was making a name for myself. And putting doughnuts on the map." A picture of Doughnuts' face and the flag of Argentina was shown on the map after, which Rita Ora commented that it could be a footballer who played for Argentina or in Argentina.
Doughnuts went on to say, "And my career has seen me reach some dizzying heights. You're not gonna believe some of the opportunities that I've had or the people I've got to meet. Turns out, even princes and dignitaries have a sweet tooth." Mo suggested that the clues could be something to do with Bake Off.
"Now I get to make the new batch of doughnuts and help them to become the best they can be. Which is a real honor," to which Rita said could be a reference that they're a retired footballer and now coach.
"Tonight, I'm hoping the panel thinks my performance is pretty sweet," he said, before taking to the stage to sing his clue song Sweet Caroline by Neil Diamond.
Who is Doughnuts on 'The Masked Singer UK'? Theories…
Mo Gilligan guessed jockey Frankie Dettori (not sure about that guess!), while Davina suggested footballer Robbie Fowler. Jonathan decided to focus on the crisps clue and said Gary Lineker and Rita decided to not go for a sports person at all, guessing radio presenter Nick Grimshaw as he was also on Bake Off.
Mo later said footballer Michael Owen as his guess after hearing the final clue.
People at home agreed with Mo's guess of Michael Owen, so it seems as though Doughnuts' identity could have already been discovered!
Doughnuts 🍩 was a real entertainer! I thought I detected Michael Owen @themichaelowen in the voice. "150" on the oven = number of Premier League goals he scored. He used to promote Walkers with Cheese & Owen flavour crisps. Plus the jockey's cap for his horses. #MaskedSingerUK pic.twitter.com/mdAlJheSm1January 2, 2022
Week 2 theories...
Mo stuck to his previous guess of Michael Owen, meanwhile Jonathan went for Chris Kamara. Rita guessed Chris Moyles and Davina decided on Robbie Fowler again.
Many fans at home were sure that Doughnuts is Robbie Fowler, whereas many were also certain that it's Michael Owen! Could it be one of these two?!
Is it even open for debate that michael owen is doughnuts... #maskedsingerukJanuary 9, 2022
Doughnuts is Robbie Fowler I AM TELLING YOU. I have a thousand and one reasons WHY but the main reason is just because I know it is #MaskedSingerUKJanuary 9, 2022
Week 3 theories...
Davina was still sticking to her guess of Robbie Fowler for week 3, meanwhile Jonathan went with Alan Shearer. Rita decided to go for Michael Owen, and so did Mo, who also guessed Matt Lucas.
It seems the public at home are still sure of it being Michael Owen, but it also appears that a few fans are saying it's Paul Hollywood!
Watching Michael Owen disguised as Doughnuts singing Sweet Caroline is too much for a Sunday morning #MaskedSingerUKJanuary 23, 2022
The new series of The Masked Singer continues on ITV — see our TV Guide for full listings.
Get the What to Watch Newsletter
The latest updates, reviews and unmissable series to watch and more!
Grace is a digital writer with WhatToWatch.com, where she writes series guides for must-watch shows and the latest TV news. She graduated from Anglia Ruskin University in 2020 with a degree in Writing and Film Studies, which only made her love for creative writing, film and TV grow stronger.
You'll usually find her watching the drama unfold in the latest reality series and much-loved soaps (usually with chocolate by her side!). Grace also likes to explore new places with her friends and family and, of course, watch and read about the latest films and TV series.