'I'm A Celebrity' 2021 — update, line-up, location, presenters, and everything we know
'I'm A Celebrity' 2021 — here's all you need to know about the latest series on ITV.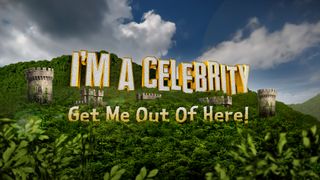 (Image credit: ITV)
I'm A Celebrity 2021 has returned with a bang, with hosts Ant McPartlin and Declan Donnelly welcoming a new batch of famous faces into camp for the 21st series of the show.
But which name will we be adding to the long list of I'm A Celebrity winners?
Meanwhile, two soap legends have joined the camp — Coronation Street star Simon Gregson and EastEnders favourite Adam Woodyatt. And Simon is now the favourite to win the whole thing.
Richard Madeley has become the first star to leave the camps after falling ill and then not being able to return due to Covid rules.
The drama continued when a string of episodes were cancelled due to the weather, but we're back in full swing now and ready for even more gruesome trials!
Here's everything you need to know about the new series including when it's on next...
'I'm A Celebrity' 2021 air dates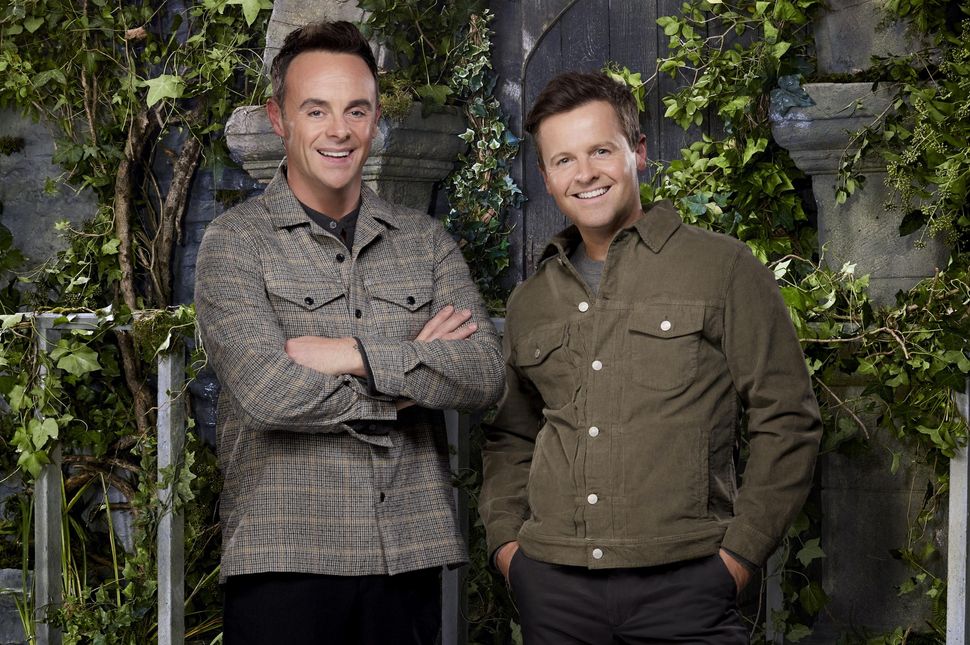 I'm A Celebrity 2021 is will continue on Friday 3 December at 9pm, with episodes at 9:15pm on Saturday and 9pm on Sunday. So there's plenty of action to look forward to!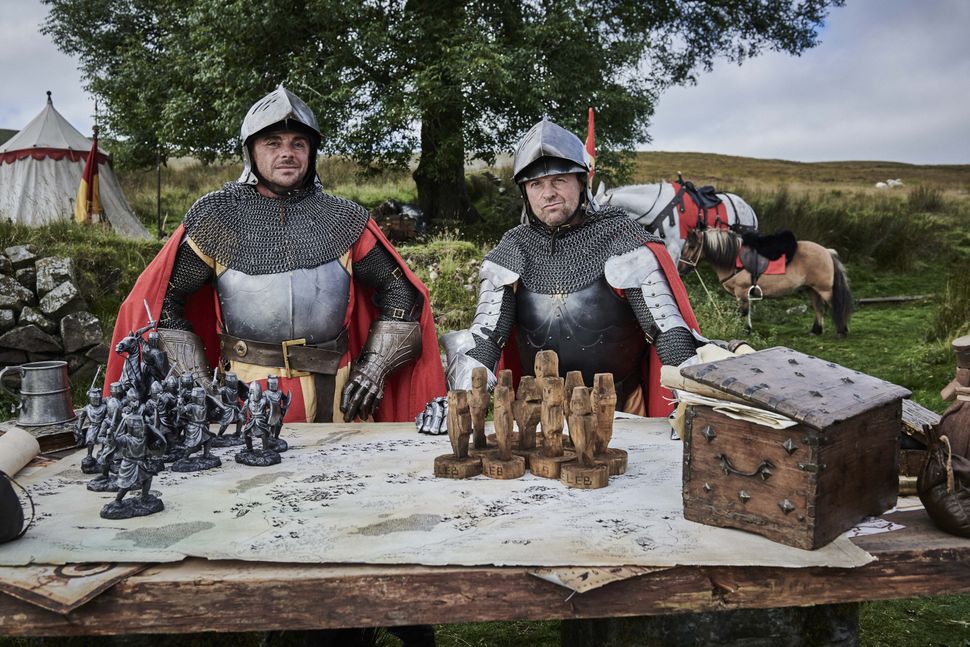 Who has been voted out of 'I'm A Celebrity' 2021?
Richard Madeley has had to leave the show after falling ill which meant he had to go to hospital to be checked out. Richard declared he was feeling "fine" soon afterwards, but sadly couldn't return to camp due to Covid rules.
The first celebrity to be voted out was Arlene Phillips. She said she'd wanted to challenge herself and prove she's fearless and was congratulated by Ant and Dec for being the oldest ever campmate.
Where is 'I'm A Celebrity' 2021 being filmed?
This year the show has returned to the historic Gwrych Castle, Abergele in North Wales instead of the Australian jungle.
Fans will know that last year's series was forced to relocate to Wales due to the pandemic, bringing us all the usual camp drama from the UK instead of sunny Down Under.
In September Ant and Dec shared a picture of them working in Wales for the first time this year on social media, revealing they had been filming snippets for the new I'm A Celebrity 2021 show.
Dr Mark Baker, Chair of the Gwrych Castle Preservation Trust said "I'm absolutely delighted that I'm A Celebrity has chosen Gwrych Castle to be its UK location for the 2021 series. Gwrych Castle is a beautiful Grade I listed historic house and a must-see destination for tourists visiting Wales. We are all very excited to be working with the team again."
Katie Rawcliffe, ITV head of entertainment commissioning, said: "We can confirm that we'll be returning to Wales for the 2021 series of I'm A Celebrity … Get Me Out Of Here! I have no doubt the production team will produce another hugely entertaining series."
'I'm A Celebrity' 2021 celebrity line up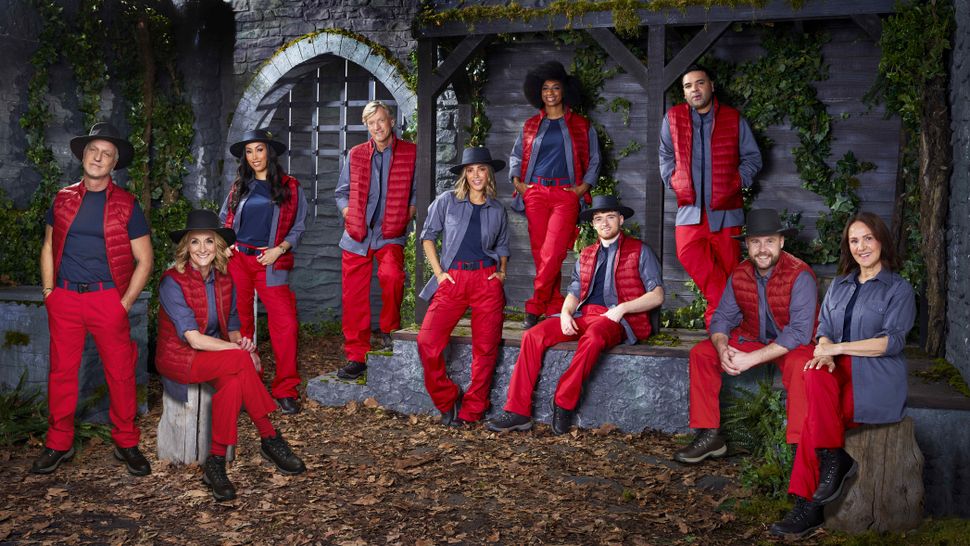 Here's the cracking line-up of celebs for this year's series...
Adam Woodyatt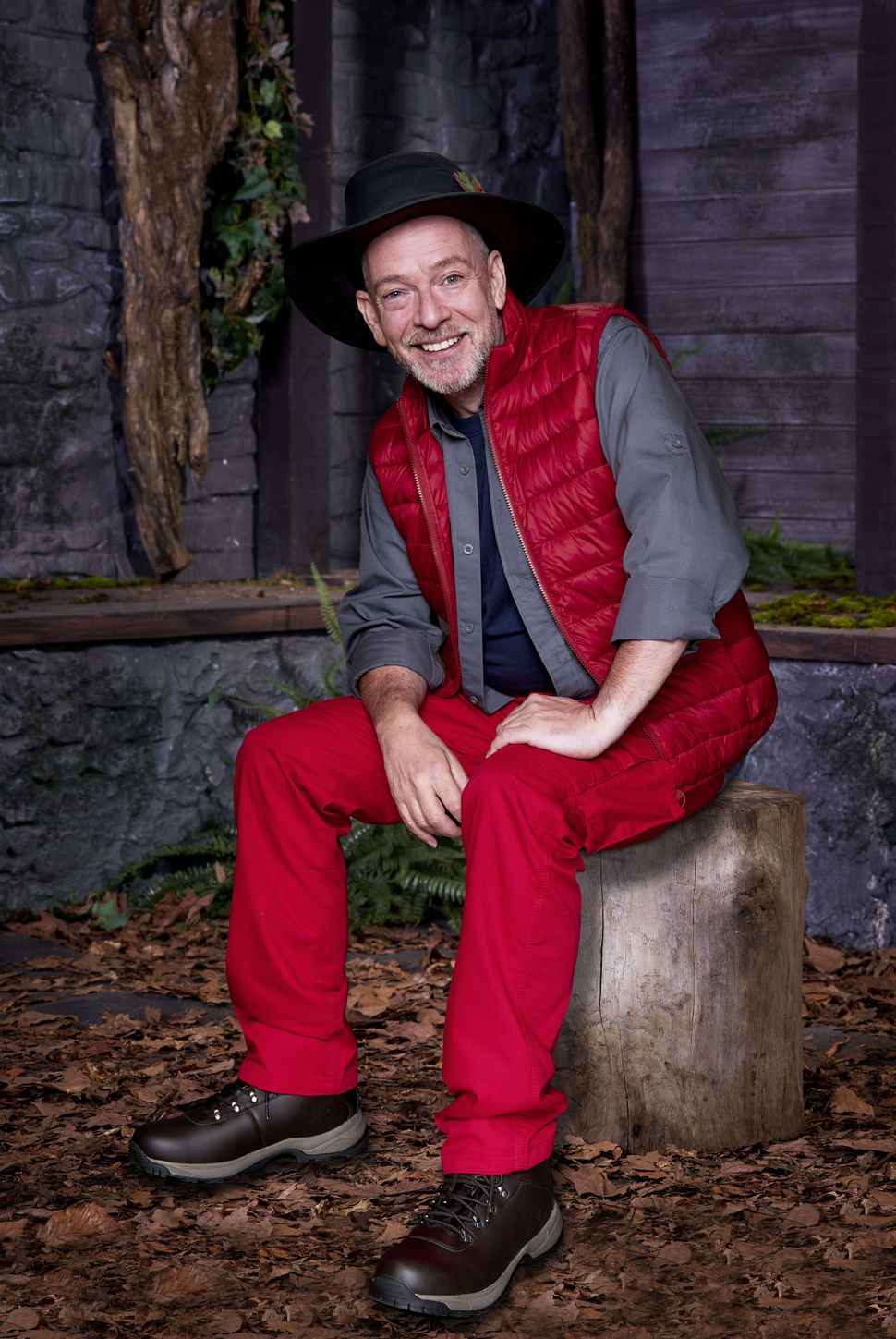 EastEnders legendary actor Adam Woodyatt reveals his decision to take an extended break from the BBC1 soap has enabled him to finally accept an offer to take part in this year's I'm A Celebrity.
And Adam – who has played Ian Beale for more than three decades – says he can't wait to prove to everyone he is not like his famous soap alter ego as he arrives in the Castle as a latecomer. Explains Adam: "I've known about doing I'm A Celebrity for a long time and I can't wait to go in now! I don't mind if I am first or last in the Castle – I am just really looking forward to being on the show.
"Why have I finally said yes? Because I am not in EastEnders! That is the honest answer. I am not in contract with the BBC so I can come and do it. Everyone thinks I am Ian Beale and so it's going to be great to show I am not."
Last year, Adam announced he was taking time out from EastEnders with his last scenes filmed in November 2020. He says he definitely hasn't regretted the decision because it has allowed him to do so many different things including a theatre tour. "It will have been a year since I was last in EastEnders by the time I go in," adds Adam. "I've enjoyed my time so much. I am very much enjoying my life and doing things I want to do."
Describing his Castle adventure as 'expect the unexpected', the 53-year-old star says he has barely told any of his friends about his decision to take part and only told his two children very recently. "I didn't want to spoil the surprise," he adds. "And so I have been keeping very quiet about it."
Simon Gregson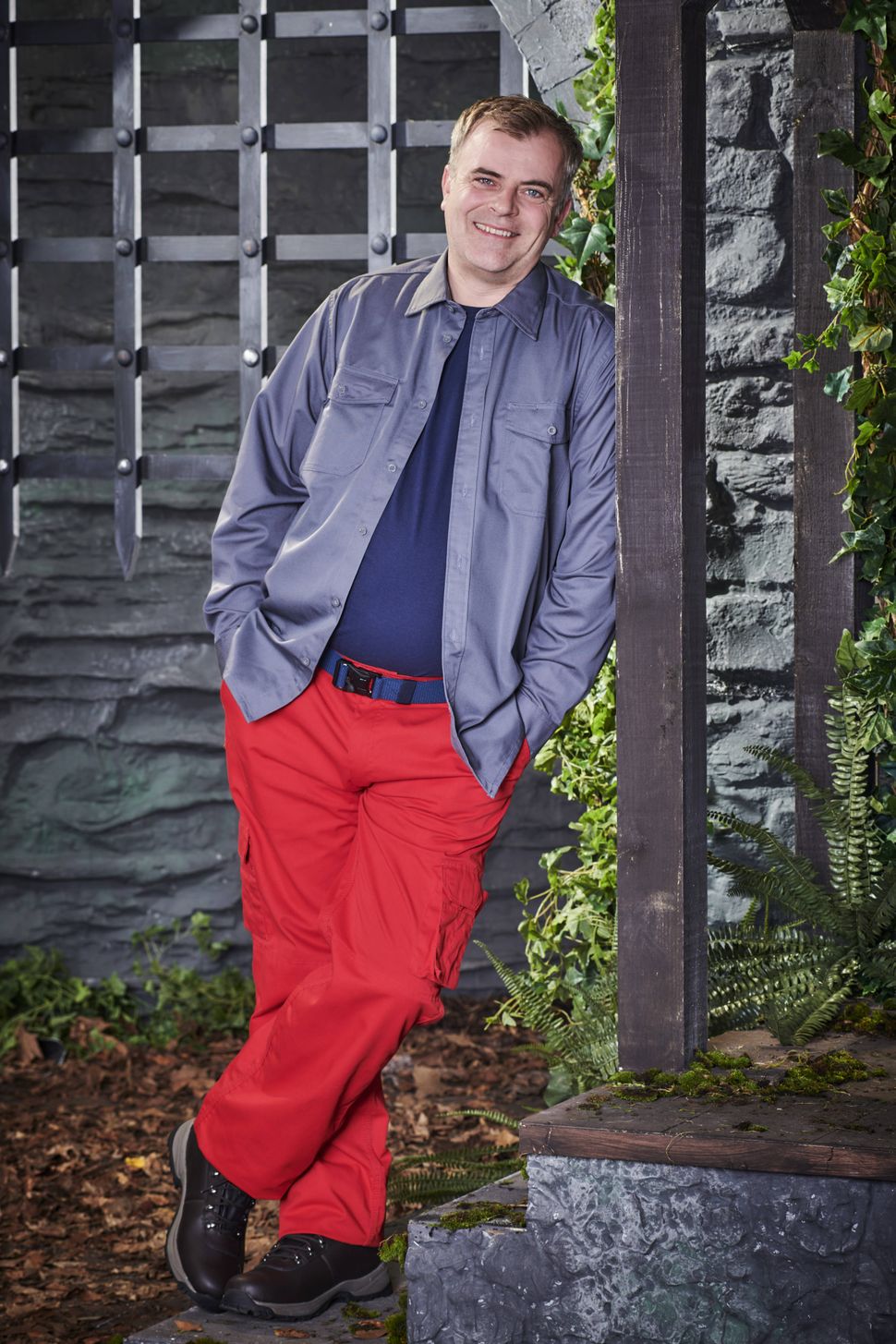 Coronation Street star Simon Gregson reveals it was his wife and three children who persuaded him to perform a massive U-turn and take part in I'm A Celebrity. Now he has finally accepted the offer, the soap legend – known to millions as Steve McDonald for more than three decades – predicts the rest of the Corrie cast will be on speed dial voting for him to do the famous Trials!
"It was common knowledge I would never do I'm A Celebrity," admits Simon. "But my wife and kids were like, 'Come on Si, you've got to do it, you will have fun.' And so, I've said yes! It is something cool for the kids to watch dad scream like a young child!
Simon adds that he is more than happy to muck in with all the camp jobs. "I love cooking and I am happy to muck in," he explains. "It's going to be nice for people to see what I am like without a script for a change. I think people think you are in a huge celebrity bubble when you work on a soap but that is not the case at all. It will be nice for them to see me as a normal man but also, there isn't much difference between the character and myself as I kind of injected myself into the character I play!"
Richard Madeley — OUT!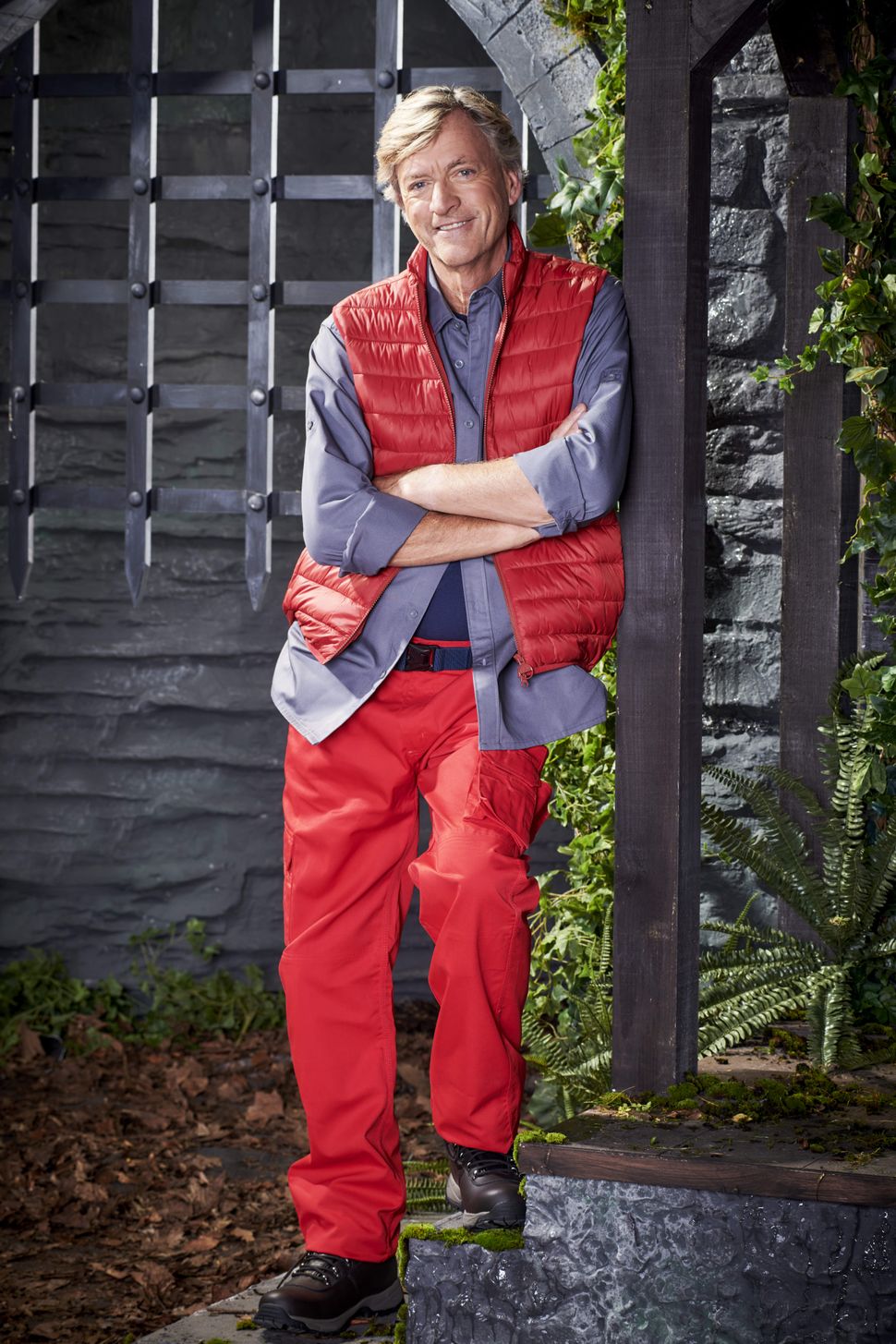 TV presenter, author, and Good Morning Britain presenter, Richard Madeley, has admitted he wants to find out what it feels like to be in the camp on a TV show that has become part of British life...
Richard says: "Up until now, I've always been perfectly happy watching as a viewer but recently, I realised I'm A Celebrity is no longer just a TV programme. It's become part of the fabric of British life and part of the countdown to Christmas. It suddenly hit me that everyone talks about it the next day and I suddenly wondered what it would be like to be there rather than watching. I realised the time had come to experience it. Judy and I talked about it and we realised we couldn't find a reason for me not to do it - but my children think it is hilarious I am taking part!"
Richard also says his only fear is heights and that he sees his role in camp as being cook and interviewer because he's always interested in what is going on in people's lives... "I spent many years on my grandparents' farm in Shropshire," he explains. "I am used to animals, rats, so I've had all that knocked out of me. I don't like heights though and what bothers me the most is the route into the Castle. Maybe I will have to walk a plank over a 150 foot open space. I am not looking forward to that at all and I know my head could say 'do it' and my body could freeze!"
Richard is now sadly out of the show.
Arlene Phillips - voted out first!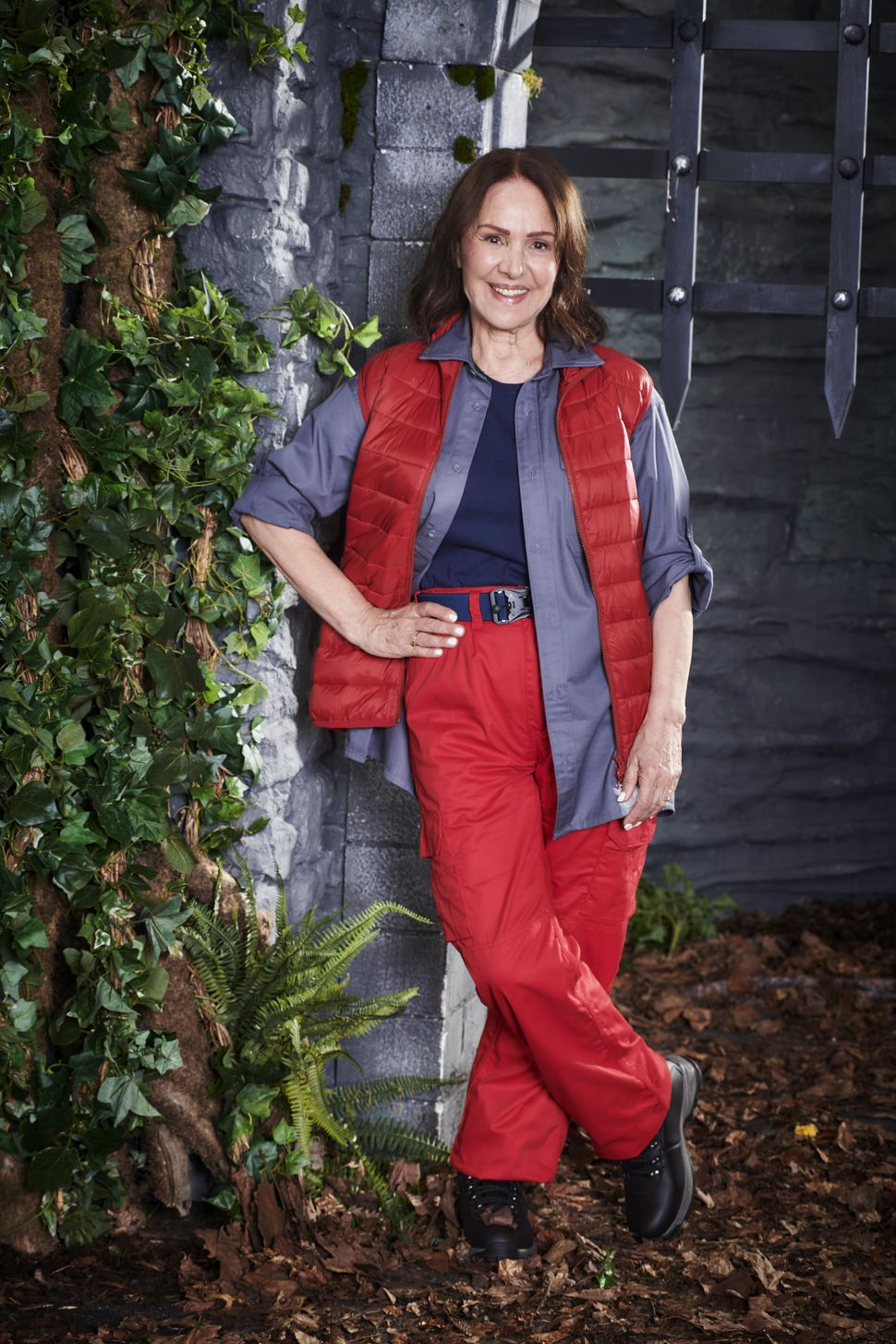 Former Strictly Come Dancing judge Arlene Phillips says she is looking forward to showing off her nurturing side, and also entertaining her campmates with some fun dance routines!
At 78, Dame Arlene Phillips is I'm A Celebrity's oldest ever contestant and she predicts her friend and former colleague on Strictly, Craig Revel Horwood, will think she is crazy to be going on the hit ITV show. "I still can't believe I am doing it, but I love and admire everybody who has done the show, I have spoken to so many people who have done it. Everyone has loved the experience and told me how it has added something new to their lives and that is why I have said yes this year after being approached before."
Reflecting on how she will cope doing the Trials, she adds: "Spiders, all those things you find on I'm A Celebrity – I don't like them but I have this great fantasy that I can put myself in a place that will deal with it all. I think people don't see the motherly side of me," explains Arlene, who has two grown-up daughters and a long-term partner. "I don't think people know me and the real me is very different – I am very caring."
As well as being a Strictly judge between 2004 and 2008, she also judged the 2010 BBC show So You Think You Can Dance, as well as created and choreographed the ITV drama Britania High.
Arlene was the first to leave the camp after votes opened for the public to choose who to save. She said she'd wanted to challenge herself and prove she's fearless, and was congratulated by Ant and Dec for being the oldest ever campmate.
Dancing her way out of the Castle with her head held high, @arlenephillips wanted to prove that she's fearless and she did just that! 💪 #ImACeleb pic.twitter.com/5YfEqiWLlUDecember 5, 2021
Frankie Bridge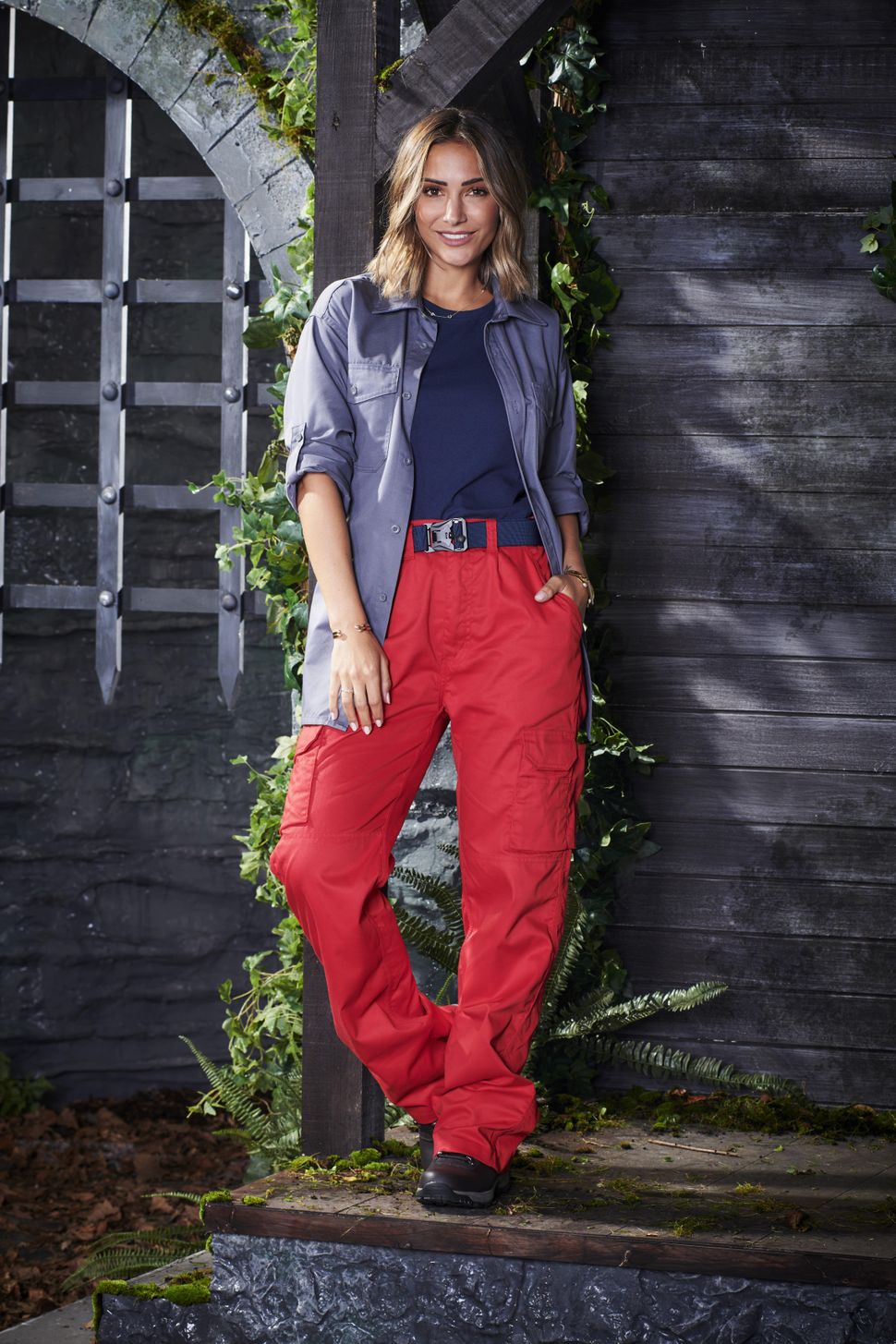 Frankie Bridge is determined to conquer her fears by taking part, vowing: "I'm scared of most things, but I want to show a side people have not seen before".
And the mum of two reckons the eating trials are going to be very tough given she even has a phobia of tomato ketchup! "I think people will be surprised to see me doing I'm A Celebrity and I am scared of most things, but I really want to push myself," explains Frankie. "I'm scared of rats, I am a fussy eater and I have a bit of a phobia of ketchup, so a pint of penis terrifies me! Any of the eating challenges will be my idea of hell. I also hate spiders in my own home, being trapped in small spaces is a big thing for me and pretty much all of that is likely to happen which makes me go, 'Why the hell are you doing it?' And so that is exactly why I am doing it!"
She says her husband, Wayne, can't wait for her to go into the Castle after he took part in the programme in 2016. "Ever since Wayne took part, he has been desperate for me to do it too and he can't wait to watch me squirm and scream! My kids are still quite young, and they still think I am quite cool – so there is a very small window for them to watch it and not be embarrassed! I feel now is the time. I love the show so much too."
Frankie says Wayne's main bit of advice is to be herself, not overthink things and to have fun, but she is already missing her family... "Being apart from Wayne and the boys is going to be the big thing for me," explains Frankie.
Louise Minchin - voted out 5th!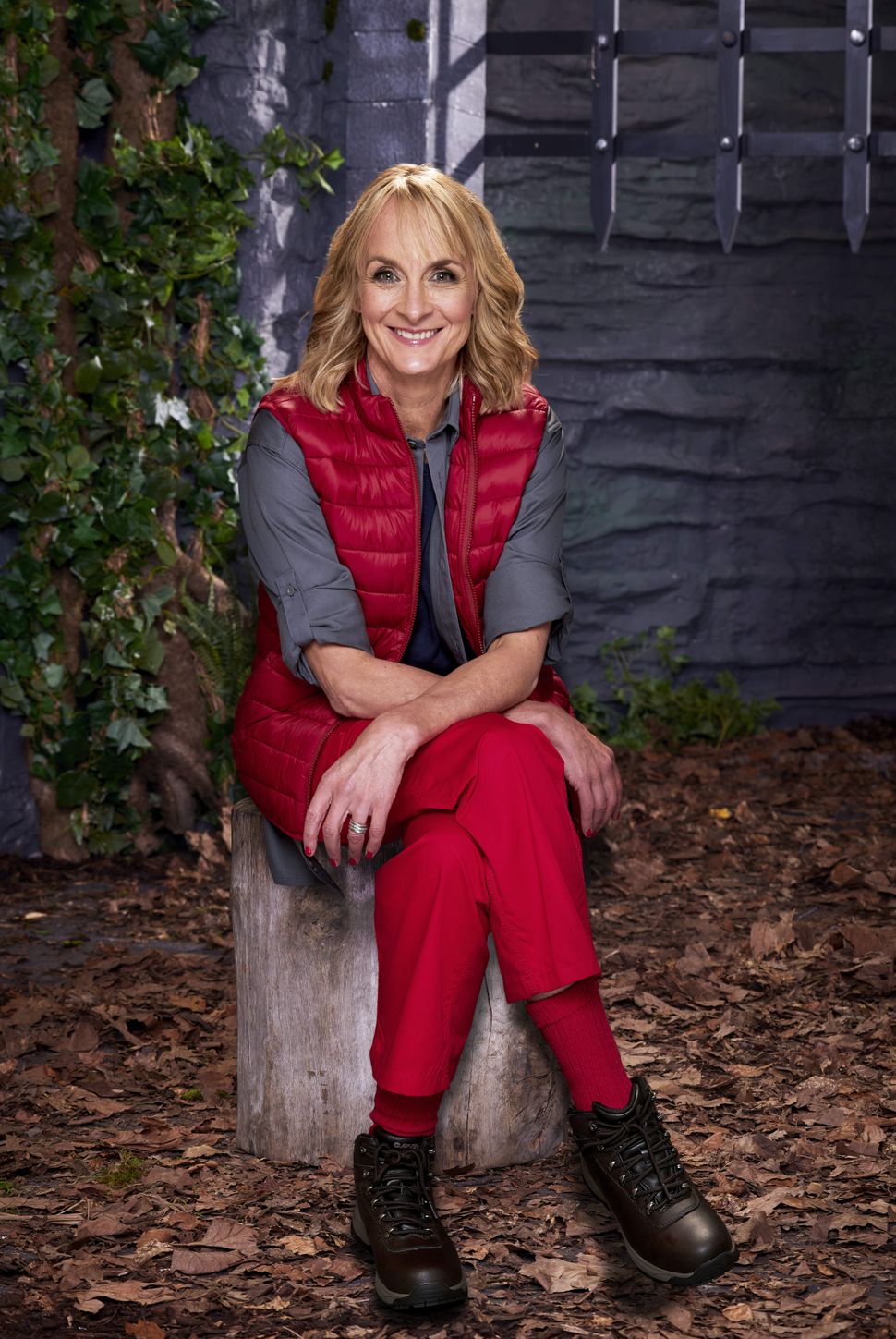 Former BBC Breakfast news presenter Louise Minchin is hoping to show her fun side on I'm A Celebrity but she admits not being able to find out the latest news headlines whilst in the castle will be difficult.
But the endurance sports lover – who bade farewell to the famous red breakfast sofa in September after 20 years says she hopes her former BBC colleague and friend, Dan Walker, will vote for her to take part in as many trials as possible, explaining ITV's award-winning entertainment series is the one show she has always dreamt of doing.
"Going on I'm A Celebrity is a big adventure," says 53- year-old Louise. "It is very different to sitting on the BBC Breakfast sofa and it will be scary and daunting but it will also be lots of fun. I've driven past the Castle quite a few times and I am really excited for it to be in Wales again. This time last year I had a broken ankle and I literally sat on the sofa at home watching every single minute of it thinking, 'Oh my gosh that Castle looks incredible, one day I would love to be part of it' and now I am!"
"I didn't tell Dan Walker I was doing I'm A Celebrity before coming to Wales but I don't think he will be surprised! He knows me well and I think he will be both excited and nervous for me. I have been voting for him on Strictly so fingers crossed he will vote for me a lot."
Danny Miller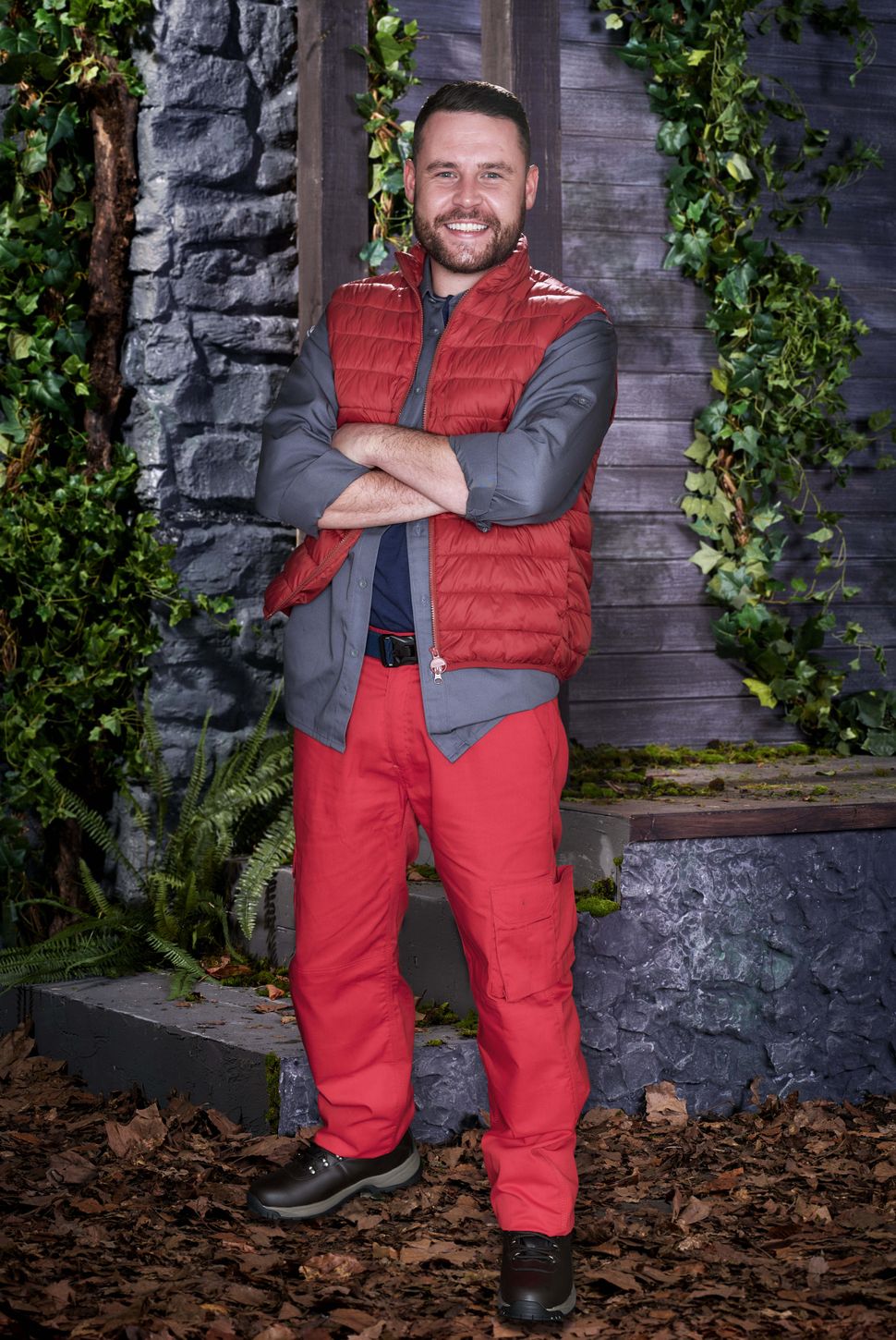 Emmerdale star Danny Miller admits he agonised over whether to take part in this year's I'm A Celebrity because it meant leaving his new baby behind.
Danny, who only recently became a father for the first time, reveals he spent a long time discussing the offer to take part with his fiancée, Steph, before finally deciding he couldn't turn down an opportunity of a lifetime. And the actor, who has played Emmerdale's Aaron Dingle on and off for 13 years, explains he wants to show viewers what he is like in real life away from the soap.
"Steph and I had a long discussion about me taking part in I'm A Celebrity. We were due to start IVF earlier this year and that would have meant the baby would have been due next March, so it wouldn't have mattered. But, then a miracle happened and Steph fell pregnant (without IVF). I knew my baby would only be about a month old when I went into the castle. I was worried about leaving the baby with Steph on her own but I know our baby will be in perfect hands."
One of Danny's best friends is Adam Thomas, who came third on I'm A Celebrity in 2016. "I confided in Adam about me taking part as he is one of my best friends in the world," explains the actor. "I feel like I am a step ahead as I've asked him questions about what it will be like. Obviously, he was in Australia and this is in Wales but he has been amazing in helping to settle my nerves."
Danny has also quit his role in Emmerdale just days before going into the camp, deciding to focus on this next stage in his career and the opportunities that will arise following his stint on I'm A Celebrity. A soap spokesperson said: "Danny has achieved so much during his time at Emmerdale playing the role of Aaron. He has had to tackle some of the hardest-hitting storylines and has made a lasting impact on the show. Aaron is a character our viewers took into their hearts and have followed his rollercoaster journey for years. Danny will be hugely missed and we wish him all the best going forwards."
David Ginola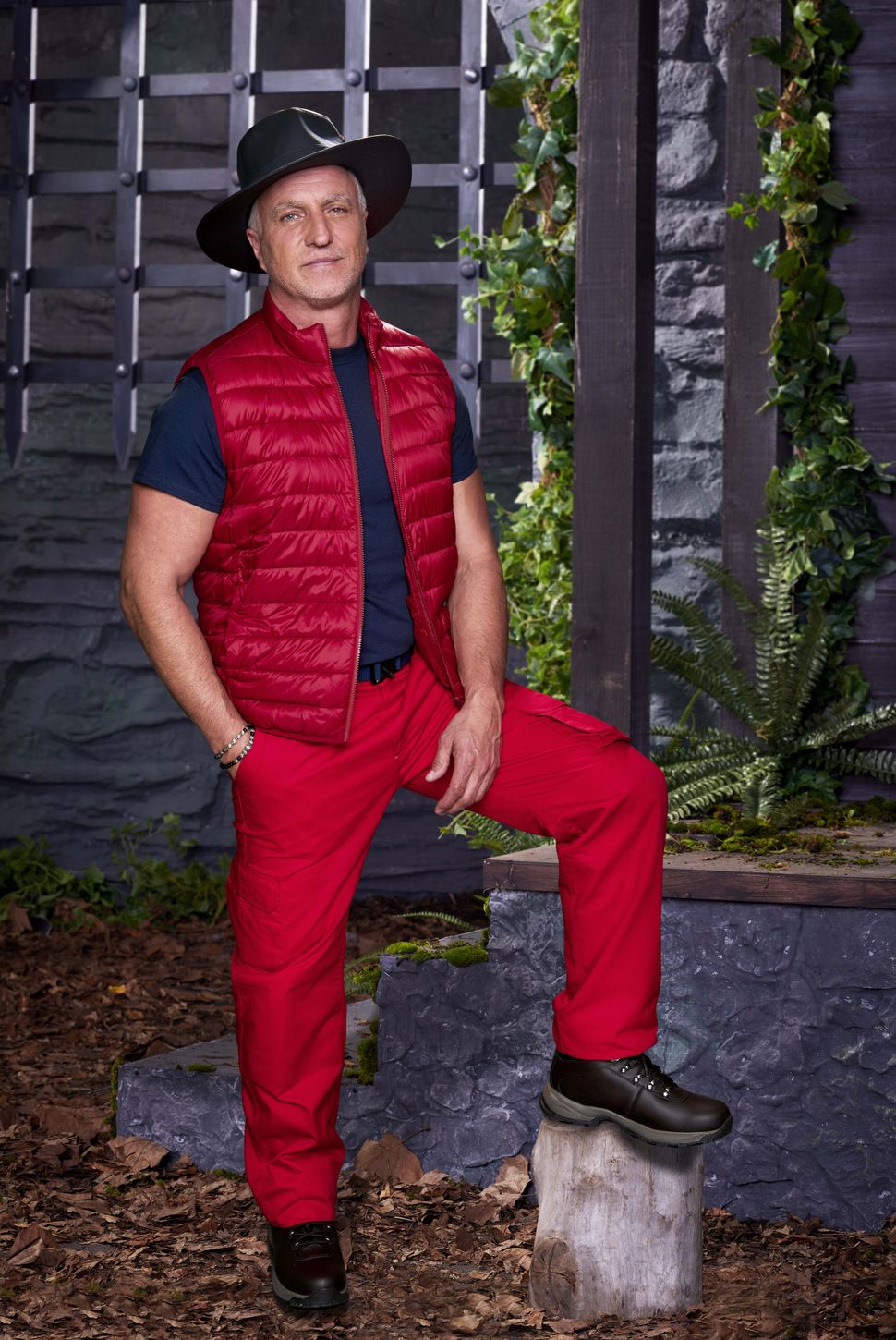 Football legend David Ginola admits he always 'sets out to win' anything he does as he eyes up the 'King of the Castle' crown and reunites with some very special fans of his old club, Newcastle United – Ant and Dec.
And the former Newcastle and Spurs player, who retired from playing in 2002, admits he is excited to catch up again with the programme's famous presenters in the castle after meeting them at games he played in the past for their favourite football team.
David says "I know the Geordies! I've met Ant and Dec before and I know they are big massive fans of Newcastle United. When you play for the club (like I did), all of the fans are amazing and very faithful. Newcastle is very lucky to have fans like them!
"It is starting to sink in now that I am doing I'm A Celebrity. When I got offered the chance to do the programme, I thought 'why not'. It's going to be a great experience and it's the chance to spend three weeks in the Castle doing things you have never done in your life."
Revealing he doesn't mind going on a strict rice and beans diet in the Castle, David also says he hopes he can cook for the rest of his fellow celebrities. "I will be the chef in the camp, and rice and beans are perfect for me as I have put on six kilos over the past three months and I think it will be interesting to see if I can lose six kilos in three weeks!
But David, who now works as a pundit, admits he is going to miss his young daughter terribly. "I am going to miss my baby girl. I have been sharing her life every day since she was born and it's not just me. It is also about her missing her dad for a long time. That feeling is going to be difficult."
Matty Lee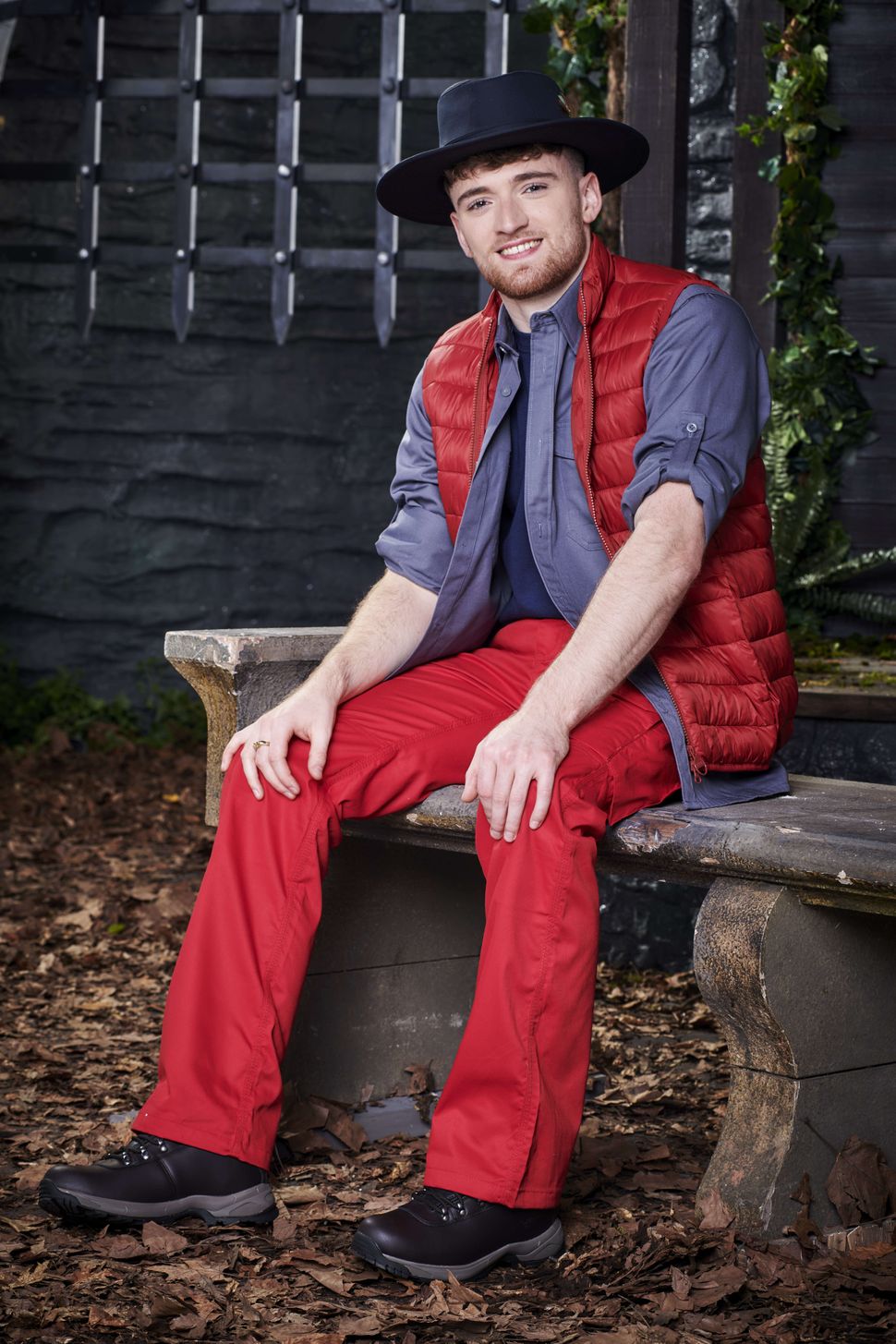 After winning Gold with Tom Daley in the 10 metres synchronised diving at the Tokyo Olympics this summer, Matty Lee admits it is the 'cherry on the cake' to be taking part in his favourite TV show.
And the 23-year-old reveals his diving partner, Tom, has been giving him plenty of tips on how to survive in the Welsh Castle.
Revealing he was approached about I'm A Celebrity moments after landing in the UK from the Tokyo Games, Matty says: "Nothing ever prepares you for what life will be like after you do well in the Olympics. I was and still am mainly in shock that I am doing I'm A Celebrity. My two childhood dreams were to win an Olympic medal and take part in my favourite TV series. And now I am doing both this year!
"My family is buzzing about it all. We were on the way back from the airport where they had picked me up from Tokyo when I got a call about the programme. When I told Tom, he was in shock too! He is so excited for me and he has always been so supportive and helped me a lot over the past three years. He gives me advice about anything whether it is relationships or whatever - I always ask Tom."
Matty goes on to add that Tom is particularly excited the public will get a chance to get to know him properly. "Everyone knows who Tom Daley is but people don't necessarily know who I am," he explains. "But without each other, we would never have achieved what we have achieved. He always gives me credit where it is due and I also do too. He is really happy for me to grow as an individual and I think it is a chance for people to get to know me better."
Snoochie Shy - voted out third!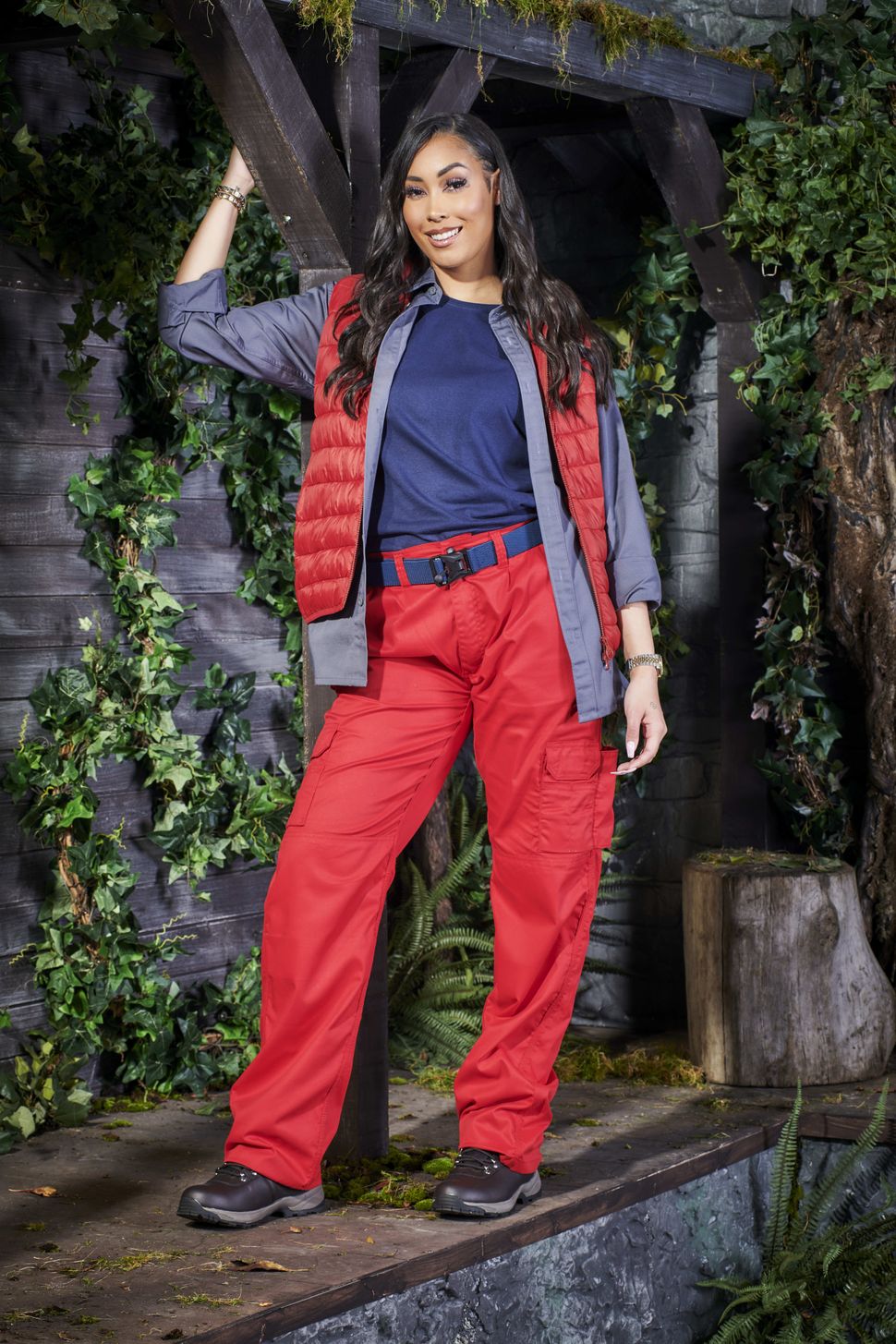 BBC Radio 1Xtra DJ Snoochie Shy reckons she could be so frightened doing the trials that she may not even be able to let out a scream.
"My mum keeps laughing, as she knows I am such a scaredy cat! Bugs and I are not friends, I don't like heights and I am claustrophobic too. But that all said, one of the things I am most looking forward to about doing this programme is the trials! They are all crazy."
She says the one trial she fears the most is anything involving a coffin and creepy crawlies. "That trial is my big fear," adds Snoochie. "I've seen bugs go up people's noses before and I am scared bugs are going to go up my private parts. But I am excited about taking part and as soon as they asked me to come on the show, I said yes."
Aside from missing her family, friends and her beloved pet cat, Snoochie is also not sure how she will cope going au naturel in the castle – especially as it will mean her birthmark on her cheek will be exposed in public for the first time. "I am a little bit nervous about it," she admits. "People other than my family don't know I have a birthmark on the right side of my cheek and so it will be the first time I am letting people know I have one. It has been an insecurity of mine in the past but I am also excited to face up to it."
Naughty Boy - voted out 4th!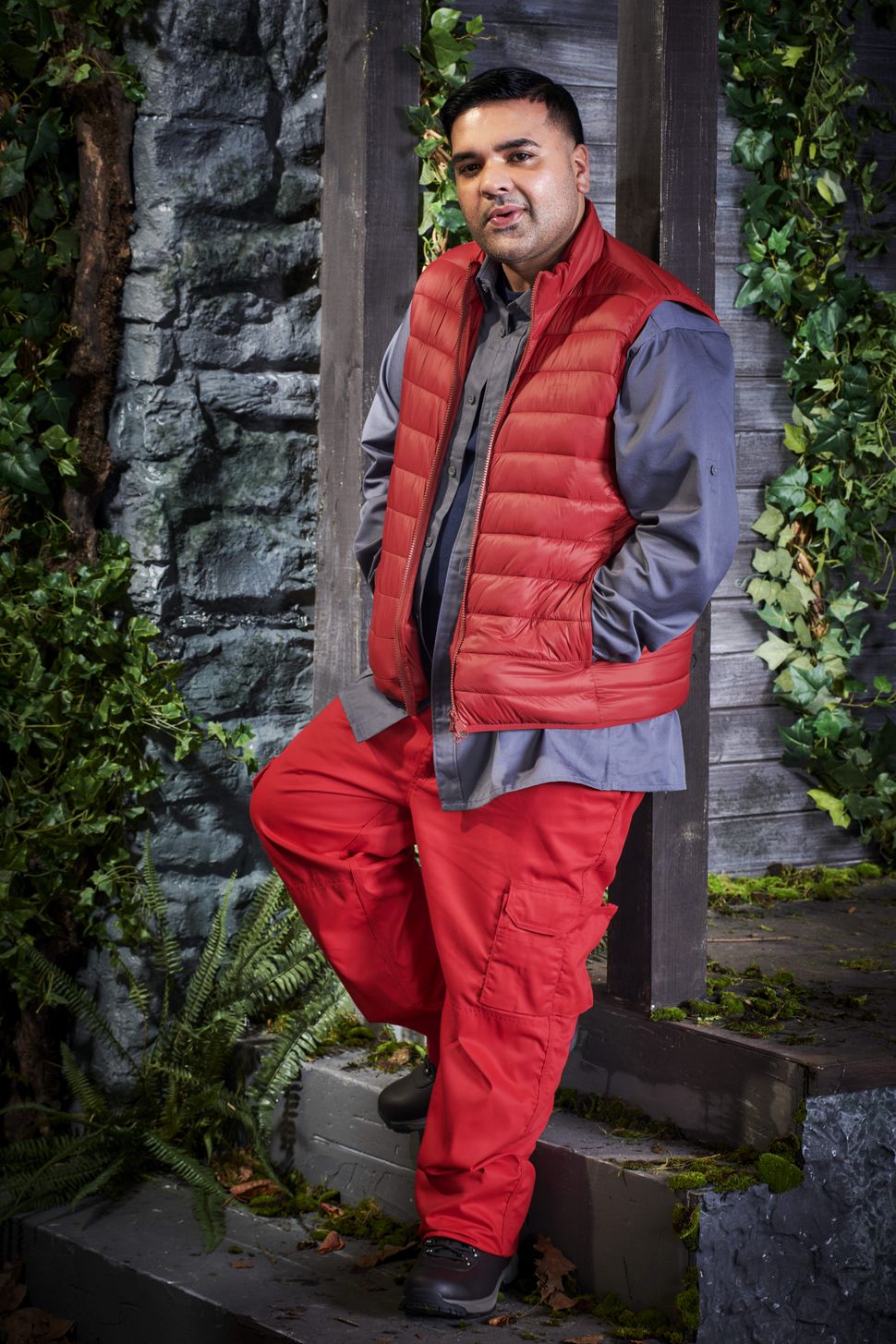 Music producer Naughty Boy, whose real name Shahid Khan, has worked with music A-listers including Beyonce, Sam Smith, and Emeli Sande, but now he wants to show I'm A Celebrity's millions of viewers what he is really like as a person.
"I would love to see more musicians go into the castle this series, Sir Elton John would be incredible if he were to go in! I want people to know the real me. I am not a celebrity at all. My music is the celebrity and now is the chance for me to show people what I am really like."
Going on to reflect further on the reasons as to why he is determined to take on the Welsh Castle experience, he adds: "I am most looking forward to learning about myself."
"I don't know what people in the music industry will think about me being in the Castle but having a break from everything is something I think everyone should have and do once a year. I love my friends and family, but I think it is good to have a break and time out."
Having spoken openly in the past about caring for his beloved mum, who suffers from dementia, he says he wants to use his time in the castle to raise more awareness about the illness. "I think it is important for people like myself to create awareness about it. Dementia UK needs constant funding, and I am going to miss Mum the most whilst I am away. I live with Mum, and I am used to seeing her all the time."
Kadeena Cox - voted out 2nd!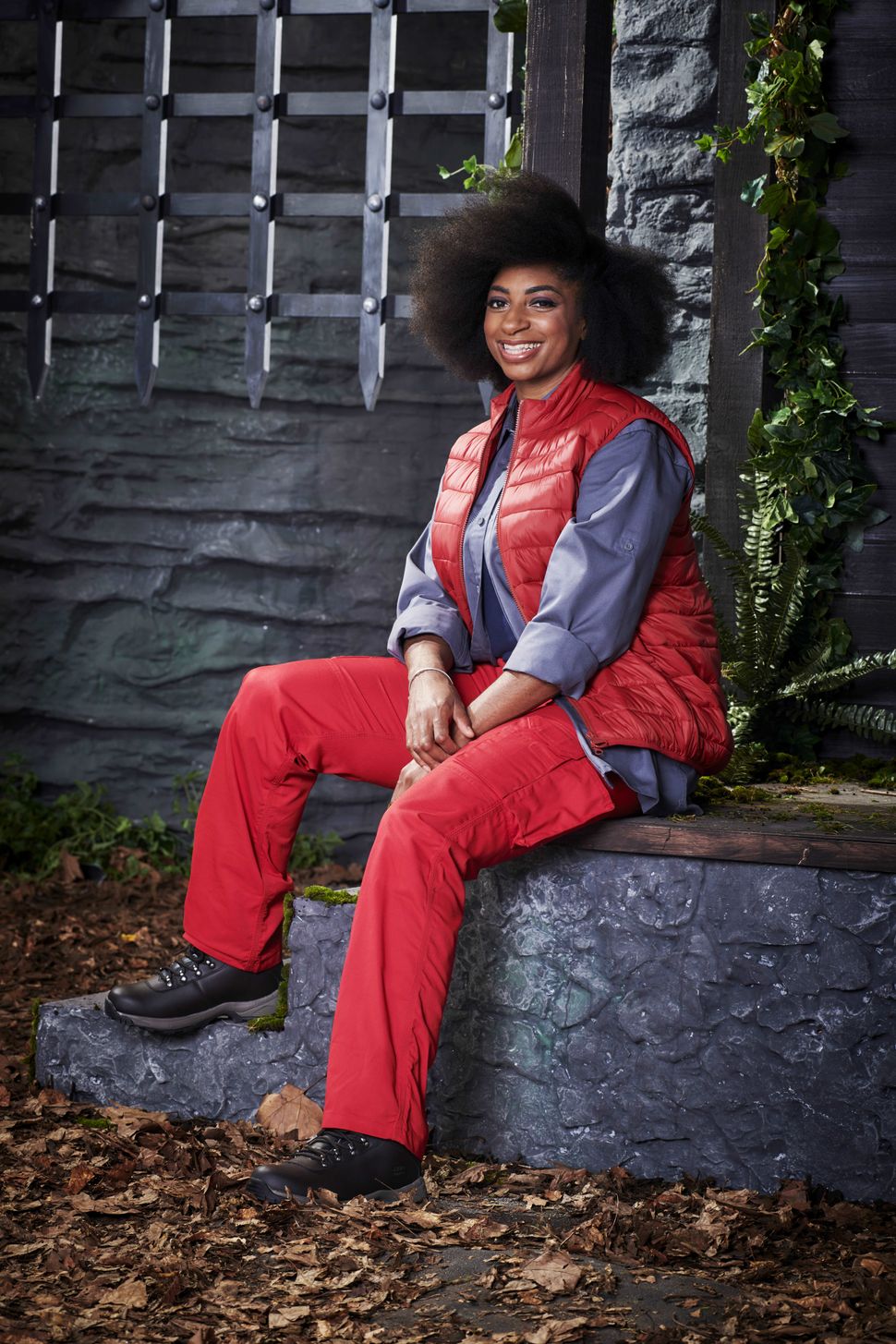 She is a four-time Paralympic gold champion and one of the British stars of this year's Tokyo games but Kadeena Cox readily admits going on I'm A Celebrity will be mentally tougher than anything she has ever done before.
From rats and spiders to snakes, not to mention a fear of heights, the 30-year-old says she is hoping her experience as a world-class athlete will help to overcome some of the famous show trials and challenges... "Going on I'm A Celebrity is something so different for me and it's completely out of my comfort zone. As a Paralympian, you are always trying to get that one percent extra all the time.
"I am scared of spiders, I don't like rats, I don't like snakes, and I don't like heights. But I am hoping the athlete in me will want to do it for the team and just get through that tough moment. I will scream afterwards! My mum thinks I am crazy to be doing it too and it hasn't quite sunk in yet, but I am also really looking forward to meeting some new people from different walks of life."
Kadeena – who was diagnosed with Multiple Sclerosis in 2014 – is no stranger to reality TV shows, having recently won Celebrity Masterchef, as well as appearing in Channel 4's The Jump in 2017, Celebrity Great British Bake Off in 2018, and Celebrity Gogglebox earlier this year.
Who's presenting 'I'm A Celebrity' 2021?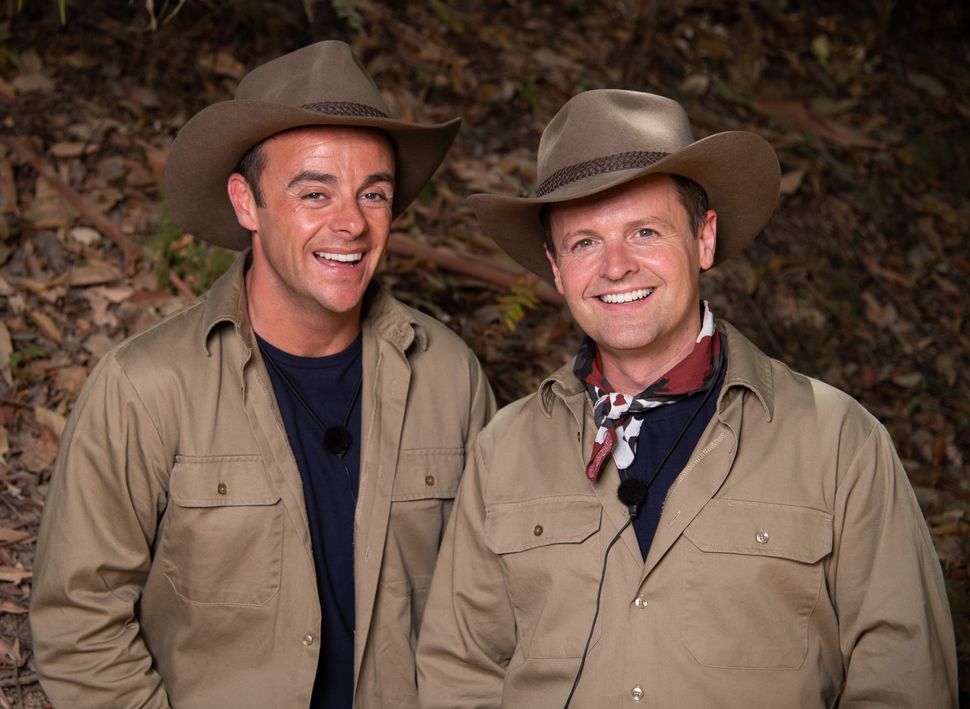 Ant and Dec are on presenting duties once again, entertaining the nation with their hilarious jokes about what has been going on in camp. Just their reactions while they watch campmates doing the Bushtucker Trials makes the show worth watching!
Is there a trailer for 'I'm A Celebrity' 2021?
A trailer was released recently, which shows Ant and Dec as knights discussing the upcoming bushtucker trials.
Who won the last series of 'I'm A Celebrity'?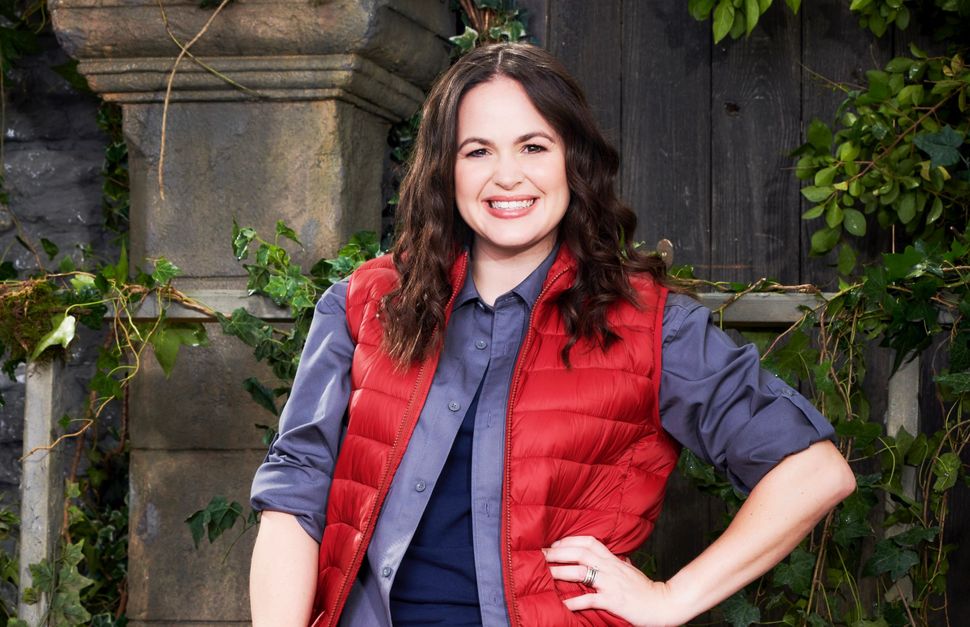 The 2020 series of I'm a Celebrity saw author, presenter, and podcast host Giovanna Fletcher crowned queen of the castle after beating both Vernon Kay and Jordan North in the final. Gi won the hearts of the nation after taking on the role of mum in the camp, making it her mission to cheer up her campmates when moral got low.
I'm A Celebrity continues on ITV.
Get the latest updates, reviews and unmissable series to watch and more!
Assistant Managing Editor at What To Watch
Claire is Assistant Managing Editor at What To Watch and has been a journalist for over 15 years, writing about everything from soaps and TV to beauty, entertainment, and even the Royal Family. After starting her career at a soap magazine, she ended up staying for 13 years, and over that time she's pulled pints in the Rovers Return, sung karaoke in the Emmerdale village hall, taken a stroll around Albert Square, and visited Summer Bay Surf Club in sunny Australia.
After learning some tricks of the trade at websites Digital Spy, Entertainment Daily, and Woman & Home, Claire landed a role at What's On TV and whattowatch.com writing about all things TV and film, with a particular love for Aussie soaps, Strictly Come Dancing and Bake Off.
She's interviewed everyone from June Brown — AKA Dot Cotton — to Michelle Keegan, swapped cooking tips with baking legend Mary Berry backstage at the NTAs, and danced the night away with soap stars at countless awards bashes. There's not a lot she doesn't know about soaps and TV and can be very handy when a soapy question comes up in a pub quiz!
As well as all things soap-related, Claire also loves running, spa breaks, days out with her kids, and getting lost in a good book.
Thank you for signing up to Whattowatch. You will receive a verification email shortly.
There was a problem. Please refresh the page and try again.