Who was Panda in 'The Masked Singer' UK?
Who was Panda in 'The Masked Singer' UK? Who grabbed the mic as Panda in 'The Masked Singer' UK?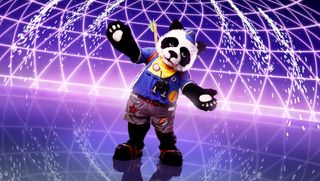 (Image credit: ITV)
Panda was crowned the winner of The Masked Singer UK season 3, and her identity was soon revealed as Neighbours star turned singer, Natalie Imbruglia!
Fans were convinced that they had found out the identity of Panda before the final unmasking. However, some were puzzled, with host Joel Dommett revealing that he was offered a hilarious deal by an electrician if he told them who Panda was.
Here's what people guessed for who Panda could have been throughout the competition...
Who is Panda in 'The Masked Singer' UK? Songs...
Panda put on quite a show singing Levitating by Dua Lipa in week one.
Panda sang Hot Stuff by Donna Summer for her week 2 performance.
As her clue song, Panda sang Story Of My Life by One Direction.
Panda performed Blame It On The Boogie by The Jackson 5 in week 4.
Panda sang Karma Chameleon by Culture Club in the semi-final.
Who is Panda in 'The Masked Singer' UK? Verbal clues...
We're truly bamboo-zled by this one, as the one clue we've been told so far is: "Bamboo-zling those who try to guess who's behind the mask, meet Panda."
We've not been given much information verbally on who this could be, but looking at the fact that it's a panda dressed as what appears to be an explorer, could they be a famous naturalist or explorer, such as Steve Backshall? The BAFTA award-winning presenter is known for hosting the show Deadly 60 and other documentaries, such as Expedition with Steve Backshall and Deadly Pole to Pole. He's also a big advocate of conservation.
Another option could be Springwatch presenter Michaela Strachan, who has also travelled across the globe filming animals and conservation projects. However, a fun fact about her is that her dream was to perform in the theatre when she was young! So, this could be the perfect opportunity to showcase her talent.
Who is Panda in 'The Masked Singer' UK? Costume clues...
Looking at the costume, it reminded us of the character Pat in the series Ghosts, played by Jim Howick (Sex Education, Horrible Histories). In the show, Pat is a ghost of the adventure club leader, who dons a similar outfit to the one Panda is wearing. Could Jim be referencing his character from the show? It may be an obvious assumption, but it would be a smart way to reference the iconic character.
Who is Panda in 'The Masked Singer' UK? Show clues…
Shy Panda seemed confident in their clue package, as they revealed, "If you go down to the woods today, prepare for a panda surprise. Hello! Oh, I do love an adventure." Rita Ora started to guess an explorer. As the clues went on, Panda said, "Being out and about in the wild comes second nature to me. From a young age, I always followed my own path."
Behind Panda we could see a number of tents in the background, as well as outdoor gear on top of a crate that says "Talent Show Musical Night." Panda further explained that: "Doing what I do, you might be surprised to learn that pandas can be solitary creatures. I guess I'm what you'd call an introverted extrovert. And here's a final fact, if you can BEAR-lieve it…This won't be the first time I've been connected to these creatures."
It was clearly a woman once Panda sang her version of Levitating by Dua Lipa and she finished off her performance with one final clue: "It's not the first time I've been this animated."
Week 2 show clues...
"Last time, the panel went wild with their guessing, as they explored every option of who I might be," Panda revealed in her clue package. "But they'll have to keep trekking if they want to pin a name on this panda."
"Exploring the world and making your way can be a tiring business," she said as she roasted some marshmallows on the fire. However, on the marshmallows it read: "TWDFL," which confused the judges. "So it's nice to sit back and take some time out and just take it all in. Nature is good for the mind. Sometimes, I think, if you gaze at the stars long enough, you'll become one of them." Davina McCall suggested that she's spiritual and Mo Gilligan said that it could be some kind of astrology.
She went on to say, "But I also think that no matter the journey, you'll always find your way home again. Building your career takes time and patience, but if you chip away at it, you'll get there in the end. I'm hoping you'll be all starry-eyed tonight after my performance."
Panda's two lies and a truth came up next, with Panda saying her first clue of: "You could say something about me was elf like," and the second clue was: "I've made my name in footwear." Our third and final clue was revealed to be: "I'm not old fashioned I'm thoroughly modern."
Week 3 show clues...
Week 3 allowed the masked contestants to have a clue song, as well as a clue package. But will it help us guess who Panda is?
"In my last performance, the panel thought I was hot stuff. But, when it came to their guessing, it was total panda-monium. They'll have to leaf through a few more names to guess me," she said.
More clues were revealed as she went on to say, "I've already told you that I like to follow my own path." Jonathan Ross said they must be a strong-minded individual and Mo Gilligan said a similar thing with, "This is someone that goes their own way in life."
Panda was then seen spooning some baked beans from a tin as she explained, "But sometimes, you find a fork in the road and you make a choice to explore another avenue. You thought you were going in one direction, but you find yourself going another." Another visual clue showed Panda contemplating which way to go according to a compass made out of stones on the ground. She then kicked away the 'E' shaped stones (meaning East) on the compass and walked off.
"And that's exciting," Panda commented before Davina McCall voiced her thought that maybe they were in a band and then went solo. "You can tread a path like you tread the boards — walking into different lives that are far away from what you could have ever imagined." Mo suggested that maybe they were on a reality show and got big.
"Tonight, I'm plotting a new course and giving you the story of my life." Panda then went onto sing Story Of My Life by One Direction— could this be a hint to her leaving a band and going her own way?
Week 4 show clues...
It was double the clues this week as Panda was back with her usual cute self as she revealed in her clue package: "In my last performance, I led the panel in every direction. They're lost in the woods and they've barely even gotten close to my real name."
"Being a panda, I like to keep my eyes on the present and live in the now," she said as she looked through a pair of binoculars, "If you look too far into the future, you could find yourself off-centre." This clue made guest judge Olly Alexander think that they could be a sports person. "And I like to stay focused."
We then caught a glimpse of a visual clue, showing Panda looking through her binoculars over to a hard hat and a checked shirt, which Davina McCall thought it could mean a lumberjack.
"That's why, as well as my appetite for bamboo, I have a huge hunger for learning," she continued as she walked past some wooden letter blocks, which appeared to spell out the word "Writers." Olly Alexander questioned if they could be a writer or songwriter. "That's right up my street," Panda finished off her clue package with.
Joel pointed out that a yellow ribbon was tied to Panda's bamboo pipes in her backpack and we also had the opportunity to snoop through Panda's social media for more clues.
In the social media video, she said: "So many of you guys have been asking about my skincare routine. These cucumbers do wonders for those panda eyes. And this is a bamboo leaf cream that I've made myself. It's even got my name on it! Like and subscribe." Panda held up a container of "Bamboo Leaf Cream" with the words "By Panda" underneath, as she sat in a chair talking to the camera.
Week 5 show clues...
Panda made it all the way to the semi-final, and as usual, we were given more clues as to who her identity could be.
She started her clue package with: "Last time, the panel gave some piping hot guesses. But they're still pretty cold when it comes to being right. Ok, OK, OK, it's the semi-finals, so it's time for this Panda to be a little less bamboozling. So, I'll give you a hint. On my adventures, I've visited a pretty famous wood." Davina McCall and Mo Gilligan were quick to point out that she meant Hollywood. A toy crocodile was then shown, while Panda said: "I found harmony and many new friends in the valleys. Jonathan Ross said that the "valleys" means Wales.
"In a city that's a bit country, I found myself right at home. And it all led to the stage tonight. I did say I was gonna be a bit less bamboozling. That wouldn't be much fun, right?"
We were offered more clues with "ITV Clues at Ten" with a newsreader reading out the latest breaking clues on Panda. Along with the headline, "Inde-Pandant Women" the lady read: "Breaking news, the Health Secretary has appointed Panda as the new Ambassador for Sport, thanks to the discovery of bamboo being seriously superfood for pandas. Speaking on the back of their successful range of home workouts, 'Get Ripped with Panda', the new face of fitness promises to make the nation get outside and sweat."
After her second performance, the judges were allowed to ask Panda one question. They decided to go with: "You've constantly talked about travel in all your clues, but am I right in thinking that you're not talking about literal travel but the different roads or paths you have taken in your career?"
Panda responded: "My panda feet have carried me to screens big and small and across the stage into fields of music." Do you have any idea as to who Panda could be? We'll have to find out in the final!
Who is Panda in 'The Masked Singer' UK? Theories
Jonathan Ross guessed Helen Skelton, Mo Gilligan thought of Emily Atack, and Davina McCall went for a slightly different approach with Keeley Hawes, due to her thinking of panda cars. Finally, Rita went with Camila Cabello or Emily Blunt.
Fans at home were sure that Panda was Alesha Dixon as they read into the clues further.
Week 2 theories...
Davina had a guess of Kate Hudson for Panda, and Rita also guessed an actress with Renee Zellweger. Mo went with Amanda Holden and Jonathan also went with Amanda Holden after hearing one of the two lies and a truth.
Meanwhile, fans at home are certain that Panda is former Neighbours star turned singer, Natalie Imbruglia.
Week 3 theories...
Mo was up first with his guess, and he went with Rebecca Ferguson, while Rita went with Pixie Lott. Jonathan jokingly suggested it could be Mary Berry under the costume and Davina went for Amanda Holden again.
Fans are still convinced that Panda is Natalie Imbruglia. Meanwhile, some are still saying it's Alesha Dixon!
Week 4 theories...
Davina guessed Billy Piper as Panda, due to the camping reference of billycan and that Panda had pipes in her backpack and Olly Alexander went with Cheryl Cole. Mo Gilligan decided to go with Kym Marsh or Kylie Jenner after seeing the additional clue video, and Rita Ora had a guess at Kimberly Wyatt. Lastly, Jonathan Ross thought of Lisa Stansfield as his guess.
Fans are still thinking that Panda is Natalie Imbruglia, however some are now thinking it could be Cheryl Cole.
Week 5 theories...
Davina went with Hayden Panettiere as her guess, and panda-loving guest judge Dame Joan Collins said Shania Twain. Jonathan guessed Cerys Matthews, meanwhile Rita Ora suggested LeAnn Rimes and Mo decided on Anne-Marie.
It seems the public are torn as to who Panda is, with people guessing Alesha Dixon, Pixie Lott, and Cheryl Cole, but it seems Natalie Imbruglia is yet again the most popular guess.
The new series of The Masked Singer continues on ITV — see our TV Guide for full listings.
Get the What to Watch Newsletter
The latest updates, reviews and unmissable series to watch and more!
Grace is a digital writer with WhatToWatch.com, where she writes series guides for must-watch shows and the latest TV news. She graduated from Anglia Ruskin University in 2020 with a degree in Writing and Film Studies, which only made her love for creative writing, film and TV grow stronger.
You'll usually find her watching the drama unfold in the latest reality series and much-loved soaps (usually with chocolate by her side!). Grace also likes to explore new places with her friends and family and, of course, watch and read about the latest films and TV series.